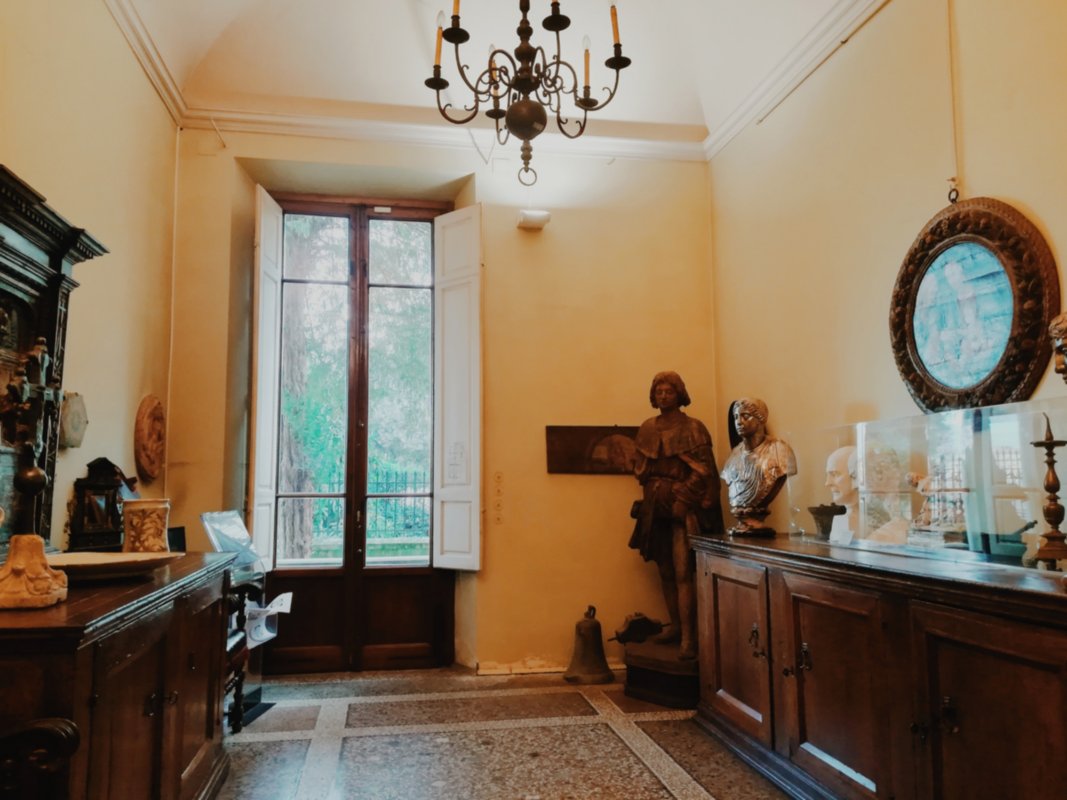 This event has passed
collectionsExhibitions
Caccia ai tesori dell'arte
Visite/laboratori gratuiti al Museo Casa Rodolfo Siviero per famiglie con bambini di 5-11 anni
Con la primavera riprendono le visite guidate e i laboratori AntigonArt al Museo Casa Rodolfo Siviero, la dimora-divenuta-Museo del Ministro plenipotenziario ed ex-agente segreto che, durante e dopo la Seconda guerra mondiale, fu protagonista del recupero di moltissime opere d'arte trafugate dai nazisti, tanto da guadagnarsi l'appellativo di 007 dell'arte.
Le visite, realizzate col patrocinio e il contributo della Regione Toscana, sono rivolte alle famiglie con bambini dai 5 agli 11 anni e si svolgeranno in forma teatralizzata, tra giochi di teatro e varie attività interattive rivolte a grandi e piccini.
Sono previsti due percorsi, uno per la mattina (La collezione Siviero) e uno per il pomeriggio (Agente 007 Siviero).
1. La collezione Siviero (percorso mattina)
Una lettura della collezione e delle sue opere pensata per il pubblico dei più piccoli e non solo…
Orari: dalle 10 alle 11:30, dalle 11:30 alle 13
2. Agente 007 Siviero (percorso pomeriggio)
Storie e avventure di Rodolfo Siviero, narrate e teatralizzate per renderle ancora più avvincenti e tutte da rivivere in prima persona.
Orari: dalle 15 alle 16:30, dalle 16:30 alle 18
Download the leaflet
When
From 06 Apr 2019
to 01 Feb 2020
INFO
Website
Mail:
antigonart.aps@gmail.com

Tel. 3383888057
I laboratori, così come l'accesso al Museo, sono completamente gratuiti.
I laboratori mattutini e pomeridiani si svolgeranno nelle seguenti date:
sabato 6 aprile 2019
sabato 4 maggio 2019
sabato 21 settembre 2019
sabato 5 ottobre 2019
sabato 12 ottobre 2019
sabato 9 novembre 2019
sabato 7 dicembre 2019
sabato 11 gennaio 2020
sabato 1° febbraio 2020
Partecipazione & prenotazione
La partecipazione ai laboratori è gratuita, così come l'ingresso al Museo Casa Rodolfo Siviero, ma è obbligatorio prenotare. Per farlo potete mandare un'email ad antigonart.aps@gmail.com specificando il laboratorio che vorreste prenotare, oppure telefonarci al 338.3888057.
Details
Saturday 06 april 2019
start 10:00 end 11:30 start 11:30 end 13:00 start 15:00 end 16:30 start 16:30 end 18:00 Saturday 04 may 2019
start 10:00 end 11:30 start 11:30 end 13:00 start 15:00 end 16:30 start 16:30 end 18:00 Saturday 21 september 2019
start 10:00 end 11:30 start 11:30 end 13:00 start 15:00 end 16:30 start 16:30 end 18:00 Saturday 05 october 2019
start 10:00 end 11:30 start 11:30 end 13:00 start 15:00 end 16:30 start 16:30 end 18:00 Saturday 12 october 2019
start 10:00 end 11:30 start 11:30 end 13:00 start 15:00 end 16:30 start 16:30 end 18:00 Saturday 09 november 2019
start 10:00 end 11:30 start 11:30 end 13:00 start 15:00 end 16:30 start 16:30 end 18:00 Saturday 07 december 2019
start 10:00 end 11:30 start 11:30 end 13:00 start 15:00 end 16:30 start 16:30 end 18:00 Saturday 11 january 2020
start 10:00 end 11:30 start 11:30 end 13:00 start 15:00 end 16:30 start 16:30 end 18:00 Saturday 01 february 2020
start 10:00 end 11:30 start 11:30 end 13:00 start 15:00 end 16:30 start 16:30 end 18:00