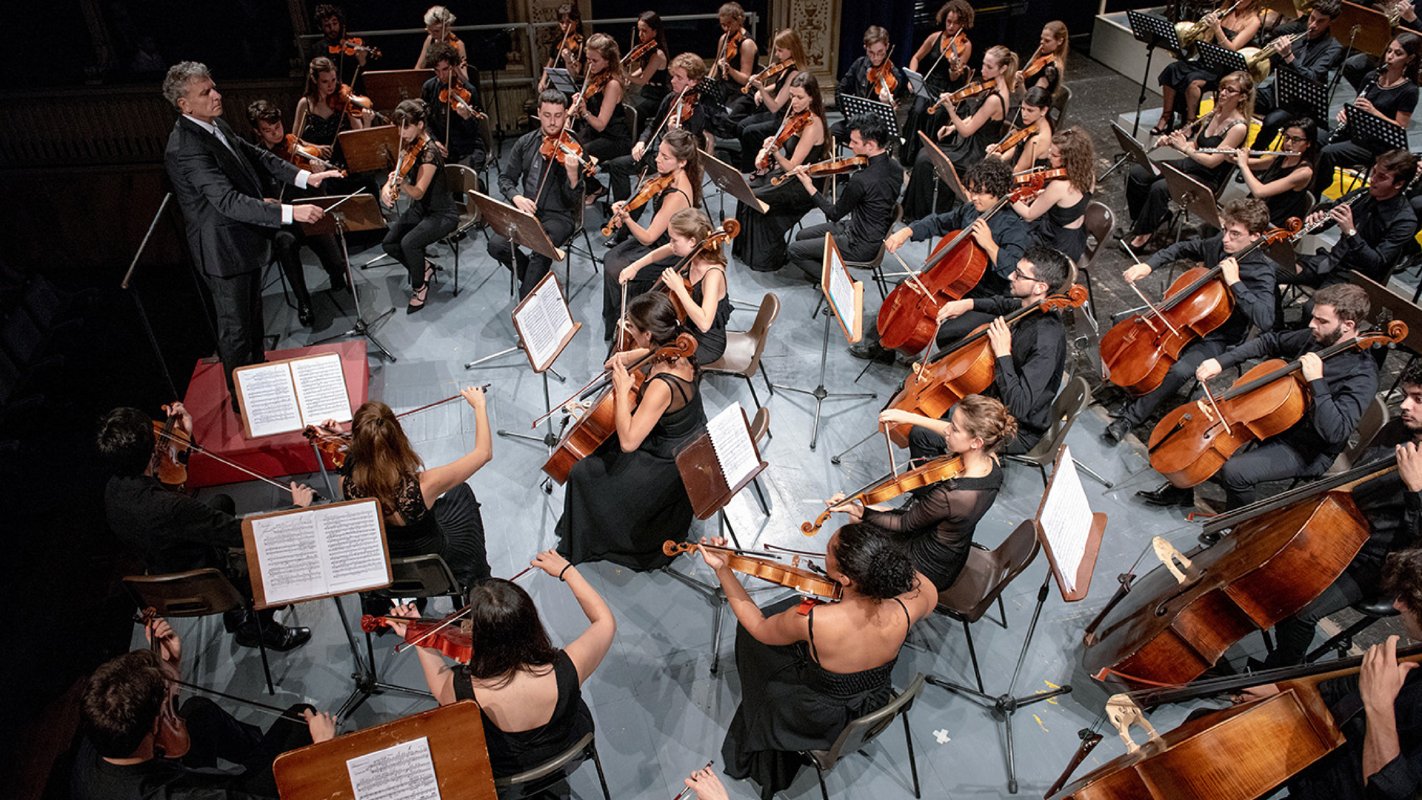 music_noteMusic
Accademia Chigiana – "Micat in Vertice" – 96th edition
Major talents from the classical music scene in Siena and young international artists
From November 22 from May 17, 2019, a long 16-concert "journey" featuring major stars of the classical music scene, never-before-performed shows, and exclusive presentations by some young international talents. Here are all the names of the performers at the 96th edition of Micat in Vertice:
Alexander Romanovsky will kick off the season on November 22 at the Teatro dei Rozzi with the Orchestra Giovanile Italiana, conducted by Luciano Acocella and with performers Benjamin Grosvenor, Maurizio Baglini, Francesca Dego, Roberto Prosseda, Paolo Grazia, and Edgar Moreau; vocalists Monica Bacelli, Laura Polverelli, Eleonora Contucci and Elina Duni; the chamber musicians Il Quartetto Brentano, The Metamorphosi Trio; and the return of great Baroque music with the German group Lautten Compagney; young Chigiani talents; the Quartetto Gyldfeldt of Lipsia; never-before-performed shows: Sun Hee You with the sound artist Martux_M; Chigiani groups including the cathedral choir "Guido Chigi Saracini", the Chigiana Children's Choir together with the Coro di Voci Bianche of the Teatro Regio di Torino; and the seasonal finale with Daniele Rustioni conducting the Orchestra della Toscana. Edgar Moreau, cellist, will be the soloist.
Download the leaflet
Info
Tel. 333.9385543
Prezzo dei biglietti
TEATRO DEI ROZZI
Primi posti (platea e palchi di I e II ordine):
interi € 25 / ridotti* € 20
Ingressi (palchi di III e IV ordine):
interi € 18 / ridotti* € 10
PALAZZO CHIGI SARACINI
Primi posti:
interi € 25 / ridotti* € 20
Ingressi:
interi € 18 / ridotti* € 10
CHIESA DI SANT'AGOSTINO
Ingressi € 5
CATTEDRALE
Ingresso gratuito
* Le riduzioni sui biglietti sono riservate agli studenti, ai giovani sotto i 26 anni, a chi abbia compiuto 65 anni e ad altri Enti convenzionati.
Prevendita e vendita biglietti
I biglietti delle singole manifestazioni saranno in vendita il giorno precedente al concerto dalle ore 16 alle ore 18.30 presso la biglietteria del Palazzo Chigi Saracini. Il giorno del concerto la vendita proseguirà a partire da due ore prima dello spettacolo presso le rispettive sedi (ad eccezione dei concerti del 22 novembre e del 17 maggio, per i quali la vendita sarà effettuata presso il Teatro dei Rozzi dalle ore 16).
Acquisto online
I biglietti di tutti i concerti in programma possono essere acquistati sul sito www.chigiana.it dal 19 novembre – ad eccezione del concerto del 22 novembre, per il quale la vendita online avrà inizio a partire dal 29 ottobre) – fino alle ore 12 del giorno del concerto, utilizzando carte di credito dei circuiti Visa, Mastercard, oppure – con il sovrapprezzo di € 1.50 – sul portale TicketOne.it (anche presso i rivenditori terzi autorizzati).
Prenotazioni (tel. 333.9385543)
È possibile prenotare a partire dal 19 novembre, dal lunedì al venerdì (ad eccezione dei giorni festivi) dalle ore 9.30 alle ore 12.30 al numero telefonico 333.9385543.
La prenotazione dovrà essere confermata con l'invio a mezzo fax (0577288124) o all'indirizzo e-mail amministrazione@chigiana.it della ricevuta del pagamento del relativo importo, che potrà essere effettuato a mezzo versamento sul c/c postale 14032536 o versamento sul c/c della Banca Monte dei Paschi di Siena (codice IBAN IT 08 B 01030 14217 000063125544), intestati alla Fondazione Accademia Musicale Chigiana onlus (via di Città, 89 – 53100 Siena).
Ritiro biglietti
I biglietti acquistati online o prenotati telefonicamente potranno essere ritirati il giorno precedente al concerto presso la biglietteria di Palazzo Chigi Saracini e il giorno del concerto presso le rispettive sedi, nell'orario indicato per la vendita.
Per ulteriori informazioni è possibile rivolgersi all'Accademia Musicale Chigiana (tel. 0577.220920 – 0577.220934 o, nelle ore di biglietteria, al numero 333.9385543).
When
Thursday 22 november 2018
start 21:00 end 23:00
Friday 07 december 2018
start 21:00 end 23:00
Friday 14 december 2018
start 21:00 end 23:00
Friday 21 december 2018
start 21:00 end 23:00
Friday 18 january 2019
start 21:00 end 23:00
Friday 01 february 2019
start 21:00 end 23:00
Friday 22 february 2019
start 21:00 end 23:00
Friday 01 march 2019
start 21:00 end 23:00
Friday 08 march 2019
start 21:00 end 23:00
Friday 29 march 2019
start 21:00 end 23:00
Friday 12 april 2019
start 21:00 end 23:00
Friday 19 april 2019
start 22:00 end 23:00
start 22:00 end 23:00
Friday 03 may 2019
start 21:00 end 23:00
Friday 10 may 2019
start 21:00 end 23:00
Friday 17 may 2019
start 21:00 end 23:00