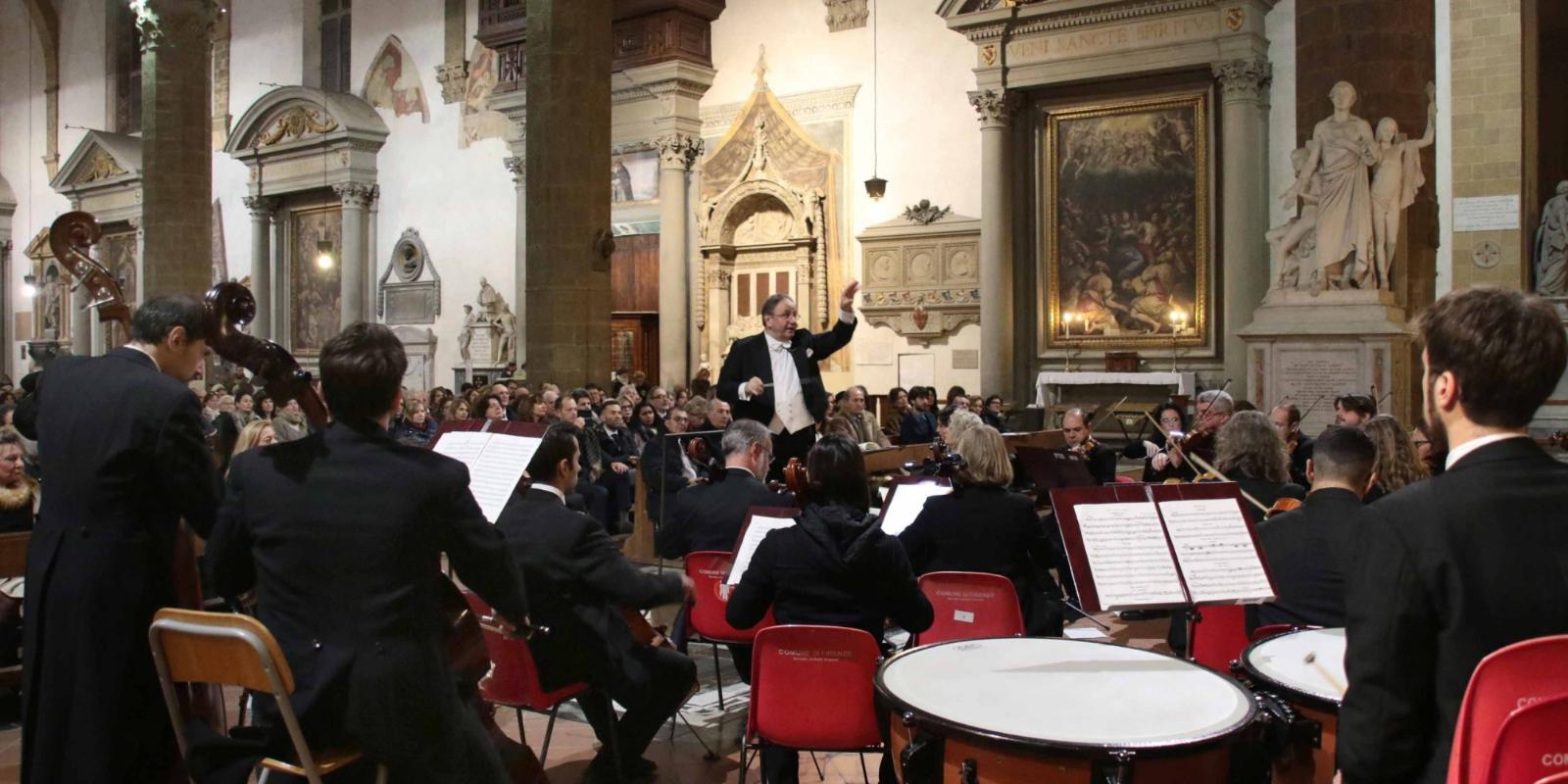 This event has passed
music_noteMusic
info
Important information:
Events and shows all around Tuscany can take place provided that the guidelines aimed at containing the risk of infection from COVID-19 are observed. We invite you to contact the organizers for up-to-date information about the status of the single events. Stay updated
here
A summer of concerts by the Orchestra da Camera Fiorentina
The 40th season begins at the Auditorium Santo Stefano al Ponte and en-plein-air at Palazzo Medici Riccardi in Florence
Reduced but not canceled, the 40th season of the Fiorentina Chamber Orchestra finally kicks off, in compliance with the security measures for the Coronavirus emergency, thanks to the support of the Ministry of Cultural Heritage and Activities, the Tuscany Region, the Metropolitan City of Florence, the Municipality of Florence, Fondazione CR Firenze, Intesa Sanpaolo and the Leggiero Foundation.
The great soundtracks of cinema will be performed on the inaugural evening of Thursday 18 June at the Auditorium of Santo Stefano al Ponte. In "Music from the Big Screen", the title of the series, the melodies of "Life is beautiful", "Once upon a time in America", "The Postman" and other unforgettable works from the seventh art created by Nicola Piovani, Ennio Morricone, Luis Bacalov and Nino Rota. The direction is entrusted to Giuseppe Lanzetta, with soloists Raffaele Chieli on trumpet and Fernando Ramsés Peña Díaz on piano.
The second evening, Thursday 25 June, as always at 9 pm at the Auditorium of Santo Stefano al Ponte, is a tribute to two great Italian songwriters who have passed away, Lucio Dalla and Pino Daniele, and to their many fans. An excellent opportunity to let yourself be lulled by the notes of "Quando", "Napule è", "Caruso", Piazza Grande "and other cornerstones from their respective repertoires, transcribed in symphonic key by Fernando Ramsés Peña Díaz, who we find on the piano along with the Orchestra.
Revisiting Mozart and Bach in a jazz key: a daring undertaking with wonderful results, in which the Fiorentina Chamber Orchestra will perform on Monday 29 and Tuesday 30 June in the Cortile di Michelozzo of Palazzo Medici Riccardi which opens the season en-plein-air. On the podium will be Armenian conductor Vahan Mardirossian, conducting the Fourth Brandenburg Concert with its great structure in which the lead violin takes on an almost solo role, and "Symphony n. 29 in A major K. 201" by Wolfgang Amadeus Mozart with its elaborate architecture, pervaded by a graceful spirit in which the individual instruments stand out.
And again, all Mozart on Saturday 11 July at the Auditorium of Santo Stefano al Ponte with the soloists of the Florentine Chamber Orchestra. From Tuesday 7 to Sunday 9 July "Music from the big screen" will be held again in the courtyard of Palazzo Medici Riccardi, while on Wednesday 29 and Thursday 30 July there will be a Tribute to Astor Piazzolla with soloist Mario Stefano Pietrodarchi on the accordion and bandoneon.
When
From 18 Jun 2020
to 30 Jul 2020
Details
From 18 June 2020 to 30 July 2020