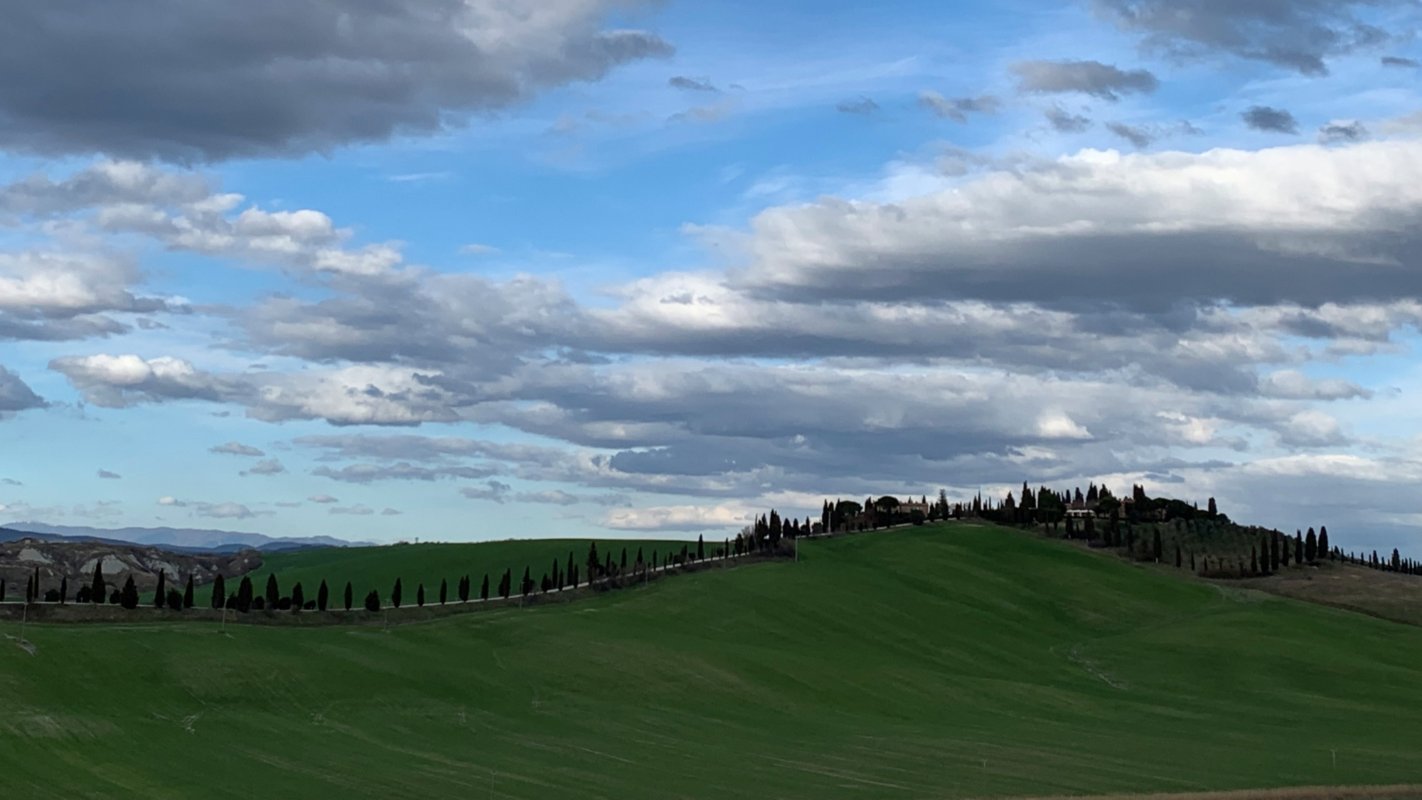 This deal has expired
bookmarkExperiences
Via Francigena e-bike tour
2-day active vacation to strengthen your body while refreshing your mind, cycling in the heart of Tuscany countryside.
Via Francigena, is a wonderful scenic path that connects Tuscan jewels like Lucca, San Miniato, San Gimignano, Siena, just to name a few.This itinerary became famous when Sigerico, the archbishop of Canterbury, went to Rome to receive his pallium from the pope in 990 AD. On his way back home to Canterbury, Sigerico wrote on his travel diary the details of the itinerary and all the stops he made. Today's Via Francigena is the "reverse engineering" of Sigerico's travel diary.
Francigena bike tour is like living in a "parallel universe". You can go from one city to another cycling in the middle of nature with stunning views, hearing the sound of the forest, while the rest of the world keeps running on big, crowded and noisy streets. This magic road offers the beauty of Tuscany countryside and great opportunities to explore small jewels - like churches called Pieve (medieval origin) or Etruscan/Roman thermal baths where you can stop for a refreshing "swimming session".
Bike-packing style tour: each biker should carry his/her soft and lightweight luggage (provided) on the bike. 37L
Itinerary: total distance 91km / evelevation gain 1320m
Day 1 - From San Miniato to San Gimignano
Starting point of the tour: Florence
Transfer to San Miniato by train
Lunch – Agriturismo in Gambassi Terme
Night & dinner - in agriturismo nearby San Gimignano (shared double).
Total distance by e-bike 42km/26mi, evel. gain 727mt/2385ft.
Day 2 - From San Gimignano to Siena
Breakfast - San Gimignano.
Lunch – Monteriggioni.
Night & dinner - in agriturismo nearby Siena (shared double).
Total distance by e-bike 49km/25.3mi, evel. gain 594mt/1948ft.
Expected arrival time in Florence around 8:00pm/9:00pm
When
From 01 March 2019 to 31 July 2019
Monday, Tuesday, Wednesday, Thursday, Friday, Saturday, Sunday start 09:00 end 21:00
From 01 September 2019 to 01 November 2019
See more on the organization's website
keyboard_backspace
E-bike fully equipped (2019 bikes - made in Italy)
Bike helmets (2019 helmets, MIPS certified)
2 Lunches / 1 Dinner
1 Night in agriturismo (double shared room)
Train tickets
Snacks during the bike tour
"Best moments video" by drone
Water
Alcohol beverages
Any service not listed above
Cancellation and no-show policies
Cancellations more than 30 days prior to departure, will result in 20% cancellation fee plus any non-refundable costs incurred (such as museum tickets and other services charges). In alternative with 10% re-booking fee: - move the tour on another day (according to availability); - receive a voucher transferable to a third party; - join an alternative activity of equivalent value; Cancellations 30 to 15 days prior to departure, 40% cancellation fee or 20% re-booking fee for any alternative mentioned above. Cancellations within 14 days prior to departure or no-show, 100% cancellation fee will be charged. No refunds to clients who cannot complete or abandon the tour.
Read the cancellation policies
This tour is offered only with electric bikes. The adoption of electric bikes is a strategic decision for us; electric bikes are designed to help if/when needed; a great enabler to joy and share a cycling tour with family or friends.
Cycle a touring pace, good physical fitness is required as well as ability to ride a mountain bike.
High level maps of the e-bike tour (daily distance, elev. gain) attached below.
The tour is offered in English or Italian. Other languages upon request (to be quoted).
The bike is setup with standard saddle and high grip flat pedals. If you like, you are welcome to bring your saddle and MTB pedals. If you bring your clipless cycling MTB shoes with cleats, please bring your MTB pedals that are specific to your type of cleat. We will put your pedals on and take them off for you at the end of the tour.
In case you have extra luggage, during the bike tour we offer free luggage storage in Florence.
This tour is not recommended for children under 12 years. Please contact us in advance in case you have specific needs.
Note: Flight arrangements including passport and visa requirements to be managed directly by the customer, not in scope of Tuscany Quintessence SRL.
Tuscany Quintessence SRL
P.IVA: 06863080484
Via G. Romagnosi, 20
Firenze
3480815004