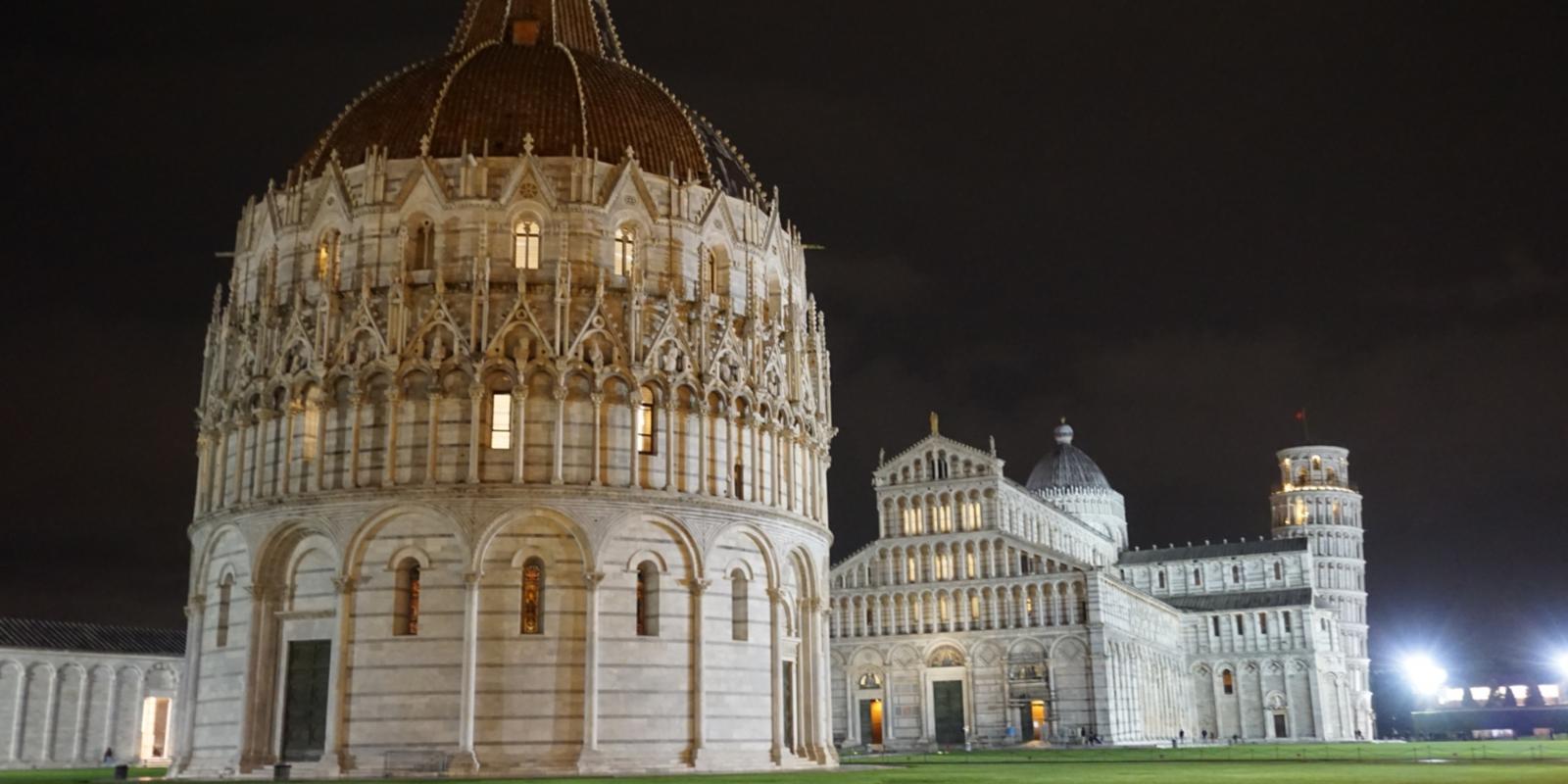 directions_walkTours
The leaning tower of Pisa and the beautiful town
A classical trip in an unexpected medieval town
The leaning tower of Pisa is famous in all the world, but I will also guide you through the unique monuments this square includes: cathedral, holy cemetery, hospital and baptistery. The main monuments were built in the 11th and 12th century to create harmony and balance for our eyes and our soul. This a unique example in the architecture of the the 11th century, in which we can see the extraordinary thought of the romanesque style. You will be astonished.
Then if you want, we can also visit all the city of Pisa, unknown from the mass tourism. There is not only the tower in Pisa, there is a full of beautiful districts and architecture.
We can also visit Pisa by bike, it is flat and easy thanks to the bike lane present everywhere.
The price indicated is for all the party and for 2 hrs tour. We can extend it to a fullday tour. If you want to visit a monument inside, please tell it me: for some museums there is an advanced booking to do, to prevent the long lines outside. Everything can be customised and tailored made. Don't hesitate to build with me your perfect day in Pisa!
When
From 09 May 2020 to 31 December 2021
Prices include
2, 3, 4 or 6 hours of guided tour of Pisa
1 ice cream per person
Supplemental charges
Drink, food, tips, museum entrances.
Meeting point
Miracle square, city center, railway station
Plan
Pisa is not just a photo taken in front of the Tower, but a fascinating trip through the medieval and theological symbolism expressed in Nicola Pisano's sculptures, Buffalmacco's frescoes in the Camposanto and the pulpit in the Cathedral.
Pisa, wealthy maritime republic and powerful city since the 11th century, displays all its grandeur in the masterpieces:
the Cathedral: without exaggeration, one of the most beautiful in Italy, with its Moorish style and the marvellous pulpit by Giovanni Pisano, a true masterpiece of Gothic sculpture in Italy
the Baptistery: the simple pulpit by Nicola Pisano from the end of the 13th century, its impressive geometry and perfect echo
the Tower: slender and delicate with all the arches which give it a lightness belying its weight, in part responsible for its "defect"
the Holy Cemetery or Camposanto: its charming Gothic corridors with Roman sarcophagi and the walls
If you decide to visit the city, we will see the knights square, seat of the greatest italian university today, the food market district and the Arno riversides with the adorable Saint Mary of the Throne, a Gothic jewell.
And to thank all your efforts, We will stop for a "Gelato"!
NOTE:
Max 10 people.
Cancellation and no-show policies
From 4 weeks up to 2 weeks before the visit , 50% of the fixed price is due. After 2 weeks , the total amount of the visit is due
Read the cancellation policies
Organization
Karine Laborde
Vicolo della pineta, 14
Pontedera