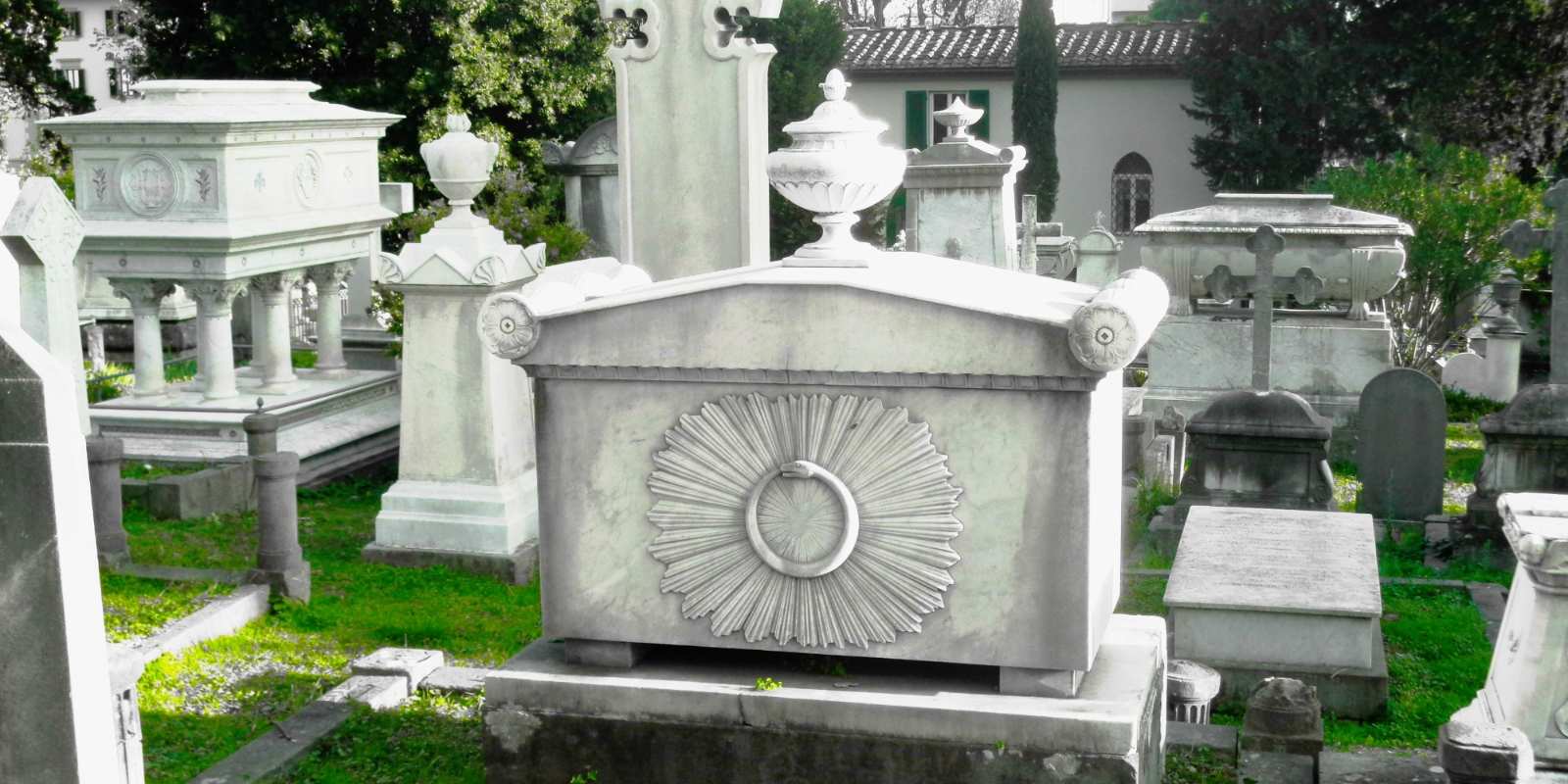 directions_walkTours
info
Important information:
The deals are subject to extraordinary measures adopted by the Italian Government to contain the Covid-19 epidemic. Please contact the operator for more information. For further information on the situation in Tuscany Stay updated
here
"The island of the dead": the English Cemetery in Florence
A unique and highly suggestive place, crystallized over time and with an incredible romantic charm
The "English" Cemetery has inspired many writers and artists including the Swiss painter Arnold Böcklin, author of the famous painting The Island of the Dead, inspired by this place, where one of his sons rests.
A fascinating and unusual place, this Protestant cemetery is very different from the Catholic ones, more like a romantic park than a burial place. Surrounded by an elegant iron gate, it is crossed by two gravel paths perpendicular to each other that cross on the top of the small natural mound. The tombs are arranged in an irregular way, decorated with beautiful marble statues and monuments.
The english ones are the most numerous (hence the name of the place), given the large presence of Anglo-Saxon artists, poets and writers in Florence in the nineteenth century, but there are many other nationalities, as evidenced by the inscriptions in various languages.

Overall, the cemetery represents an important testimony of the internationality of the tuscan city, destination of the grand tour and point of reference and attraction for the greatest artistic minds of the time.Through the names and images it is possible to immerse yourself in the atmosphere and art of Romanticism.
Among the famous people buried here: the historian R. Davidsohn, the poetess Elisabeth Barrett Browning, colonel Thomas Stibbert, father of the collector Friedrick, founder of the homonymous museum.
When it was opened in 1827, the cemetery was deliberately outside the medieval walls, which were then demolished; in half a century it was gradually surrounded by the expanding city and finally, in 1877, closed and replaced by the Cimitero degli Allori.
Notes:
Cost per person: € 15.00 for 1.15 h, for a group of 5.
For groups of less or more than 5 pax the total cost is € 75.00 to be divided among the participants
Possibility of combining several itineraries (see attached brochure), also visiting the cemetery of the Allori and / or the basilica of San Miniato al Monte with the cemetery of the Holy Doors
When
From 10 April 2021 to 10 April 2022
Prices include
Authorized tour guide, PhD in History of Art, in themed dress
Supplemental charges
Headphones rental
Entrance and offer at the entrance for the maintenance of the Cemetery
Plan
We will meet in front of the entrance gate, where for those who want it will be possible to leave an offer for the maintenance of the Cemetery.
The visit will continue inside among the tombs of the characters who rest in this place, retracing their lives, human events and artistic heritage, with particular attention to the symbols carved on the tombs.
Cancellation and no-show policies
Prepayment is required. 100% refund in case of cancellation within 48 hours; 50% within 24 hours. In case of no show, there will be no refund. The Guide will wait one hour at the Meeting Point
Organization
Sara Fabbri
P.IVA: 06486900480
Borgo San Lorenzo