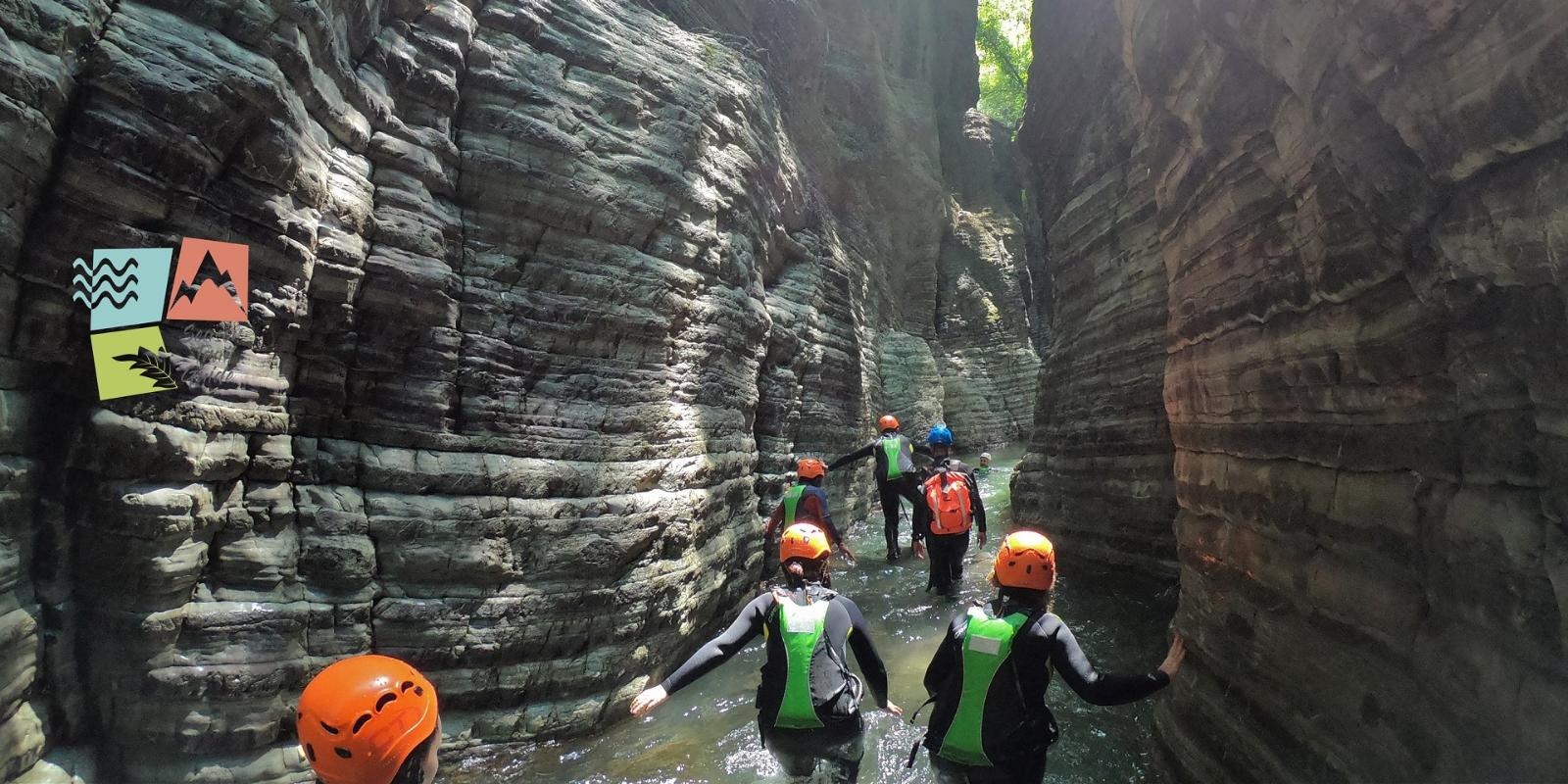 bookmarkExperiences
Stretti di Giaredo: the hidden Lunigiana and its flavours
Walk & swim in the Stretti di Giaredo (Gole del Gordana) and enjoy a sustainable picnic with typical local products
Reaching the Gordana valley, we will feel like going back in time hundreds of years for the few houses, almost all in stone, that anthropized it and we will reach a very small village. We will park in a meadow just before the village, where you will receive helmets, life jackets and the wetsuit that we will wear putting on only the pants, tying the wetsuit jacket on the hips in order to avoid to suffer the heat, during the first part of our excursion.
We'll walk through the village and follow a cobblet path in the shady forest that quickly will leads us to the stream (15'), which we will wak up-stream, often walking in the water, crossing it repeatedly, always on poorly still and even slippery pebbles, when wet and covered with algae, therefore constantly paying attention, until you reach the canyon (30').
Here we'll wear the wetsuit jacket and the life jacket, to immerse ourselves in the fresh and crystal clear waters of the first of the pools set among the rocks that we will swim through. From here on we will find ourselves constantly in the shade, often swimming, but the wetsuits will keep us warm even from the fresh wind blowing between the walls of this canyon of very high geological interest. We'll admire stones of various types and different colors, which create a unique setting: almost the entire range of stones from the local Apennines. Where the light of the sun, which barely penetrates the vegetation above if not in the central hours of the day, creates light and color effects worthy of a master of photography. We'll continue about 1h in the canyon admiring the succession of different colors and shapes of the rocks, and then walk back along the same route: the canyon has no other exits.
At his end we'll have our "sustainable Picnic" with typical products, local specialties, biologically grown in the area. After the picnic we'll go back to our cars where we'll have the towel and the change of shoes, socks and swimsuit, together with the clothes.
When
From 21 May 2020 to 20 September 2020
Prices include
Guide service.
Equipment rental:
wetsiut;
life jacket;
Helmet.
Sustainable picnic, with typical local products, which includes:
vegetable pies (torta d'erbi e scarpassa);
one type of local cheese and salami;
local bread (focaccia) and Ligurian focaccina;
D.O.P. Lunigiana honey;
tasting of Lunigiana wines;
soft drinks and water.
Supplemental charges
Transport to the starting point of the excursion.

Closed shoes with a sculpted sole with good grip and socks that will get wet together with the swimsuit to be worn under the wetsuit.

Towel to dry at the end of the excursion.
Cancellation and no-show policies
The experience can be canceled in case of bad weather and if the minimum number of participants is not reached.
Organization
Season Trail Guide
P.IVA: 01108530450
Via Camaiora, 7
19037 Santo Stefano di Magra