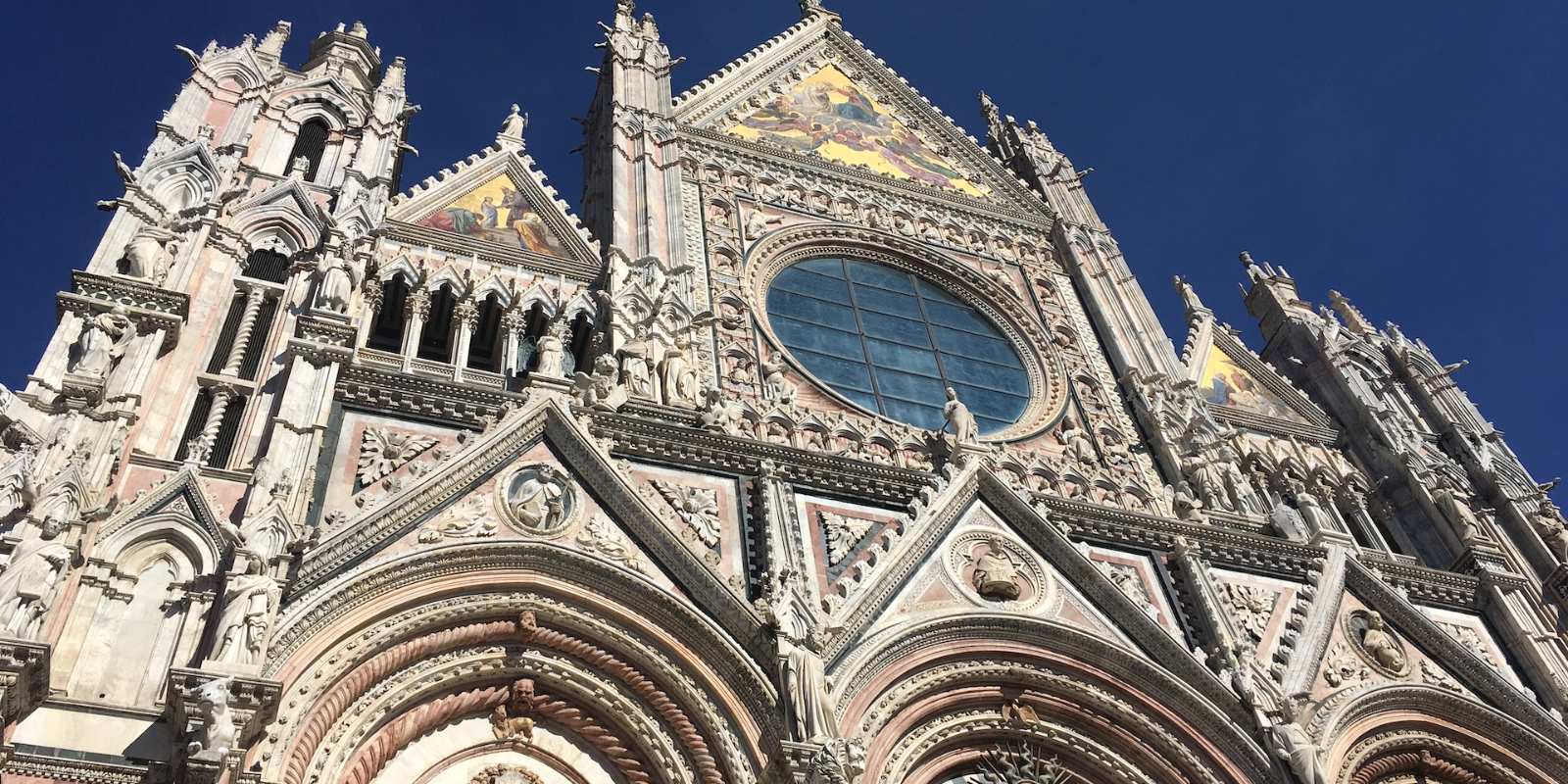 directions_walkTours
info
Important information:
The deals are subject to extraordinary measures adopted by the Italian Government to contain the Covid-19 epidemic. Please contact the operator for more information. For further information on the situation in Tuscany Stay updated
here
Smart tour of Siena, exploring the wonderful city of the Palio
A complete videotour to discover more or less known corners of the "daughter of the road", born on the path of the legendary Via Francigena
Discover the hidden and intriguing facets of Siena through the videos recorded by a professional local guide. Make the most of your time in one of Italy's most beautiful medieval cities with this Tebikii video guide!
Siena is located on the Via Francigena, the pilgrim route connecting Western Europe to Rome, and has therefore always been an important crossroads for different cultures, merchants, saints and sinners.
This video tour takes you from outside the walls to the Cathedral and the other highlights of the city: Piazza Salimbeni, Piazza Tolomei, the Arches of via della Galluzza, the Baptistery, the Fonte Serena - evidence of the incredible network of underground canals, and the Jewish Ghetto, the legacy of difficult times for Siena.
The video itinerary culminates in Piazza del Campo, the beating heart of the Sienese community. The square represents the symbol of the gathering of the well-known Contrade, the 17 districts that compete during the Palio.
When
From 09 April 2021 to 31 December 2021
Prices include
Tour of Siena with Tebikii video guide
Meeting point
The first stop of the video tour is the Basilica of San Domenico, but you can start from wherever you want.
Plan
The app guides you through the various stops of the itinerary as per this MAP, but you can decide what to see in the order you prefer.
With Tebikii you can explore Siena's historic center with the video guide on your smartphone, intriguing facets of the city through the videos recorded by me, a local guide of Siena and spend your time as you wish, visiting its highlights at your leisure.
Please note:
Once purchased, the video guide doesn't expire. You can use it whenever you want until 31 December 2021
The price refers to the number of mobile devices on which you want to activate the tour (1 ticket: 1 device)
Cancellation and no-show policies
The purchase is non-refundable
Organization
Ollaeventi di Federica Olla
P.IVA: 00853850527
Via della Galluzza, 16 - 53100 Siena
Siena