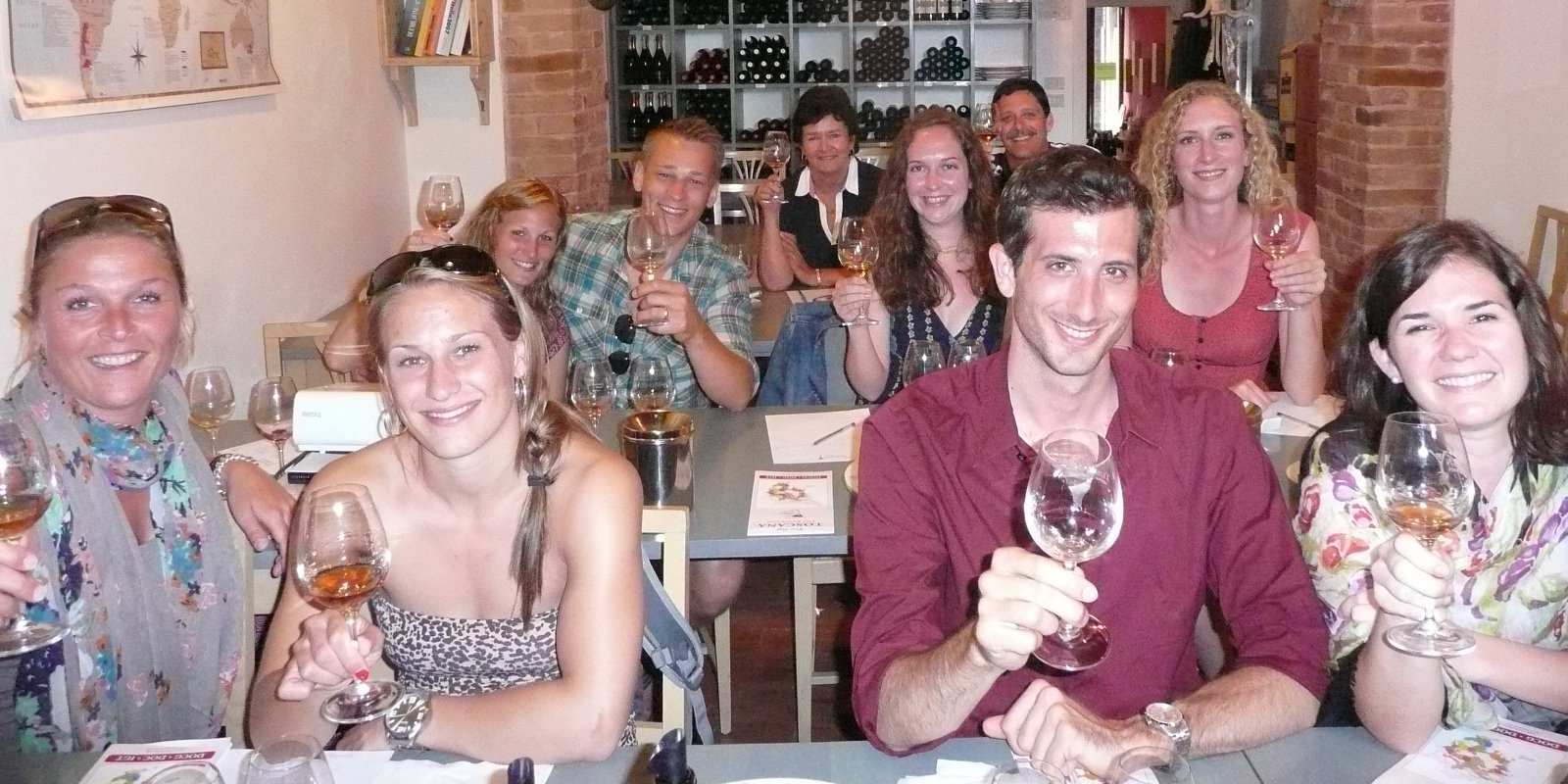 restaurant_menuTasting and food
info
Important information:
The deals are subject to extraordinary measures adopted by the Italian Government to contain the Covid-19 epidemic. Please contact the operator for more information. For further information on the situation in Tuscany Stay updated
here
Small group Tuscan Classics wine tasting in Siena
Join this fun and savory class and uncork the secrets of Tuscany's best wines
Are you a curious and thirsty traveler looking to discover some of the secrets of Tuscan wines? Come to the Tuscan Wine School for a wine tasting class to learn about the region's most important, traditional wines in a fun and informative way, led by an English-speaking local expert.
We start the Tuscan Classics class with a journey into the world of local wines, exploring the history of wine-making within the region that dates back to Etruscan times. Taste the Vernaccia di San Gimignano DOCG, a white wine mentioned by Dante in his inferno, and explore how grape-growing and wine-making have changed since the middle ages. Learn about Tuscany's different soils, climatic areas and grape varietals, about the traditional or organic methods of work done in the vineyards throughout the year, and the different types of ageing that are commonly used by local cellars.
Explore these influences by tasting a young and fruity red wine and comparing it to an older, bolder wine, and learn about their differences in production. Taste your way through young and fruity reds as well as older, bolder wines that Tuscany is known for. Taste Chianti, elegant Nobile and precious Brunello and swirl, smell and sip your way through different types and styles of wine to gain a deeper understanding to why the area's wines have gained worldwide appreciation. The tastings will be enhanced by a series of different sample foods to enrich the fun and informative experience!
The wine tasting is in compliance with the environmental sanitation protocols and containment of COVID-19 as regulated by the Ministry of Health.
When
From 03 May 2021 to 23 December 2021
Monday, Wednesday, Thursday, Friday, Saturday, Sunday start 17:00 end 19:00
Prices include
Taste the main DOCG wines of Tuscany
Learn to taste and recognize Tuscan wines
Enjoy a fun and informal class in the company of fellow travelers
Savor tasty bites of local products
Cancellation and no-show policies
Organization
Tuscan Escapes by Papilio Tours
P.IVA: 01484520521
via Stalloreggi 26
Siena