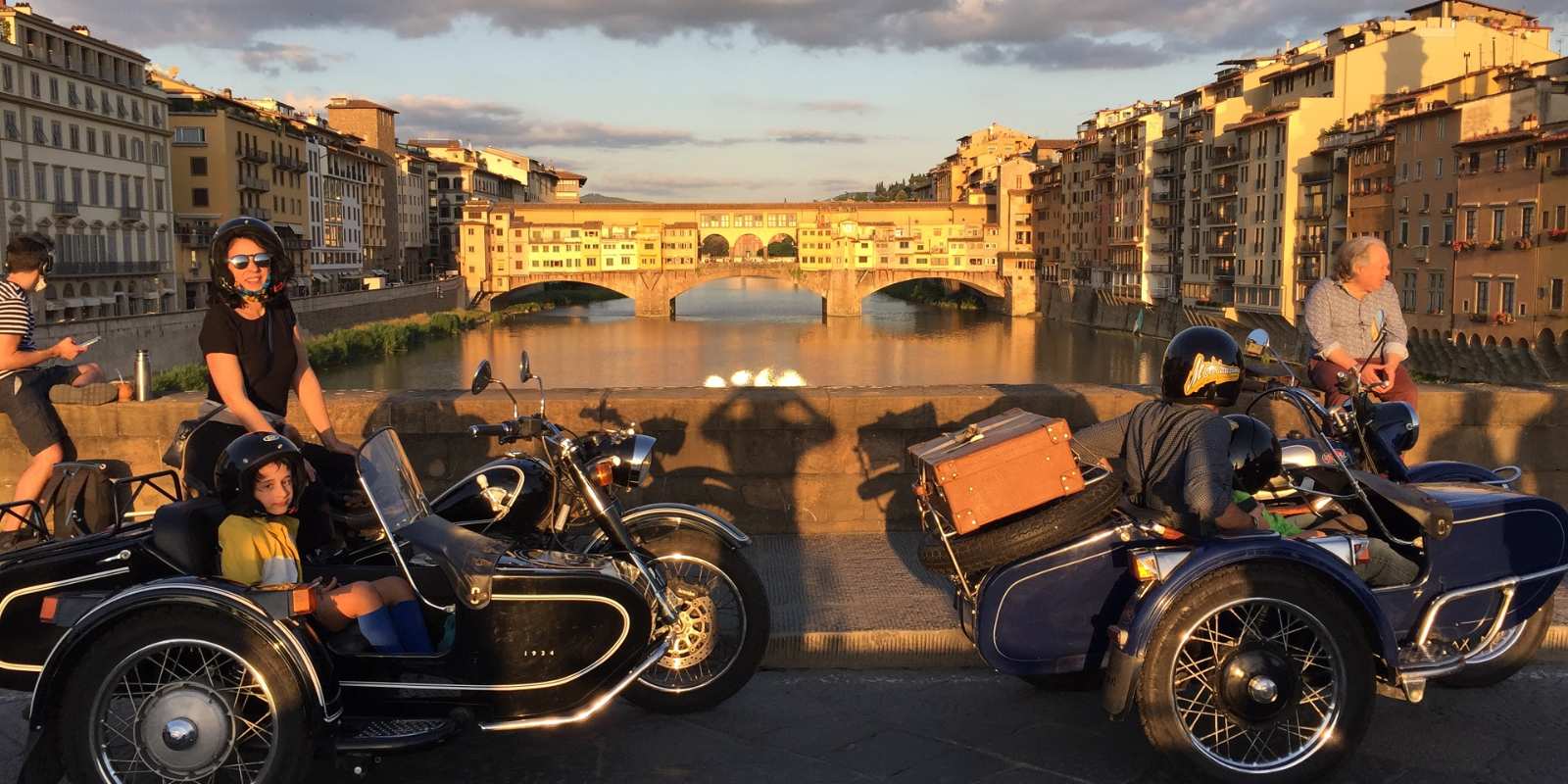 bookmarkExperiences
info
Important information:
The deals are subject to extraordinary measures adopted by the Italian Government to contain the Covid-19 epidemic. Please contact the operator for more information. For further information on the situation in Tuscany Stay updated
here
Sidecar tour in the hills around Florence with gin tasting
A unique experience in the Florentine hills to reach the splendid "Peter in Florence" Gin distillery for a guided visit and tasting
Can you imagine a sidecar tour around Florence? Let's go! Enjoy the Tuscan hills sitting in the sidecar with the breeze in your hair, surrounded by breathtaking views, letting yourself be carried away by a professional driver. Your destination will be Podere Castellare, an eco-sustainable resort nestled in the hills: get ready to go "full gin" with the first "London Dry Gin" made in an Italian distillery, "Peter in Florence".
Sidecars are the iconic three-wheeled single vehicles on which everyone, at least once in their life, has dreamed of getting on! Gilberto, Tommaso and Riccardo are the three motorcyclists of the Motocarrozzetta - Florence Vintage Sidecar Tours, who will drive you from Florence to Pelago while you will remain comfortably seated in the sidecar to enjoy the view, fresh air and... Tuscany! The duration of the trip will be more or less than an hour and a half each way.
An exclusive experience by Destination Florence to fully discover our land.
Promo Code Destination Florence Plus: You can buy this product with the exclusive 30% off by booking a hotel with a special price. Book now and receive the promo code!
COMPLETE PROGRAM (MORNING OR AFTERNOON)
9.30 am / 4.30 pm meeting point in piazza Ognissanti, Florence (central and easily reachable) and departure
10.30 am/ 5.30 pm arrival at Podere Castellare and welcome drink
11.15-13.00 / 6.15-8.00 pm guided tour of the distillery with basic notions on distillates - tasting of Gin Peter In Florence - field visit of the botanicals used in the distillery
1.00 pm / 8.00 pm light lunch / dinner served: appetizer, first course, dessert combined with the botanicals used in the distillery + 1 cocktail p.p.
2.30 pm / 9.30 pm return, departure for Florence
Useful information:
Booking: You can book up to 48h before, the contacts are on the voucher
Meeting Point: Piazza Ognissanti
Availability: from 2 to 6 people (each sidecar can accommodate up to 2 passengers)
Maximum weight: 100 kg (per person)
When
From 06 May 2021 to 31 December 2021
Prices include
Sidecar Tour from Florence to Pelago and return, with professional driver and helmet included
Guided tour of the Podere Castellare distillery "Peter in Florence"
Gin tasting
Lunch or dinner: appetizer, first course, dessert combined with the botanicals used in the distillery + 1 cocktail p.p.
Provided helmet, k-way covers and gloves if it's cool
Supplemental charges
Clothing: we recommend comfortable, layered clothing, windproof jacket (k-way) recommended, comfortable closed shoes. Sunglasses (always) and sunscreen (in summer).
Cancellation
and no-show policies
Free cancellation up to 48h before. PLEASE NOTE: given the validity of the voucher it is possible to postpone the experience with a 24h notice for six months from the purchase.
Bad weather: In case of rain it is possible to use a minivan or postpone the tour.
Covid prevention measures:
At check-in you will be asked to fill out a form where you are informed that the temperature is below 37.5 ° and that in the last 14 days there has been no contact with people affected by Covid.
Obligatory masks to be paid by the customer (there will always be spare ones in the top case).
Sidecars, helmets and structure sanitized before each tour.
Organization
Destination Florence.com
P.IVA: 0467496048
P.zza Madonna degli Aldobrandini 8
Firenze