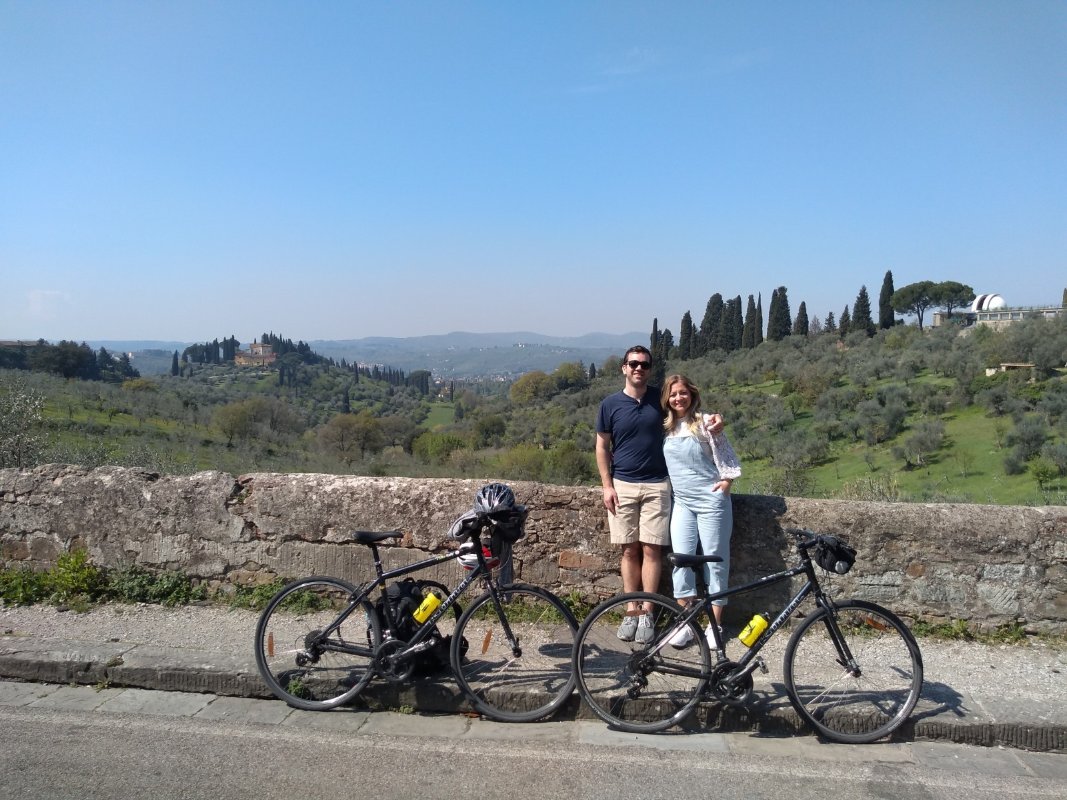 directions_walkTours
Half-Day Florence Hills Bike Tour
A Taste of Tuscany
Want to get away from annoying crowds of the city? Discover the heart of Tuscany with us. This tour will show you the beauty of the surroundings of Florence by bike.
Starting from Oltrarno area of Florence with our knowledgeable guide, you will reach the coutryside cycling along ancient and narrow roads in this panoramic 4.5 hour bike ride.
You can enjoy a fun ride on the hills surrounding Florence, with a stunning view over the city.
In this tour it is included an exclusive wine and olive oil tasting accompanied by a light Tuscan snack of local products in a private Renaissance Villa surrounded by nature. Their products are made on the premise and they are only sold locally.
After the wine and olive oil tasting, we will jump back on the bikes to explore some more Tuscan landscape. During the way back to Florence, we will get around a small village, home to Galileo and his star observatory.
Then, we will stop at the famous Piazzale Michelangelo for the best view of the city and we get back into the historical center of Florence.
When
From 20 December 2019 to 31 December 2020
Booking info
On the organization's website or by email

See more on the organization's website
keyboard_backspace
Fun and knowledgeable guide.
Bike, helmet and water.
Wine and olive oil tasting.
Tuscan snacks and local food products.
Optional E-bikes on request.
Cancellation and no-show policies
We Like Tuscany is a tour operator specializing in outdoor activities in Tuscany, in the region around Florence. Since 1993, it has been liberating travelers from the routine of the city.
We Like Tuscany invites you to a change pace and scenery. Feel a cool breeze, breathe some fresh air, and see the real Tuscany. Our high level of experience has allowed us to refine our products and bring you the best of what Tuscany has to offer.
Our passion for both outdoor activities and Tuscany has allowed us to create itineraries and relationships that have withstood the test of time and make our tours a personal experience for many of our guests.
We like tuscany sas
P.IVA: 06344330482
via del campuccio 88
firenze
342 9352395