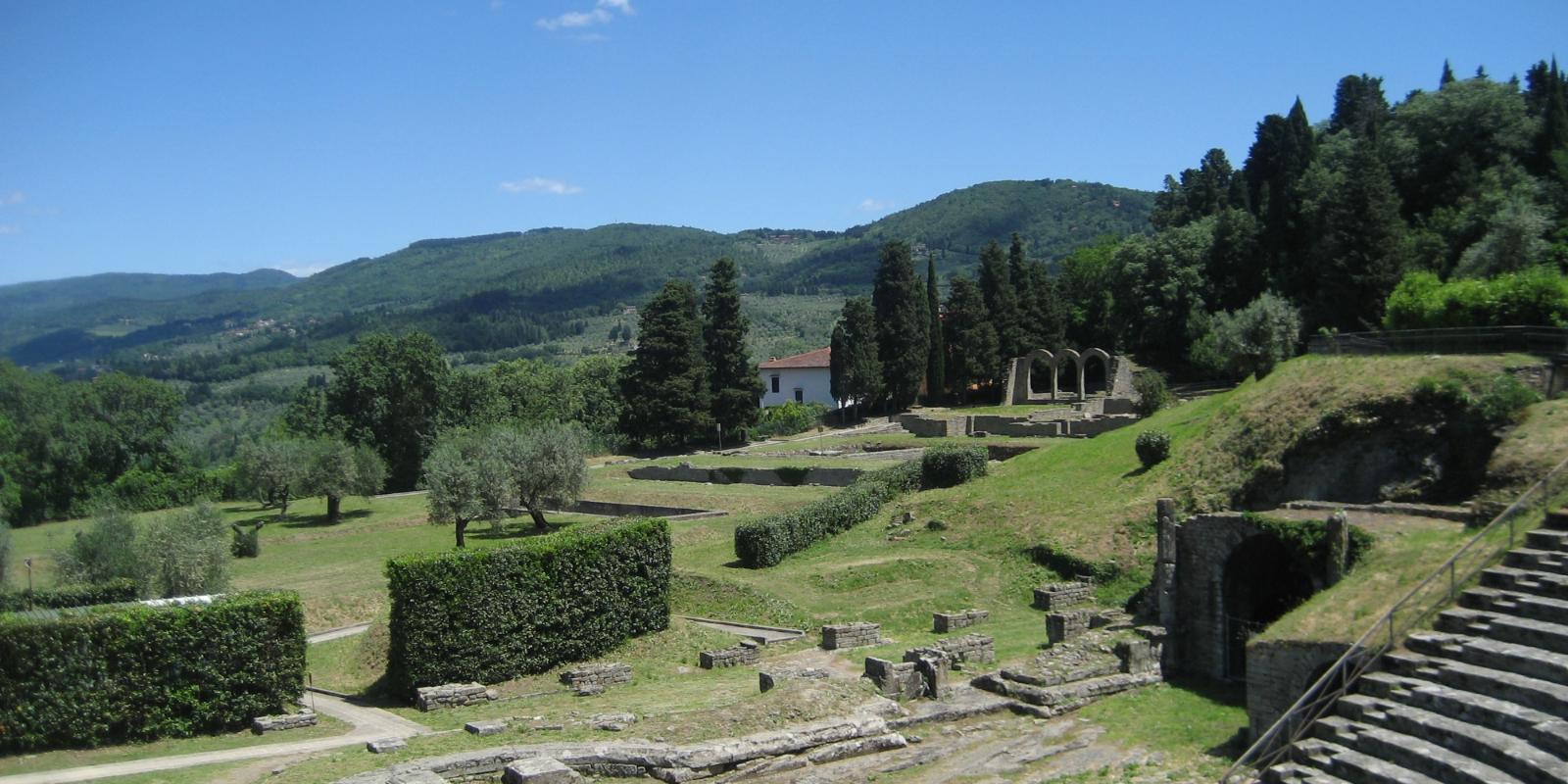 Photo ©Eleonora Nucciarelli
directions_walkTours
Fiesole, between history and legend
Guided tour of the city of Fiesole: archaeological sites and scenic views
Lying on the hills overlooking Florence from the north, Fiesole offers us breathtaking views and tells us the story of humans in Tuscany from ancient times to the present. Let's take a journey together in search of the traces left by more than two thousand years of history and discover the myths and legends that developed over the ages.

Founded as a powerful Etruscan city state on the roads connecting southern to northern Etruria, Fiesole became later a Roman colony as witnessed by the presence of a theatre, still in use today. Since the Middle Ages the bishop of Fiesole controls a vast territory that, nowadays as well, extends over Mugello, Valdarno and Chianti areas.
With the flourishing of Renaissance the quarries of grey sandstone provided material to great Florentine architects like Brunelleschi and Michelangelo. On the hills surrounding the city centre, dotted with cypresses and olive trees, wealthy Florentine families as the Medici built splendid villas. Some of them host today important institutions like Fiesole School of Music or the European University Institute.
The landscape of Fiesole, the result of a rare harmony between the human being and nature, has been a source of inspiration for writers and artists in all times, starting with Boccaccio who set the frame of his Decameron in a villa at the foothills of Fiesole.
NOTE:
Booking is mandatory
This activity complies with safety COVID-19 laws, the tour will be in the open air, the number of people will be limited and, in case people in the group belong to different families, each one will be provided with audio systems to guarantee physical distancing among the participants and with the guide
When
From 01 June 2020 to 31 October 2020
Prices include
Private guided tour run by a local professional tour guide.
Audiosystems when needed

Supplemental charges
Entrance tickets to the archaeological area.
Plan
Private guided tour of the city of Fiesole and of the archaeological area
The tour includes walking uphill on steep streets, please wear comfortable shoes
Duration of the tour: maximum 3 hrs
NOTE:
Max 12 people
Cancellation and no-show policies
You can cancel until 48hrs before the tour, after 48hrs the total amount is due.
Organization
Eleonora Nucciarelli
P.IVA: 02748880545
Firenze