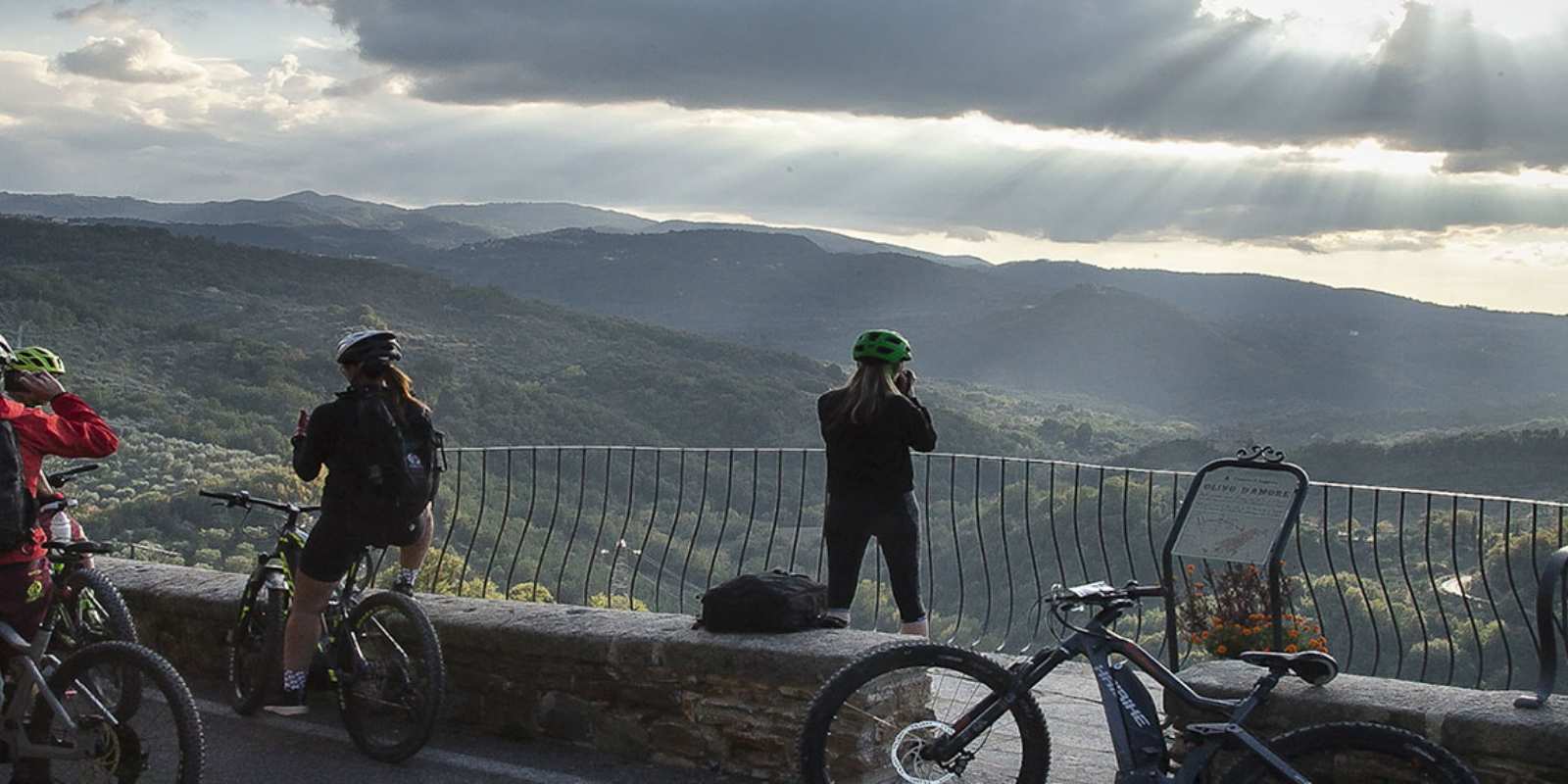 This deal has expired
redeemHoliday packages
info
Important information:
The deals are subject to extraordinary measures adopted by the Italian Government to contain the Covid-19 epidemic. Please contact the operator for more information. For further information on the situation in Tuscany Stay updated
here
Dall'Amiata all'Area del Tufo: viaggio in e-bike
Pedalando dalla Vetta Sacra alle Vie Sotterranee degli Etruschi
Questo è un viaggio che dal Monte Amiata, la Montagna Sacra degli Etruschi ci porta lungo le sue pendici verso l'Area del Tufo, alla ricerca delle testimonianze più o meno evidenti che l'antico popolo etrusco ha lasciato.
Ti proponiamo di percorrere questo prezioso angolo di Toscana in sella ad un e-bike: grazie alla pedalata assistita potrete assaporare al meglio quest'esperienza che, senza eccessiva fatica, vi regalerà paesaggi e panorami suggestivi: dalla Vetta del Monte Amiata alle sue pendici, dalle valli del Fiora e dell'Albegna fino alle suggestive Vie Cave e le Tombe dell'Area del Tufo.
Un percorso denso di storia e ricco di mistero, perfetto per chi ama l'aria aperta e la natura.
NOTE:
Tutte le uscite in e-bike sono messe in sicurezza grazie all'ammiraglia che seguirà gli ospiti durante il tragitto;
Il prezzo indicato è a persona per 2 persone in camera doppia;
Previste riduzioni per gruppi a partire da 3 persone;
Possiamo alloggiare i nostri ospiti in diverse tipologie di Hotel e strutture ricettive situate nei paesi della montagna, fuori dai centri abitati o in quota circondati dal bosco.
When
From 08 February 2020 to 10 July 2020
From 24 August 2020 to 24 December 2020
Prices include
3 Notti in mezza pensione in uno dei nostri Hotel con cena a base di prodotti tipici e bevande locali (incluse acqua e ¼ di vino);
2 FD Noleggio e-bike con GPS;
Ammiraglia per seguire gli ospiti durante tutti i tour in bici;
Transfer per i rientri in taxi/bus a fine giornata;
Tour, visite e ingressi, cocktail, pranzi, degustazioni e trasporti previsti dal Programma.
NOTE:
Tutto ciò che non è espressamente riportato in questa sezione è da ritenersi escluso dal prezzo indicato.
Abbiamo messo a punto una campagna per le misure di sicurezza attuate dalle nostre strutture e dai nostri fornitori. Ecco i dettagli a questo link: https://www.bookingamiata.com/covid-19/
Supplemental charges
Bevande non incluse nel programma, caffè, liquori, consumazioni al bar o in camera;
Assicurazioni;
Altri trasporti non inclusi nel programma;
Tassa di soggiorno (dove presente).
Plan
Giorno 1 - La Montagna Sacra
Arrivo in Hotel e consegna e-bike;
Cena.
Giorno 2 - Vie Cave e Tombe Etrusche
Escursione in e-bike attraverso i boschi di faggi e le valli del fiume Fiora fino a Sorano;
Visita del piccolo borgo e pranzo tipico;
Dopo pranzo Pitigliano e quindi Sovana attraverso le affascinanti strade etrusche scavate nelle pareti di tufo, le Vie Cave;
A Sovana, visita del borgo e del Parco Archeologico con la Tomba Ildebranda;
A seguire, rientro in Hotel con taxi/bus e cena.
Giorno 3 - La Montagna delle Terme
Escursione in E-bike dal Monte Amiata verso Saturnia, un tempo nodo di comunicazione e collegamento tra il territorio di Vulci, Amiata e Chiusi, attraverso ampi e spettacolari panorami sulle valli del Fiora e dell'Albegna;
All'arrivo, visita della Città e pranzo;
Dopo pranzo, bagno nelle acque termali sulfuree della zona;
Rientro in Hotel con taxi/bus e cena.
Giorno 4 - Partenza
Dopo colazione, check-out e partenza.
Cancellation and no-show policies
Caparra del 30% alla conferma del tour. Saldo 15 giorni prima dell'arrivo (non rimborsabile).
Organization
Booking Amiata
P.IVA: 01294750532
Via Pozzo Stella, 57
Castel del Piano