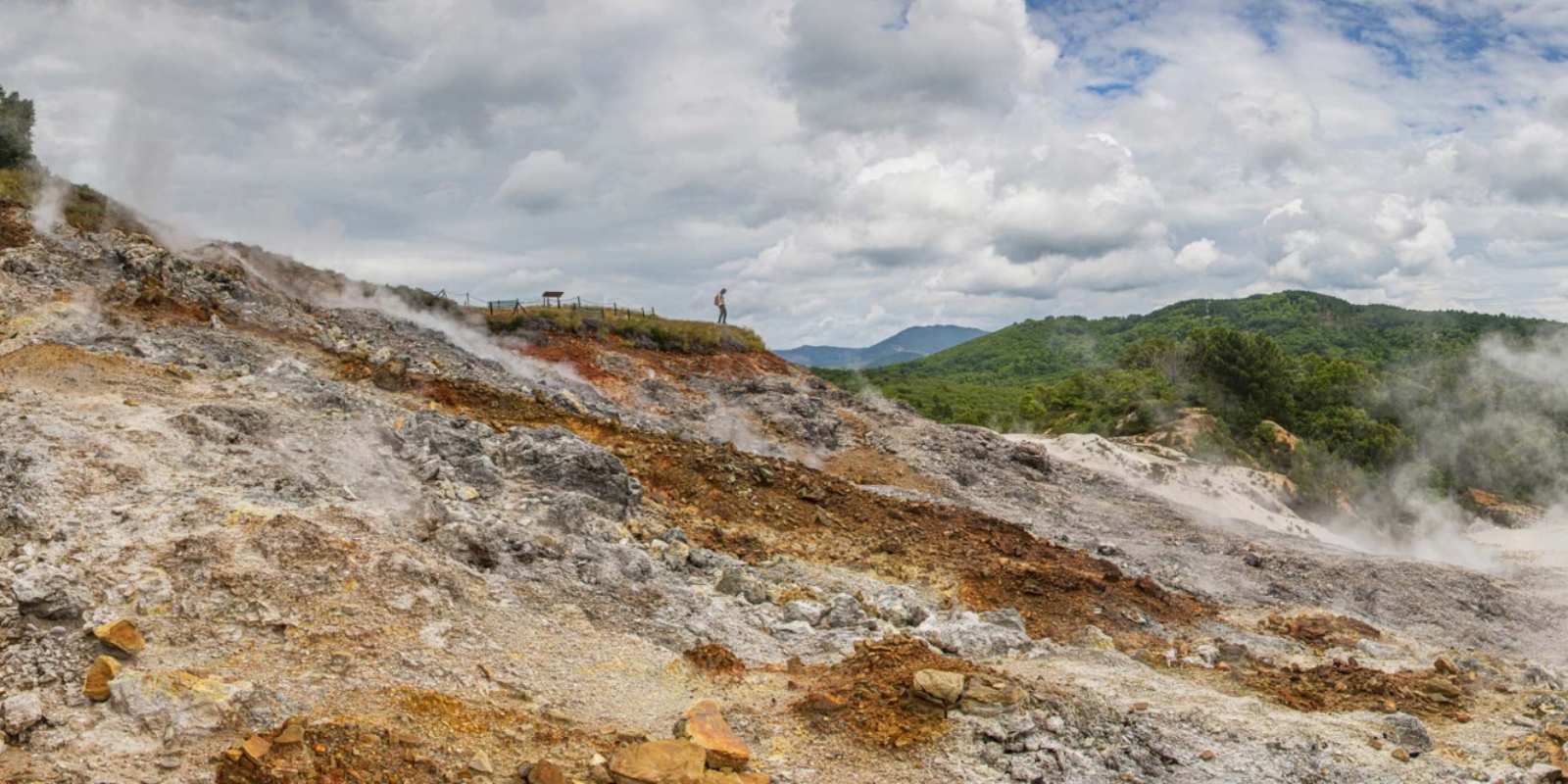 directions_walkTours
info
Important information:
The deals are subject to extraordinary measures adopted by the Italian Government to contain the Covid-19 epidemic. Please contact the operator for more information. For further information on the situation in Tuscany Stay updated
here
Biancane, hiking in the Devil's Valley
Excursion on the Biancane in the Metalliferous Hills, an area of high naturalistic value dominated by geothermal phenomena that have given life to a unique ecosystem
A journey listening to the earth, its colours, its secrets and the voices whispered by the subsoil. The constant presence of natural heating coming from the ground (through vapours), as well as the acidity of the soil and emissions, have created a special microclimate that has given live to a spectacular landscape.
During the journey we will be surrounded by the pungent smell of sulfur that will quickly transport our minds away, as if to lead us to the gates of Dante's hell. We will be able to observe the contrast of the rocks bleached by the sulphurous vapors with the purple of the heather and the red ocher of the ferrous rocks, drawing a mystical and surreal landscape. From the small smoking fractures we will be able to hear a reality made of breaths.
We will then reach the highest point of the geological site, where the contradictions will suddenly appear all at once. A lunar-pale landscape surrounded by atypical flora of cork and heather. Further on, extensive woods and beautiful countryside rich in olive groves and vineyards. The tyrrhenian coast and the tuscan archipelago will appear very far away.
Technical organisation Tour operator: Tuscany Outdoor/Toscana by Bike
Nature and Hiking guide: Claudia Tommasi
When
From 01 May 2021 to 31 December 2021
Cancellation and no-show policies
Richiesta una caparra del 30% alla conferma. E' possibile cancellare gratuitamente fino a 30 gg prima della data di arrivo con la restituzione della caparra, mentre in caso di chiusura causa Covid delle zone di destinazione o partenza, o necessità di periodo di quarantena è prevista la restituzione della caparra o l'utilizzo della stessa per altro soggiorno, anche nel range dei 30 giorni.