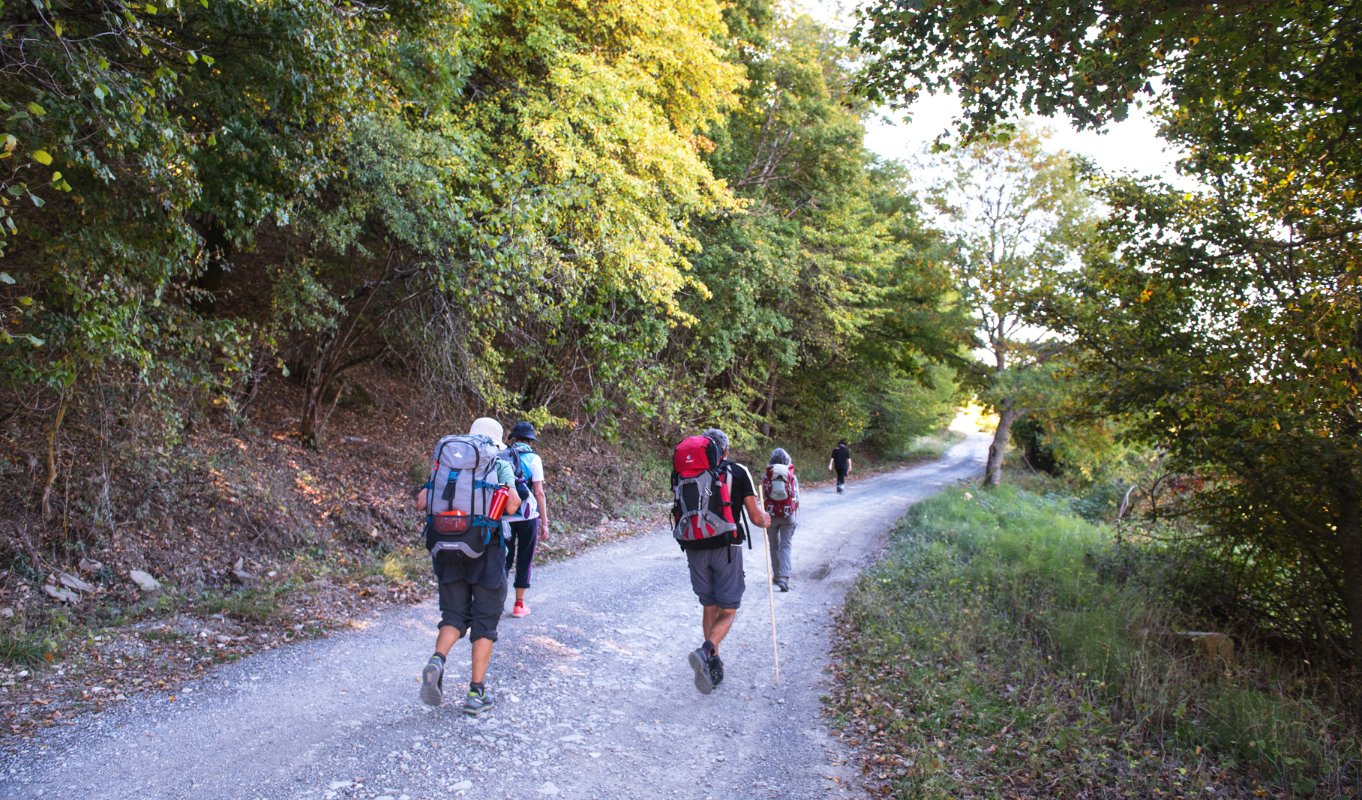 Photo ©
Circolo degli Esploratori
directions_walkTours
Alpe della Luna hike
A guided two days hike in the Apennines
A spectacular hike departing from Bocca Trabaria (Arezzo): we will cover the whole ridge of the Alpe della Luna, among myths and legends, landscapes and nature, colors and scents of the wild nature. We follow the path 00 on the Apennine ridge between Tuscany and Marche with a view of the Tiber valley on one side and on the other the Val Marecchia as far as the eye can see, with the blue line of the Adriatic Sea at the end. The Alpe della Luna Nature Reserve is interesting for the incredible biodiversity that it preserves, we will meet the traces of the Apennine fauna and trees and flowers of this climatic zone everywhere. It is a trek not to be missed and, think, the legend says that whoever touches the moon from the top of the Ripa can express a wish… .so worth trying!
EQUIPMENT REQUIRED Clothing, accessories and backpack: trekking shoes, waterproof cape, hike clothing (in layers, comfortable trousers for trekking, t-shirt, fleece or sweater with a change in the backpack), water (starting with the bottle or with a large water bottle that can be filled), first-day packed lunch, sleeping bag, 1 change of linen, towel, rubber slippers, toothbrush with toothpaste, shampoo shower, pajamas. We recommend a backpack for a 2-day trek, consider staying a night out.
When
From 19 October 2019 to 20 October 2019
See more on the organization's website
keyboard_backspace
Hiking Guide
Overnight stay and half board in the Pian della Capanna refuge
Transfer from Sansepolcro to Bocca Trabaria
Sansepolcro, Centro Commerciale Valtiberino
DAY 1 → From Bocca Trabaria to the Rifugio Pian della Capanna:
Meeting at 8.30 am at the Valtiberino Shopping Center in Sansepolcro (Via di Montefeltro 1), from here the minibus will take us to the beginning of the first stage.
Distance: 15km
Level difference: + 404mt -425mt
Slope uphill: 6%
Difficulty: E (intermediate)
The stage will end in the afternoon at the Rifugio Pian della Capanna (dinner and overnight stay at the refuge).
DAY 2 → From Rifugio Pian della Capanna to Sansepolcro:
Length: 13km Level difference: + 191m / - 866mt
Slope uphill: 7%
Difficulty: E (intermediate)
For this second stage it is possible to buy a packed lunch at the Refuge. In the afternoon we will arrive in Sansepolcro for the end of the hike.
Circolo degli Esploratori
P.IVA: 01653940518
via dei servi, 25
sansepolcro
0575750000