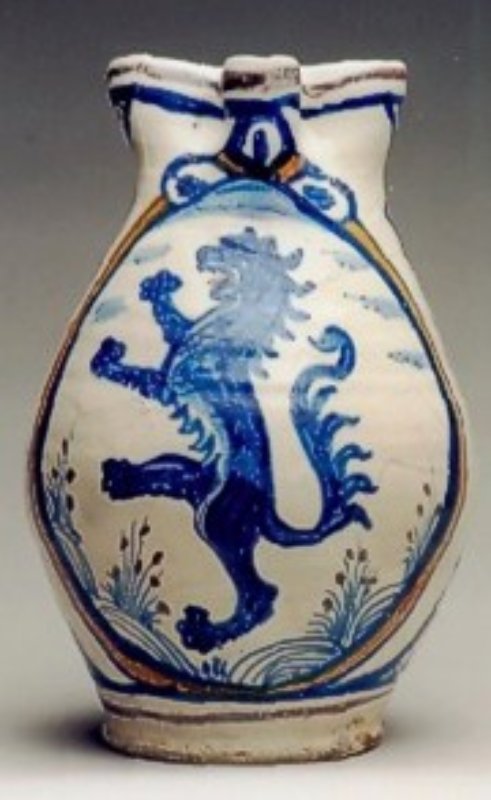 free_breakfastCeramics
Montelupo's Majolica: the history
The history of Italy's greatest ceramic-making city
The word "majolica" comes from the name of the port of Maiorca, in Spain. The kilns in Montelupo made the first majolic, which was decorated with copper flake and manganese and inspired by the Spanish-style, at the end of the 13th century. The craft was developed further during the following century.

THE DEVELOPMENT OF A UNIQUE STYLE
In the early 14th century, Montelupo was one of the most active centres in the technological revival of majolica styles in the Florentine area, thanks to the introduction of new whiter clay mixtures which made for a better glazing of the biscuit ware. IIn these years, the art of making majolica was financed heavily by the ruling families in Florenceand environs,like the Antinori family,and the trade of majolica from Montelupo also grew considerably because of its close proximity to Pisa and the coast.

Montelupo entered into its GoldenAge in the second half of the 14th century. Still inspired by the Spanish style and Reniassance elements, Montelupo productions were shipped across the Mediterranean - from Greece to Egypt and Marocco - as well as to Northern Europe - from England to Holland.

The immigration of some potters from Faenza are recorded in this period. The first of these was Girolamo Mengari, a potter of great skill. This was equally a time when the workshops in Montelupo began torenew their repertoire, almost as though they wanted to take part in creating a new national style.

TRADITION IN DECLINE
It was only in the 1530s that sales of ceramics products from Montelupo started to decline, thanks to a considerable price increase caused by inflation. The turbulent years of transition from the Florentine Republic to a Medici Duchy (1530-37) added to various other difficulties, were enough to subdue considerably an otherwise florid production.

Forced to cater for new market tendencies, potters in Montelupo turned to the production of engobed ceramics (glazed engobing, but also marbled or dappled etc.), with a lower cost of production. Already towards 1550, the difference between engobed ware and majolica leapt from one percent in the years between 1490-1500 to almost fifty percent in the second half of the 16th century. What is more, the manufacture of glazed ceramics fell into a state of progressive inertia, so much so that it was unable to shake off the repetition of the old Renaissance decoration and the emulation of styles produced in other manufacturing centres in Italy.

Having reached anall-time low between the 17th and 18thcenturies, the manufacture of tableware was taken up (again) in nearby Capraia, by the Bardi kiln, which started production in the 1840s, thanks to a contribution by the Fanciullacci, a family of expert potters, who had left Doccia, in Sesto Fiorentino.
REBIRTH OF CERAMICS
It was theFanciullaciwho brought about a new revival of majolica manufacture by moving to Montelupo in 1913.

Today, Montelupo is once again one of the best-known ceramics cities in Italy. Boasting over 120ceramics-making firms, the Montelupo area also offers visitors ceramics-inspired itineraries, like the Montelupo Ceramics Trail.
THE INDUSTRY TODAY
Today, Montelupo ceramics are recognized the world overfor their top-quality and beauty.

The time dedicated to each piece, the selection of the raw materials used, the long history and skills of artisans all result in the top reputation and medium to high prices asked for one of these peices of ceramic. Two brands to certify Montelupo's loong history and expertise are now used: the Marchio della Ceramica di Montelupo Fiorentinoand theMarchio della Ceramica Artistica e Tradizionale di Montelupo.

The artisans of today are often flanked by young artists who work with these ceramics masters to learn the trade and the centuries-old tradition.
You might also be interested in