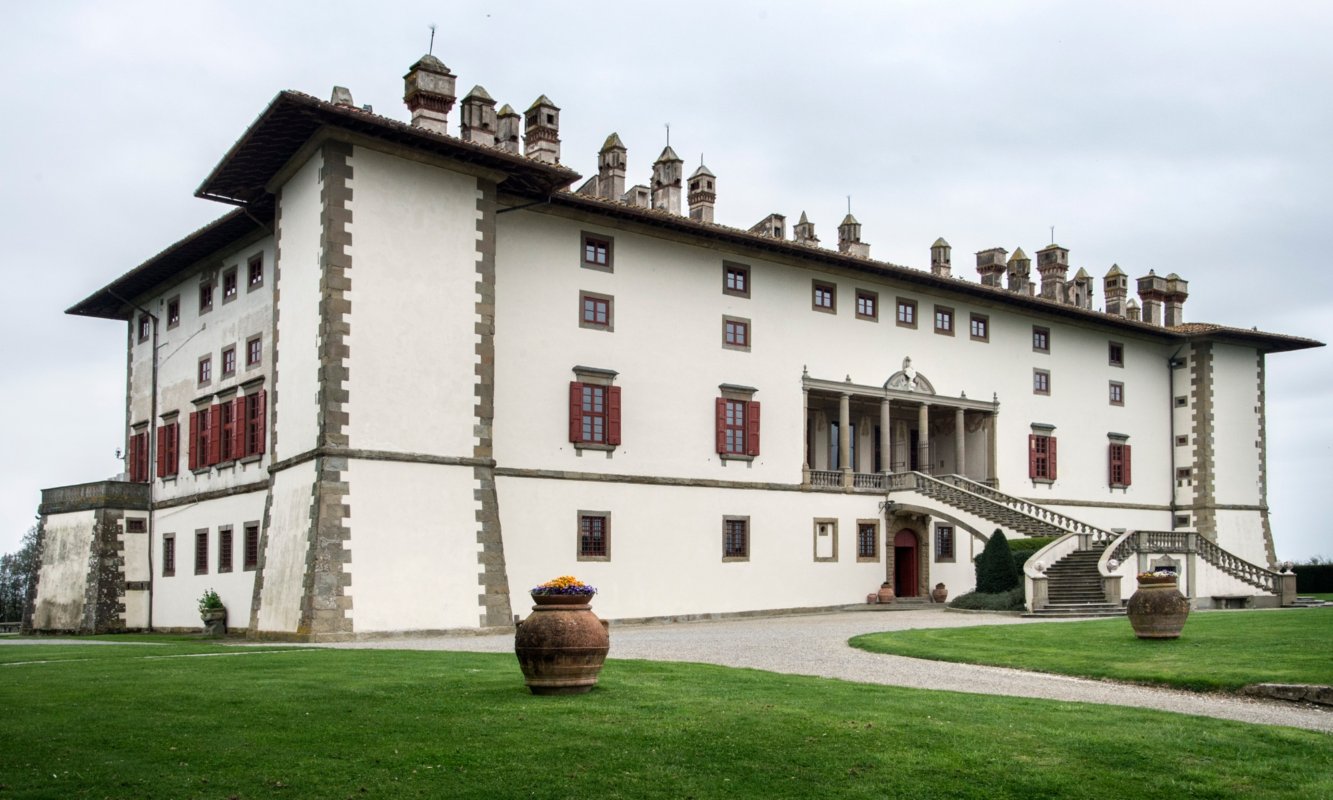 location_cityArchitecture
Villa medicea La Ferdinanda Artimino
Un'opera architettonica di una bellezza unica
La villa medicea la Ferdinanda,
detta anche dei Cento Camini
, sorge in Loc.
Artimino
, oggi nel comune di Carmignano ed è collocata propri oal centro del
Barco Reale
. Il progetto per la sua realizzazione venne affidato dal Granduca Ferdinando I de' Medici all'architetto Bernardo
Buontalenti
. La costruzione avvenne in soli 4 anni (1596-1600) e contribuì ad accrescere la fama dell'architetto fiorentino.
Ma il committente ed i suoi successori non utilizzarono molto la villa fino a Cosimo III che la riportò al suo splendore originale. Abbandonata nuovamente per tutto il periodo lorenese, il granduca Pietro Leopoldo di Lorena fu costretto a cederla ai marchesi Bartolomei. A tale proposito si racconta che sia stato costretto a suggellare tale accordo per evitare uno scandalo, in quanto il Granduca aveva compromesso una giovane Bartolomei. La villa passò di eredità in eredità; dai Bartolomei ai Passerini e nel 1911 ai Maraini. Grazie a questa famiglia si ebbe il restauro dell'edificio e la costruzione della scala esterna che porta al piano nobile.
L'edificio ha pianta rettangolare con risalti a quattro angoli. La facciata è caratterizzata da bastioni angolari che suggeriscono l'immagine di una fortezza e dallo scalone che porta al primo piano, realizzato nel 1930 dall'architetto Enrico Lusini, sulla base di uno schizzo del Buontalenti. L'aspetto militaresco scompare nell'
ariosa loggia a filo di facciata
, sorretta da quattro colonne tuscaniche.
L'interno presenta vari
saloni affrescati da Domenico Cresti detto il Passignano e Bernardo Poccetti
, dalla volta della loggia alla Cappellina, dal Salone dell'Orso all'appartamento di Cristina di Lorena. Al piano terra, trovano posto le cantine granducali e le sale d'armi. I locali sotterranei ospitano il
Museo Archeologico comunale di Artimino
.
La particolarità della villa risiede nella presenza di
numerosi camini
, non "cento" come pensa chi li vede, ma tanti quante sono le stanze e soprattutto ognuno con una foggia diversa. Infatti Ferdinando I al momento della costruzione volle sistemare in ogni sala una sorta di moderno riscaldamento "singolo" per prevenire il gelo nei periodi di caccia invernali.
Tra gli edifici annessi alla villa, è l'elegante struttura della
Paggeria
, anch'essa di pianta rettangolare che venne danneggiata durante la guerra e ristrutturata oggi per ospitare un albergo, che mantiene i camini ed i lavabi originali.
Cover image credit: Francesco Bolognini
Carmignano
Nestled in the Montalbano hills
The City of Carmignano, with its 40 square kilometres of territory, begins at the confluence of Arno and Ombrone Pistoiese rivers, extends on the hills of the north slope of Montalbano. Today it is one of the most famous areas in Tuscany where we find the production of D.O.C.G. wine and olive oil. ...
Morekeyboard_backspace