Historical sites
Vie Cave
Long roads carved deep in tufa rocks, leading to the Etruscan Necropolis
Among the relics bearing testament to the Etruscan civilization in Tuscany, the Vie Cave are undoubtedly the most striking. They are so fascinating that Director Matteo Garrone featured them in his 2015 film "Tale of Tales".
The Vie Cave of Sorano and Sovana, which are located in the Città del Tufo Archaeological Park, are large thoroughfares carved into the tufa hills, with walls rising up more than 20 metres, taking visitors on a discovery of the Etruscan burial grounds.
The Vie Cave are unique in all ancient civilizations, which explains why nobody knows their exact purpose. The mystery of these winding trails, carved into the tufa rock remains unsolved, but one thing is certain: it's a truly unique experience!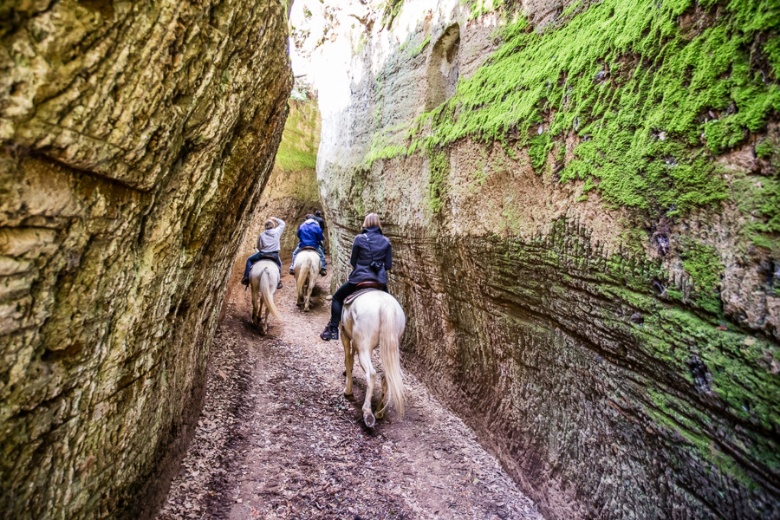 One of the most striking carved itinerary is Cavone, with its 50-100 meters high walls, leading from the Ildebranda Tomb to Monte Amiata. Initially used to reach the burial grounds, it was then used for commercial purpose to ease the exchange of goods. This via is now rich in spontaneous vegetation made of fern and moss and you can still see on its walls many inscriptions and symbols like the spinning sun (the swastika, icon of life at that time).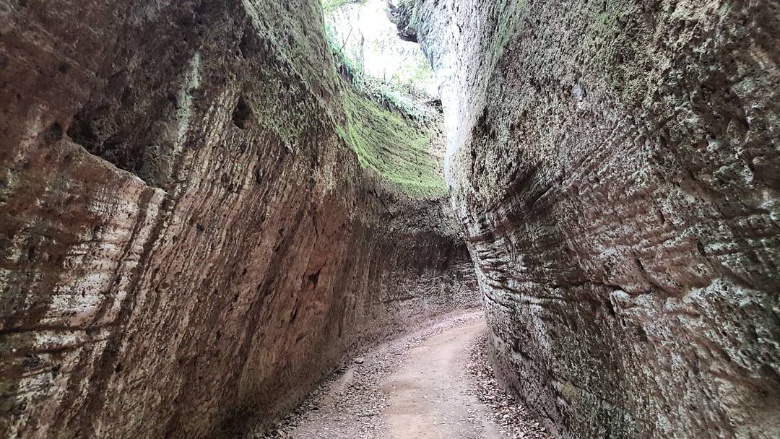 During the research and escavation campaign made in 1912, many ex-voto were found: vases, little statues (now preserved in the museum of San Massimiliano, in Sovana) offered in gratitude to the gods.
The Via Cava di San Sebastiano, with its 25-metre-high walls, is also located in the Sovana necropolis, winding through the woods. It starts from the Sirena tomb and goes towards the river Fiora, probably to reach Statonia (now called Poggio Buco).
In addiction to this, there's the Via Cava di San Giuseppe, connecting Pitigliano to Sovana, and the San Rocco Necropoli running under a hight tufa ridge that delimits the Lente River and is studded with ancient buring rooms.
Source: Viaggio attraverso la Civiltà del Tufo, Moroni Editore (2017).
Contacts: museidimaremma.it/en
Sorano
A place suspended in time, where the Etruscans build a majestic necropolis
Sorano and the surrounding towns are filled with examples of their Etruscan origin, which dates back to the period of this civilization's greatest splendor. Sorano was built on a high rock and this extremely picturesque position captivates all who visit it. With the passage of time, it has come to resemble a natural cliff, only slightly refined by the Renaissance architecture. ...
Morekeyboard_backspace
You might also be interested in