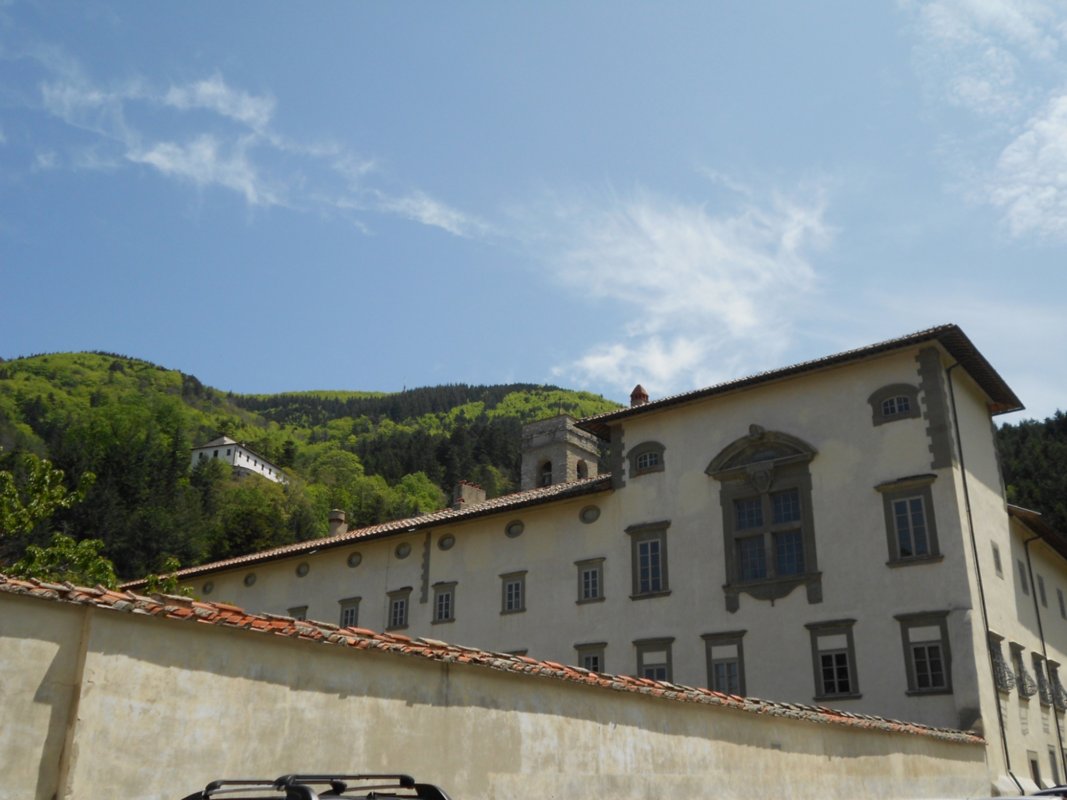 Places of worship
Vallombrosa Abbey and museum of sacred art
In an oasis of peace this beautiful old Abbey houses some important artistic works
The Abbey of Vallombrosa is on a little plain in a locality called Acquabella, nowadays Vallombrosa, just beneath the Cross of Pratomagno – an oasis of peace surrounded by luxuriant woodland. The Vallombrosa Order was founded by San Giovanni Gualberto, born into an illustrious family from Florence, who in 1036 retired as a hermit in this very spot. After the first Oratory, constructed in wood, the community of Vallombrosa built a church in stone in 1058 which was enlarged in 1200 when also the monastery was taking shape. The large cloisters, the sacristy and the tower all date back to the XV century. Only in the first part of the eighteenth century did the church begin to take on the harmonious and sumptuous aspect that it still conserves today.
The Abbey has kept an important artistic patrimony: a painting by Raffello dei Carli and some frescoes by Fabbrini (1750) in the dome and in the vault of the aisle, the Trinity by Lorenzo Lippi, the rich reliquary for the arm of S. Giovanni Gualberto by the Florentine goldsmith Paolo Sogliano (1500) and the wooden choir stalls carved by Francesco da Poggibonsi. In the Renaissance sacristy there is a painting by Raffaellino del Garbo with San Giovanni Gualberto and other saints (1508), as well as a large altar-piece of glazed terracotta from the workshop of Andrea dell Robbia, while the refectory houses a series by Ignazio Hugford (1745).
The Museum of Sacred Art was inaugurated in 2006 and is housed in a part of the Abbey of Vallombrosa. The Museum conserves sacred vestments, a selection of paintings, illuminated books and manuscripts, majolica-ware and old missals. Among the works exposed there are two masterpieces: the first is a large altar-piece depicting the Madonna and Child, and the Saints Biagio, Giovanni Gualberto, Benedetto and Abbot Antonio by Domenico Ghirlandaio. The second is the "Altoviti" collection of ornate vestments (XV-XVI century) that includes a chasuble commissioned halfway through the fifteenth century by the Abbot Altoviti and a richly decorated cope purchased by the Abbot Milanesi.

The Museum also keeps the valuable reliquary that contains the arm of the founder of the Vallombrosa Order, San Giovanni Gualberto, a precious work in silver and enamel realised in 1550 by the goldsmith Giovanni Sogliano.
Contact: chiantivaldarno.it
Reggello
Villas, castles and the Vallombrosa Abbey
Reggello is at an altitude of 390m and has a population of around 14 thousand inhabitants. There are many villas and castles nearby. The area is famous for the Vallombrosa Abbey and the Olive Oil exhibition that is held there. Reggello was home to one of the oldest known Etruscan settlements, probably chosen for its position on an old road that connected Fiesole and Arezzo. ...
Morekeyboard_backspace
You might also be interested in