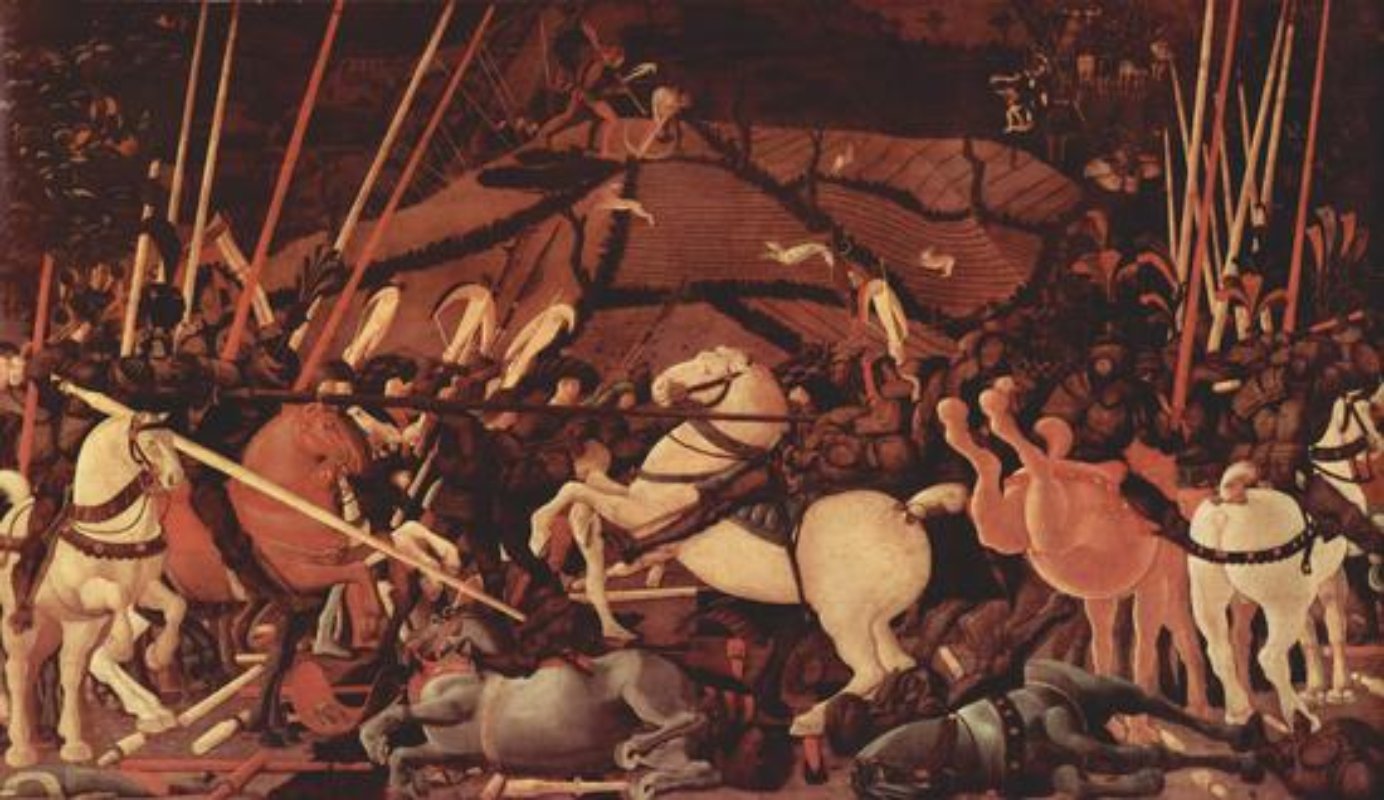 crop_originalArtworks
Uffizi, Paolo Uccello, The Battle of San Romano
A famous triptych dating back to 1456
The Battle of San Romano is a painting located in Florence's Uffizi Gallery, by Paolo Uccello. It is one of three distinct altarpieces celebrating the battle of 1432 fought by the Florentines, who were victorious, and the Sienese.
At the time of the painting's commission, the three panels were supposed to be positioned in the Palazzo Medici on via Larga in Florence. Today, they are on display in three separate European museums: the National Gallery in London, the Louvre in Paris and here at the Uffizi Gallery in Florence.
In this tryptych, just like in the artist's other works, Uccello mixes Renaissance and medieval stylistic elements. In addition to these, there are also gothic elements, like the brilliant colours, and the refined decoration of the landscape and figures.
Visual perspective is achieved by the colours of the swords and lances of those fighting. Finally, the figures of the men and animals are precise and geometric, however, they seem unrealistic because of the colours used: the horses are pink, white and blue, and in poses that are often bizarre or improbable.
In these same years, Uccello painted a Madonna with Child, now at the National Gallery of Ireland and Dublin, and a fragmented wood that is part of the Contini Bonacossi collection.
Florence
An astonishing city of art, fashion and tradition
If you are visiting Tuscany you cannot miss Florence. The Renaissance city is a treasure trove of art with an astonishing contemporary vibe. Beyond the extraordinary artistic heritage, a testimony to its centuries of civilization, the best way to enjoy Florence is to stroll along the riverside avenues at sunset, or to get lost among the city's myriad alleyways of the bohemian Oltrarno or the ...
Morekeyboard_backspace
You might also be interested in