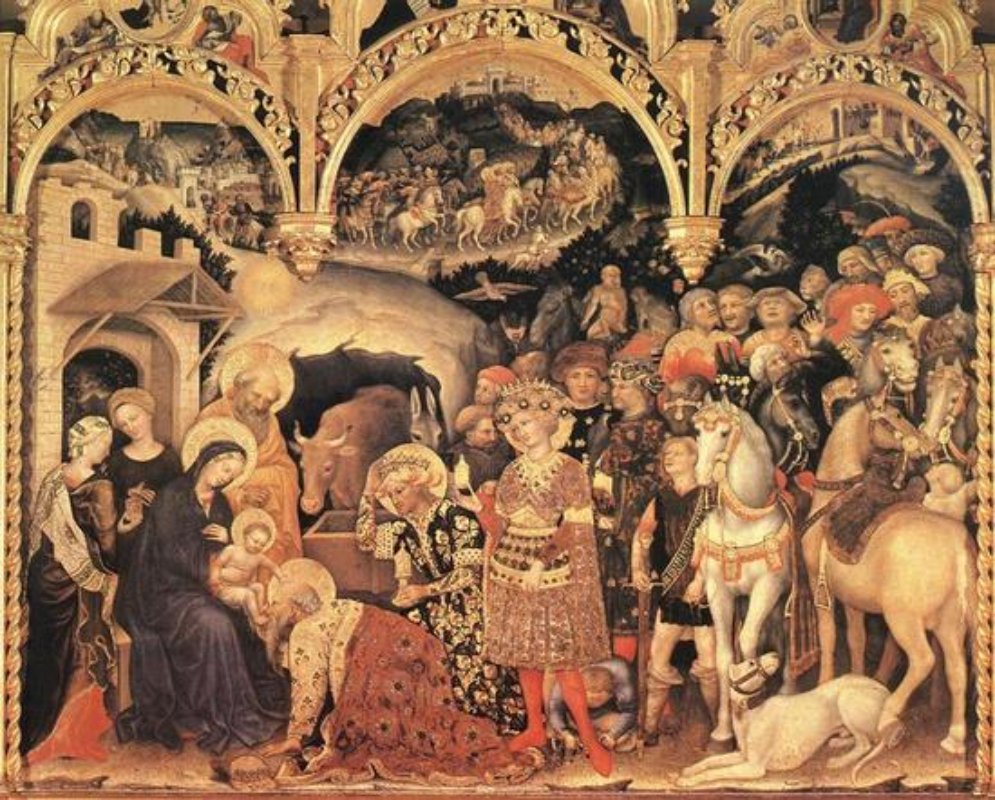 crop_originalArtworks
Uffizi, Gentile da Fabriano, Adoration of the Magi
The masterpiece is considered one of da Fabriano's most illustrious works
Today at the Uffizi Gallery, this altarpiece was commissioned by Palla Strozzi (a man of great culture and wealth in Florence), almost immediately after Gentile da Fabriano arrived in Florence in 1420.
It was finished three years later, and placed in the new chapel of the Santa Trinità church. In this work, the artist included elements that show his great international culture and knowledge, mixed with elements taken from the Sienese School.
Once Fabriano arrived in Florence, he became influenced by the Renaissance style as well. This is evidenced in this artwork, as well as in his other artworks he painted in those years. The altarpiece tells the tale of the three wise men that travel to see the newly born Baby Jesus in Bethlehem. The story is told in several scenes, which start at the top left-hand corner and proceed clockwise. All of the figures in the painting, except the Sacred Family, are wearing exceptional Renaissance-style costumes and jewellery. The attention to detail is typical of Gentile's artwork. This work also includes exotic animals waiting in the line that forms to see the Baby Jesus.
The altarpiece is in a wooded, golden frame that mixes the gothic, Sienese style with that of the Florentine Renaissance. The frame also has three cusps in which there are small tondos depicting scenes from Christ's blessing and the Annunciation. In the predella, there are three rectangular paintings depicting three scenes from the life of Baby Jesus.
Florence
An astonishing city of art, fashion and tradition
If you are visiting Tuscany you cannot miss Florence. The Renaissance city is a treasure trove of art with an astonishing contemporary vibe. Beyond the extraordinary artistic heritage, a testimony to its centuries of civilization, the best way to enjoy Florence is to stroll along the riverside avenues at sunset, or to get lost among the city's myriad alleyways of the bohemian Oltrarno or the ...
Morekeyboard_backspace
You might also be interested in