Archaeological sites
Tomb of the winged demons
A notable example of Etruscan tomb in the "città del tufo" archaeological park
In the splendid landscape of Maremma there's the "Città del Tufo" archaeological park, an open-air museum that offers visitors the chance to admire the archaeological treasures of Sovana, Sorano and Vitozza (the Tuff Area).
In the Necropolis of Sovana (which is part of the Archaeological Park) you can see many Etruscan tombs in an unusual landscape, characterized by the presence of a particular volcanic rock. The necropolis, in fact, is a huge Etruscan monumental cemetery of great historical interest, both scenic and natural.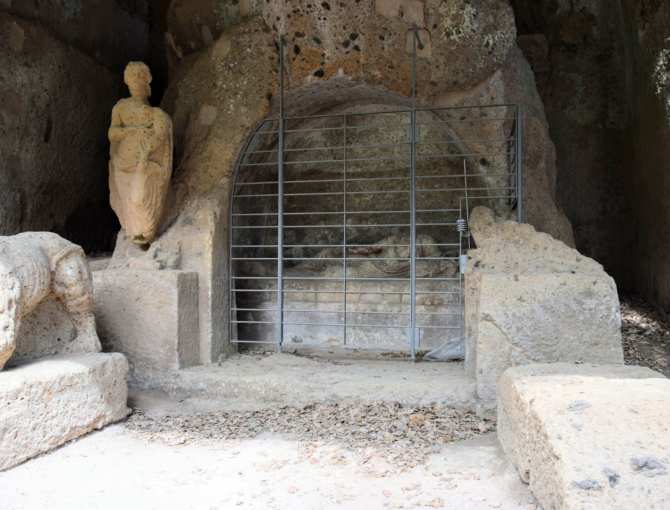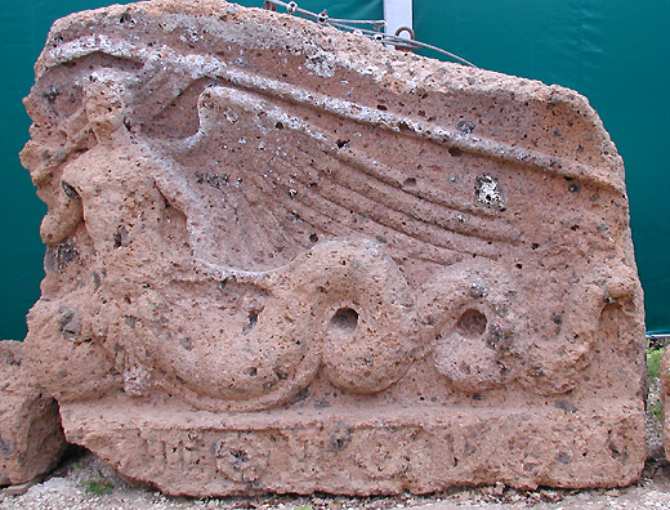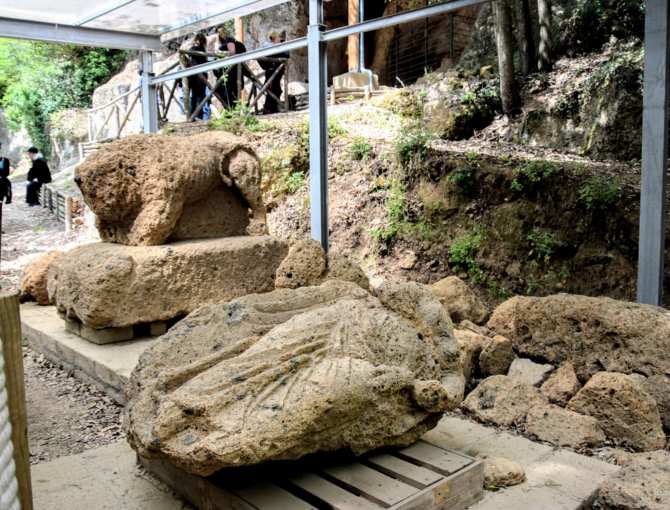 Here you can see the Tomb of the Winged Demons (or Tomba dei Demoni Alati), one of the most significant example of aedicule tomb, with a figure lying on a deathbed in a niche overwached by demons and lions. The tomb is carved directly into the tufa and still preserves part of the covering of coloured stucco. What it represents is the passage from life to death and the statue is with a glass in his right hand, in the act of libation at the ideal entrance of the Hades.
During a collapse at least 300 years ago, the pediment fell from the top of the tomb, the ground covered it and created a sort of protection. On the pediment there was a scilla (a winged sea demon) now visible at the entrance of the necropolis.
On both sides originally stood two statues of winged female demons, of which only one, on the left, is quite well preserved. Before the tomb there was a couple of lions, one left there and the other is where you can see the scilla and the other winged demon. The tomb is dated to the second half of the third century BC.
Take in the sights of the Ildebranda tomb, too.
Info: leviecave.it
Sorano
Centuries-old village dug into the tuff rock in the heart of the Tuscan Maremma
Sorano is an ancient city that flourished in the Etruscan era. Given its position perched on a cliff and dug into the rock (like the nearby Pitigliano), Sorano is also known as the Matera of Tuscany with its rocky villages and charming pathways through the quarries, frequented since the Etruscan period. ...
Morekeyboard_backspace