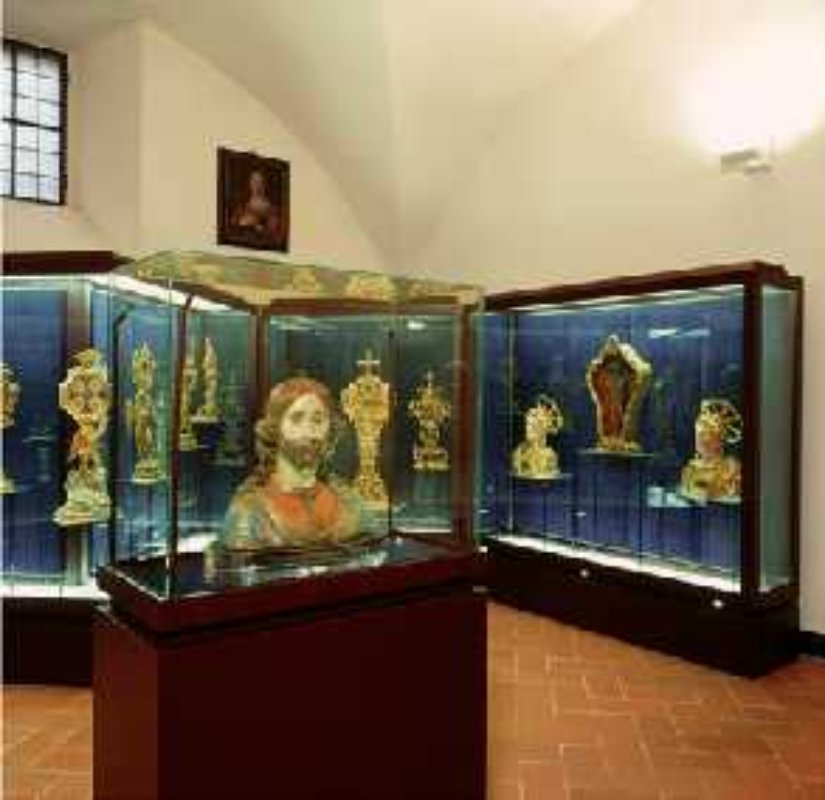 Places of worship
Museo della Verna
Il luogo dove Francesco d' Assisi ebbe le stimmati raccoglie opere preziose.
La fondazione del convento dellla Verna risale al 1213, quando il conte Orlando Cattani di Chiusi donò a Francesco d' Assisi l' area boschiva sulla cima del Monte Penna. Il primitivo nucleo era formato da una chiesetta e dalle celle dei frati. Qui Francesco ebbe le stimmate nel 1224. Il complesso cominciò ad essere ampliato verso la metà del XIII secolo ed ebbe una continua evoluzione nei secoli successivi, arricchendosi di opere d'arte molto importanti.
Aperto nel 1961 il museo raccoglieva fino al 1978 preziose opere (dipinti del Seicento, affreschi staccati e suppellettili liturgiche) del convento francescano. Ma a seguito del furto avvenuto in quell'anno (furono rubate anche una bellissima croce in cristallo di rocca e miniature duecentesche) il museo fu chiuso in attesa di un nuovo allestimento. La riapertura è avvenuta nel 2002. Posto all'interno del Santuario è composto da grandi sale quattrocentesche e da ambienti significativi dell'antica vita del convento. Il percorso si conclude con l'ambiente più caratterizzante, il "fuoco comune", luogo di raccoglimento, nelle gelide serate invernali, dei frati intorno a "frate focu".
Sono esposti oggetti liturgici del convento: pregevoli corali miniati (sec. XV-XVI), un reliquiario in rame dorato di stile tardo gotico (sec. XV), un suntuoso parato detto "della Pentecoste" (1574), dipinti di scuola fiorentina del 500/600, vasi sacri (vetri di murano e ceramiche dell'antica farmacia), reliquiari, storte e alambicchi. Nel Museo, inoltre, sono conservate in deposito alcune opere d'arte sempre di proprietà della Provincia Toscana dei Frati Minori ma originarie di altri Conventi.
Particolare rilievo hanno un bellissimo crocifisso ligneo policromo di ambiente michelangiolesco e un busto di Cristo in ceramica attribuito ad Andrea della Robbia.
Orario:
Invernale: sabato e domenica ore 10-12,30 e 13,30-16.
Estivo: tutti i giorni ore 10-12 e 13-17.

Prezzo:
offerta libera

Accesso handicap:
PARZIALE

Contatti:
via Convento della Verna, 45
CHIUSI DELLA VERNA (AREZZO)
Telefono: 0575 5341; 0575 534211
E-mail:
la.verna@libero.it
Chiusi della Verna
Home to the famous Sanctuary of San Francesco, a famous place of religious pilgrimage
Chiusi della Verna is situated between the valley of the river Arno and the river Tereve, in a strategic position between Casentino and Valtiberina. The wide rocky outcrop rises up high from the hillside , which makes the Sanctuary of San Francesco alla Verna visible from all the surrounding countryside. This evocative site is one of the most famous for followers of San Francesco. ...
Morekeyboard_backspace