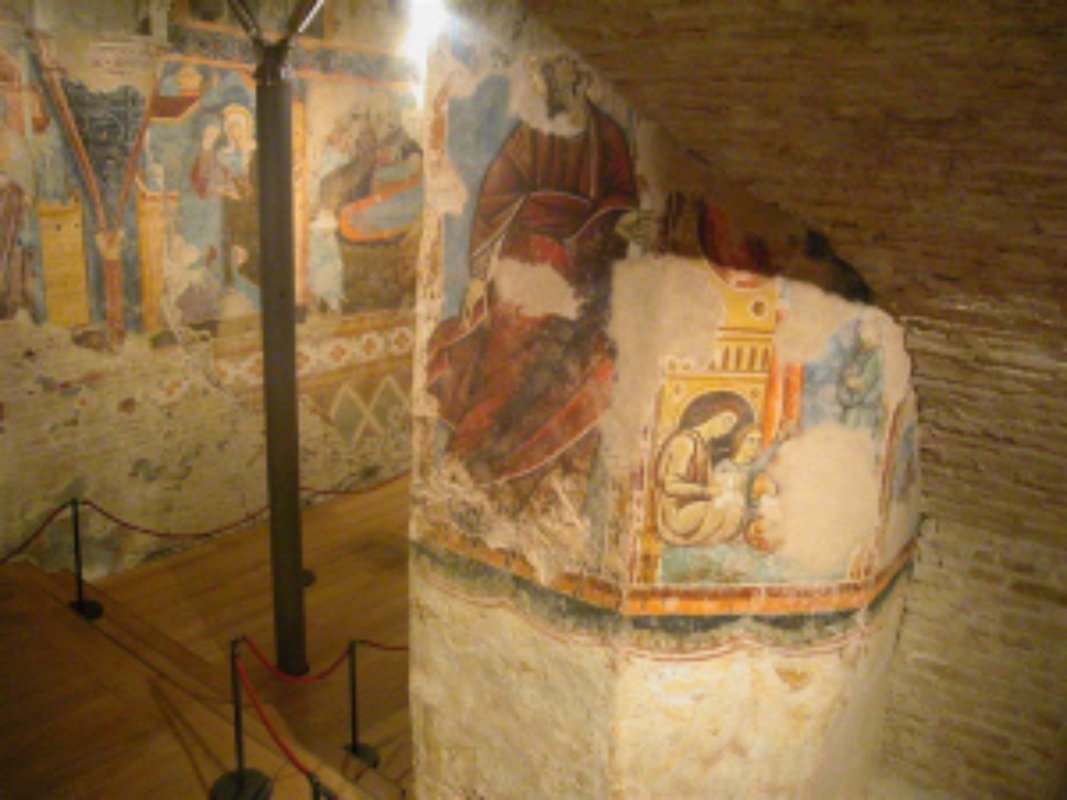 Places of worship
The Scalinata di San Giovanni crypt
The walls of this room are covered with the most wonderful paintings by the most impressive artists of the Sienese School
A completely unexpected discovery was made in1999 during work in a church in
Via dei Fusari
in Siena. Workmen uncovered parts of a mural in a room which was under the pulpit in the Cathedral. Clearing this newly discovered room took them around three years and when work was completed, art historians and archaeologists from all over the world flocked to Siena to admire and study what is now considered one of the most important examples o
f Medieval art
in the country.
All 180 square metres of the walls in this room are covered with paintings. This stunning art work was carried out in the second half of the thirteenth century. The room was then filled and the entrance was blocked in the
fourteenth century
, meaning that the room had been hidden for almost seven centuries when it was discovered in the 1990s. The art work on the walls is exceptional, the colours are original and the subjects of the paintings and the architecture of the room is still wonderfully intact.
This room and its works of art bear witness to the truly great artistic masters of the
Sienese School
in the thirteenth century such as Guido da Siena, Dietisalvi di Speme, Guido di Graziano and Rinaldo da Siena.
Contact: operaduomo.siena.it
Siena
Where not a single stone has changed down the centuries
Siena shines perfectly from a distance in its medieval magnificence. The three hills amid which the city rests rise up like an idyllic film set, the old boundaries soften like the past into a countryside that sometimes still seem like the scene painted by Ambrosia Lorenzetti in the Allegory of Good Government in the halls of Siena's city hall. ...
Morekeyboard_backspace
You might also be interested in