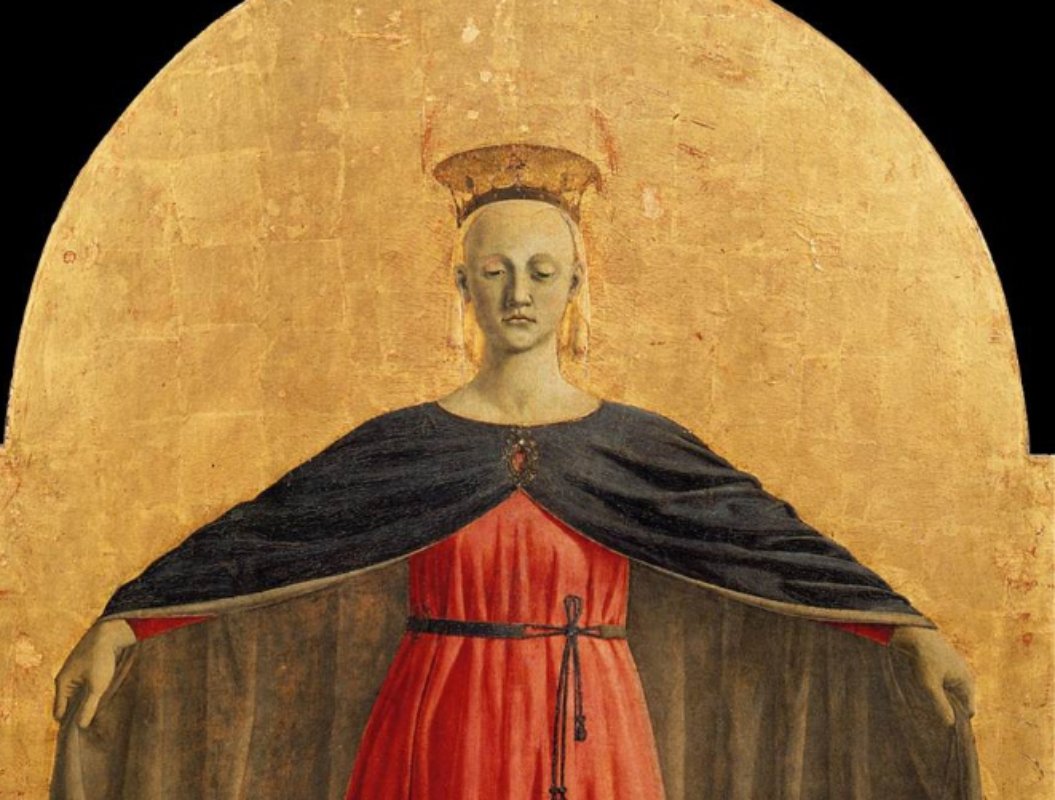 crop_originalArtworks
The Polyptych of Mercy by Piero della Francesca
Beautiful artwork at Sansepolcro's Civic Museum
Piero della Francesca was commissioned to create the Polyptych of Benevolence by the company of Sansepolcro in 1445. Today it can be seen in all its glory at Sansepolcro's Civic Museum (Arezzo).
In the middle there's the golden image of the majestic and immobile Madonna of Mercy, who welcomes under her mantle, as in a large tabernacle, the community of patrons and the devote, among which a self-portrait of Piero is concealed. Above, the Crucifixion with the Virgin Mary and St. John, painted in their suffering.
Piero della Francesca was supposed to deliver the work within three years, but it took him fifteen years to finish it. The Polyptych of Mercy consists of 23 sections: the feeling of volume and the plasticity of the bodies display Donatello's influence, while the piece at the top of the polyptych was inspired by Masaccio.
The Madonna is an abstract and symbolic subject. Piero keeps the medieval iconographic details like the gilded background, but also introduces a certain monumental feel and strong perspective of the forms.
Sansepolcro
THE VILLAGE OF TOWERS AND PALACES THAT RISES FROM THE APENNINE MOUNTAINS, BIRTHPLACE OF PIERO DELLA FRANCESCA
Sansepolcro is a town nestled at the foot of the Apennine Mountains, a gateway to Tuscany that rules the Upper Tiber Valley. This sprawling green mountainous terrain skims the Alpe della Luna and the Massa Trabaria area, bordering Umbrian hills, the mountains of Arezzo and the Catenaia Alps. Legend has it that Sansepolcro's mystic origins trace back to the pilgrim saints Arcano and Egidio. ...
Morekeyboard_backspace
You might also be interested in