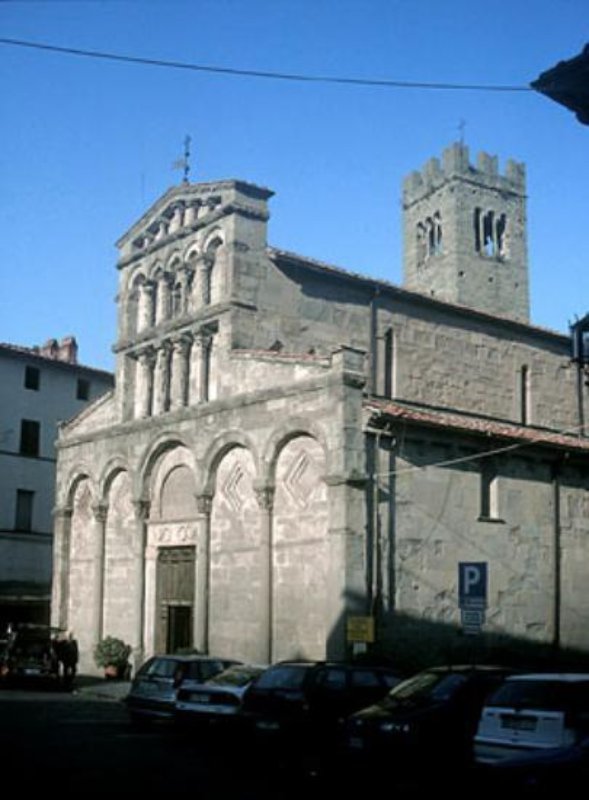 Places of worship
The Parish Church of Santa Maria Assunta
Gem of Villa Basilica
The first mention of a church dedicated to Santa Maria in the village of Villa Basilica dates back to the Carolingian times, though we know for sure that it only became a parish church in 1014. The parish church of Santa Maria, built on the remains of an Early Medieval church in the XII century, is still the most impressive building in Villa Basilica. Prior to the church's construction, this valley already hosted a number of churches founded by many of the area's important landowners; they were later subjected to the parish church of Santa Maria and a village of noteworthy importance grew around it.

The decorations found both inside and the outside the church are quite interesting. The architrave and the arch of the main entrance are made of white limestone. The building preserves its XII century structure with a single apse and three aisles divided by a double series of seven columns with sculpted capitals showing animals and floral designs. The crypt under the presbytery shows at least two phases of construction, the first of which occurred prior to the XII century. In the XII-XIII centuries, a bell tower was built on the south-west corner of the building with a technique similar to that used to construct the church.

Large ashlars of so-called 'boulder' sandstone were used; this material was commonly found in the Villa Basilica region. In the Late Middle Ages, a passage connecting the church and the newly built rectory was opened. The structure's last restorations were carried out in the XX century. The restoration works led by Francesco Martini can be considered the most important; during that process, the ashlars on the north side of the church, façade and apse were replaced.
Source: luccapro.sns.it
Villa Basilica
The land of paper and swords
On the slopes of the plateau of the Pizzorne sits the small village of Villa Basilica. Halfway between Lucca and Pistoia, and close to Collodi, made famous by Pinocchio, the unique village is a collection of little houses sitting along narrow streets and piazzas. ...
Morekeyboard_backspace
You might also be interested in