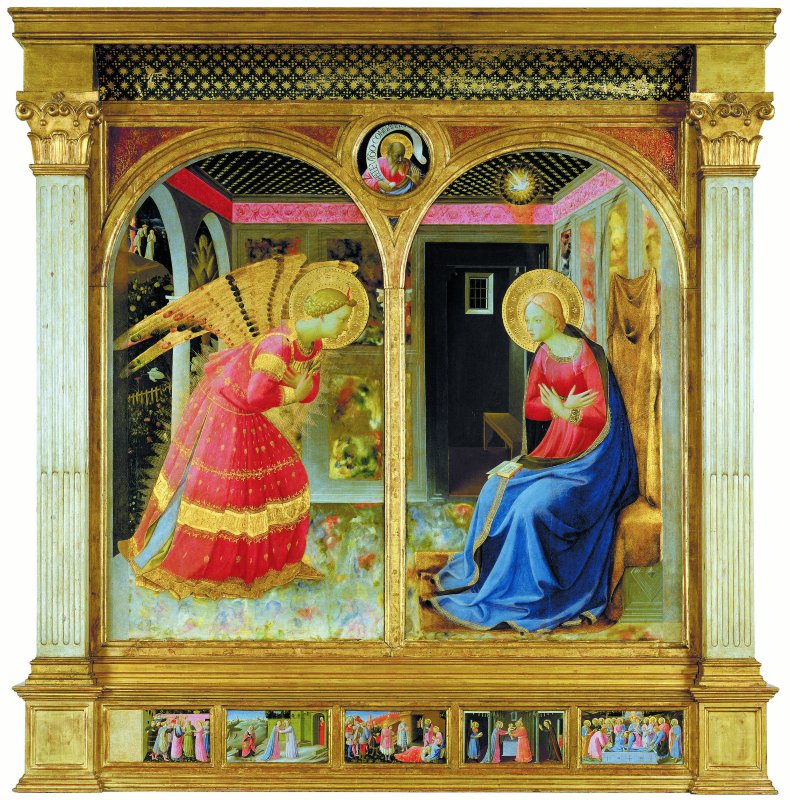 Places of worship
Basilica di Santa Maria delle Grazie Museum
The Annunciation by Beato Angelico is displayed in San Giovanni Valdarno
The Basilica di Santa Maria delle Grazie Museum is situated in San Giovanni Valdarno, next to the basilica, and displays numerous paintings from churches and monasteries in the town and in the local area.
The collection consists in a large number of fifteenth-century Florentine paintings with works by Giovanni di Ser Giovanni, known as Lo Scheggia, Masaccio's brother; Mariotto di Cristofano, his brother-in-law; Giovanni di Piamonte, Piero della Francesca's student; Domenico di Michelino; Iacopo del Sellaio; and most importantly Beato Angelico's masterpiece, the Annunciation.
The museum also houses some seventeenth-century paintings, including Giovanni da San Giovanni's Beheading of the Baptist. In the new display, which dates to 2005, previously unseen materials were given space, such as precious silverware and a prized collection of religious vestments, books and a fresco by Giovanni da San Giovanni.
Info: museidelvaldarno.it
San Giovanni Valdarno
San Giovanni Valdarno is located in the province of Arezzo and counts 17,000 inhabitants
The council, founded in the XIII century by Florence, is rich in artistic testimonies. You can visit the Basilica and its museum, the Palazzo d'Arnolfo and Casa Masaccio. Furthermore, the historical, medieval style town centre is very striking. ...
Morekeyboard_backspace
You might also be interested in