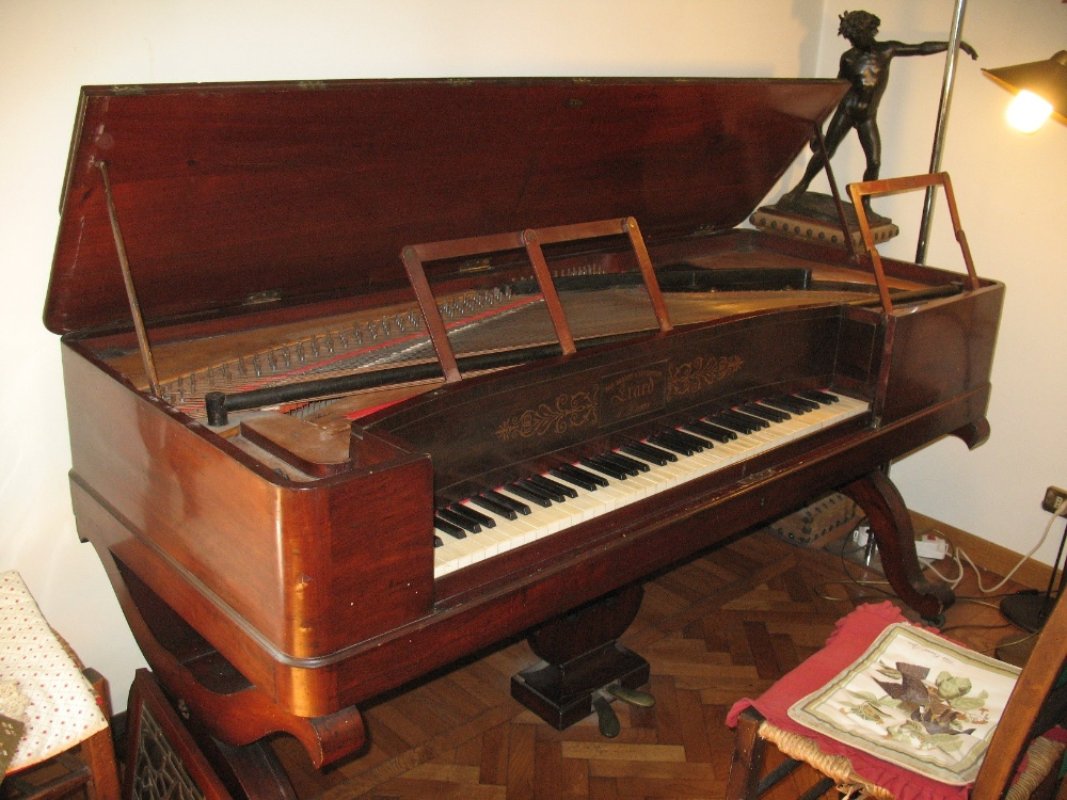 account_balanceMuseums
The Museum of Musical Instruments of the Accademia Musicale Chigiana
Some ninety specimens preserved in the rooms of Palazzo Chigi Saracini
Among the impressive transformations and adaptions to which
Count Guido Chigi
, by way of the inspired fancy of Arturo Viligiardi, subjected
Palazzo Saracini
soon after having inherited it in 1906, there was also that pertaining to three rooms adjacent to the
Salone dei Concerti
which were refurbished and equipped for displaying his musical instruments. These three rooms have been enhanced over the years with numerous new specimens that render them a true museum of musical instruments, a name with which this area of the Palazzo was eventually officially designated.
The original nucleus of the collection is made up of
a group of string instruments made by the Milanese-Cremonese luthier, Leandro Bisiach
, between 1903 and 1915 which were commissioned by Count Guido Chigi Saracini and which, in their singularity, constitute to this day an important part of the Museum. The collection, enlarged by the Count
through acquisition and donations, consists of, among those mentioned previously, woodwinds, keyboard and popular instruments that over the course of time have completely filled their designated rooms.
Over the years, therefore, the space grew inadequate and, from the 1980's, the
Accademia Chigiana
undertook renovations and the Museum in its current configuration was inaugurated in 1995.
Among the instruments is the exceptional
harpsichord made in 1515 by Vincentius
– today the oldest instrument of its kind in the world – a cello by Antonio Stradivari, a viola and a cello by Nicola Amati, a violin by Mattia Albani, and a violin by Cammilli. Outside the rooms of the Museum, the Accademia Chigiana preserves other historical instruments, among them Liszt's Bechstein piano and even two organs, the largest of which dominates the gallery of the Salone dei Concerti.
The acquisition process continues; in recent years, besides Mascagni's 1837 piano, the following have been added in the Accademia:

- a viola d'amore belonging to the violist Dino Asciolla and donated by Valeria Mariconda;
- a viola attributed to Testore, belonging to Maestro Aldo Bennici, which he donated to the Accademia. Currently the viola is on loan to Daniel Palmizio, a young local talent who plays it all over the world and with which won the Budapest International Music Competition, among others;
- a glockenspiel donated by Professor Piero Melograni;
- a mandolin of the Neapolitan school given by donor from Siena.
- a harpsichord made in 1912 by the Parisian firm Pleyel, donated by the pianist Stelio Maroli, a former collaborator of the Accademia Chigiana. Stelio Maroli also donated an important musical collection, already catalogued and held within the library.
The Museum is open to the public and is part of the
Palazzo Chigi Saracini
guided tour during certain times of the year.
For information:
www.chigiana.it
You might also be interested in