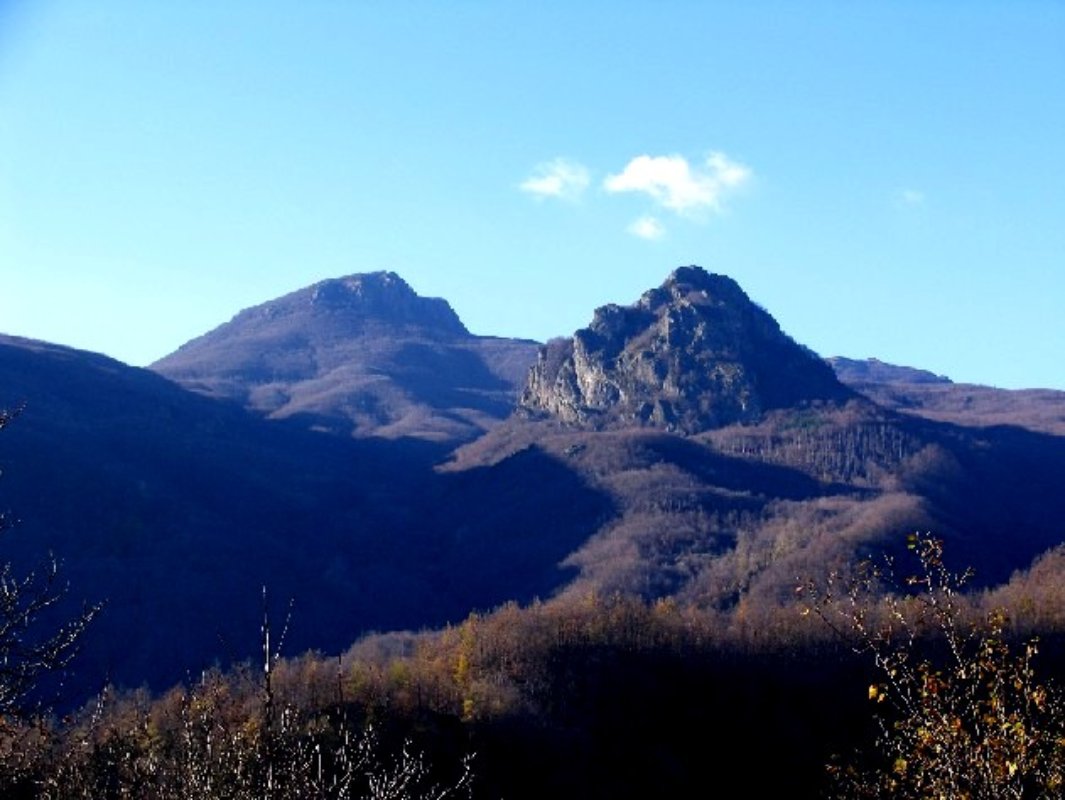 natureNaturalistic attractions
The Monte Penna natural reserve
On the southern Amiata slope, in Castell'Azzara
The mountain ranges emerge at Poggio della Vecchia (1086 metres) and at Civitella (1107 metres). The area is found entirely in Castell'Azzara territory and confines with the Pigelleto reserve in the Piancastagnaio municipality near Siena. The mountain surface in question, includes four adjacent areas, exceeds a thousand hectacres. Many interesting geological items can be seen, such as the rocky range belonging to the Facies Ligure complex; the clayey formations of Santa Fiora (Cretaceous high-Palaeocene), the calcareous-sandstone formations (high-Cretaceous) and the clay and limestone formations (inferior-Cretaceous). The remarkable karstic area of Monte Elmo has caves found on nearby mounds. Finally at Abetina a cinnebar mineralization can be seen. Mercury has been extracted from the beginning of the last century up until 1974.

In the streams and dolines beech, ash and turkey oaks can be found. At Poggio della Vecchia the Fonte wood is of great naturalistic interest, containing field maples, sycamores, Norway and red maples. The reserve is almost entirely wooded, apart from a small area surrounding the farms. Near the Selvena buildings some exceptionately large chestnut trees can be seen. Many birds live on the reserve, such as buzzards, tawny owls and common owls. It is also rich in other forms of wildlife such as foxes, porcupines, wild boars, roe deer, weasels, polecats, stone and pine martens. Also of great interest is the bat population found in the caves near Castell'Azzara. With regards to art and history, a walk to see the remains of the Silvana stronghold is highly recommended.

How to get there: from Grosseto take the "Due Mari" road until Paganico, from here continue towards Arcidosso, Santa Fiora and then Castell'Azzara. Once past the village, after about two kilometres, turn right. The reserve is open for guided tours, for information telephone the speleological association "L'Orso" at the following number: 0564/951032.
Source: Grosseto District
Castell'Azzara
This ancient village was written about by Dante Alighieri
Castell'Azzara is located at the bottom of Monte Civitella and its forest. The area was first settled in around 1000 BC by the Umbri, and then by the Etruscans of Sovana, who came here to extract vermillion. The two forts that defend Monte Civitella were built under the rule of the Aldobrandesca family. ...
Morekeyboard_backspace
You might also be interested in