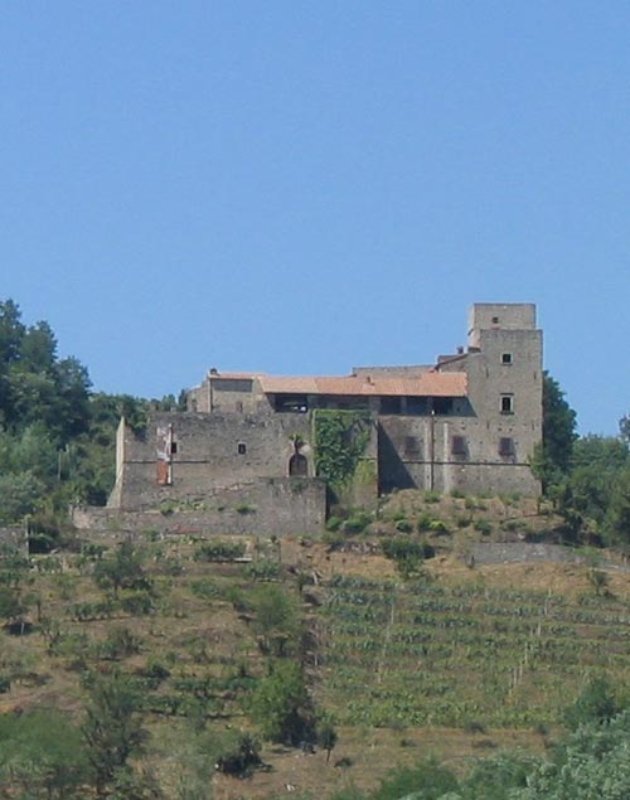 Historical sites
The Lusuolo Castle
An interesting example of Early Medieval architecture along the Franciscan Route
In the heart of the Lunigiana, along the main hilltop dominating the middle Magra valley, the Castle and village of Lunigiana are one of the most interesting examples of Medieval civil and military architecture. Infact, the Castle has a naturally closed defensive position for the village, protecting its flanks with the hill's slopes, only the southern flank is blocked off by a large portion of still existing fortified walls. The Castle must have been founded in the early Medieval era, and originally used as a watch tower along the important route found in Lunigiana, where two branches of the Franciscan route were found. Furthermore, the river crossing at Chiesaccia was active up until the beginning of the 1900's.

The fortification was begun in the 14th century according to the architectual lines still visible, when Lusuolo was divided by the Malaspina domain of Villafranca. It became independant and was assigned to Azzone Malaspina who transformed the village and the Castle into a fortified residence. It remained at the centre of bitter fighting between the Malaspina and the Republic of Genoa during the 15th century, with the progressive depletion of the domain, in the second half of the 16th century. The Castle finally passed under Florentine domain, keen to assure as much control as possible over Lunigiana. The Castle built in three parts following the terrain's characteristics, was modified during the 16th century.

From the second half of the 1980's it has been publically owned and object to many structural changes destined to be used on the Lunigiana Castle tour.After long years of closure it has now re-opened to the public from September 2003, hosting the Tuscan Peoples' Emigration Museum from August 2004.

Mulazzo
Age-old traditions, hidden treasures and stories worth telling
Mulazzo is a town that clings onto the Lunigiana mountains, famous for the people who live in the small village of Montereggio. Since the mid-19th century these inhabitants left, for entire generations, with a pannier of books on their backs, determined to "colonize" the whole of Central and Northern Italy, reaching all the towns that were still bereft of bookshops and opening new ones. ...
Morekeyboard_backspace
You might also be interested in