Hamlets, districts and squares
The Hamlet of Pontebosio
Located downstream of Licciana Nardi, its handful of streets and castle make this tiny hamlet truly unique
On the left bank of the Taverone torrent, downstream of Licciana Nardi, you'll find the small hamlet of Pontebosio. Its name derives from an old arched bridge (a necessary throughway going towards the parish churches of Soliera and Venelia), which owes its name to a famed historic figure, Boso or Bosio, a member of the noble Bosi della Verrucola family - the family most likely behind the construction of the town's main castle. In the hamlet's piazza you'll find the beautiful 17th-century castle that once functioned as a noble residence. It was later transformed into a seminary and eventually a middle school, while today it contains luxury homes. Its current appearance still flaunts its history as an imposing military structure.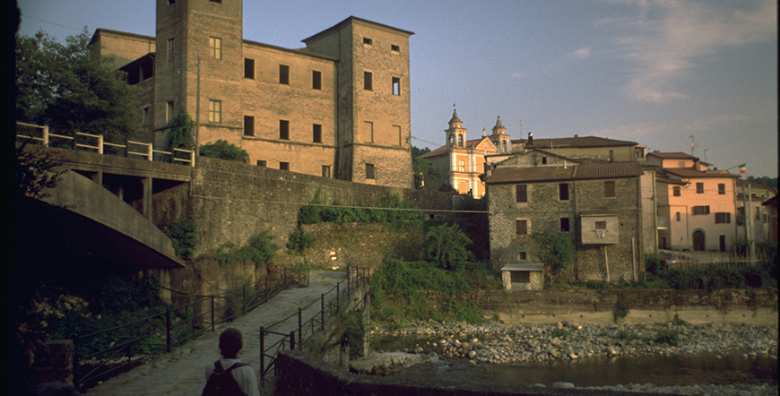 The Baroque-style parish church was built by order of Ferdinando Malaspina, a structure that replaced the old oratory. Across the street you'll find the Poderetto Castle built by the Malaspina di Podenzana family. From town, passing under the "vota" (vault) check out the age-old mill, a structure still boasting inactive millstones. And be sure to head to riverbank where you'll find the remains of an old paper mill.
Licciana Nardi
Birthplace of the hero Anacarsi Nardi in the scenic Tosco-Emiliano National Park
The town and valleys of Licciana Nardi, nestled entirely in the breathtaking scenery of the Appennino Tosco-Emiliano National Park, are the perfect getaway for nature lovers. Vaunting views of rare beauty over the Monti and Apella area, the old tower reminds us that it was once a medieval settlement and a sign in the town indicates the birthplace of Anacarsi Nardi, the Renaissance martyr. ...
Morekeyboard_backspace