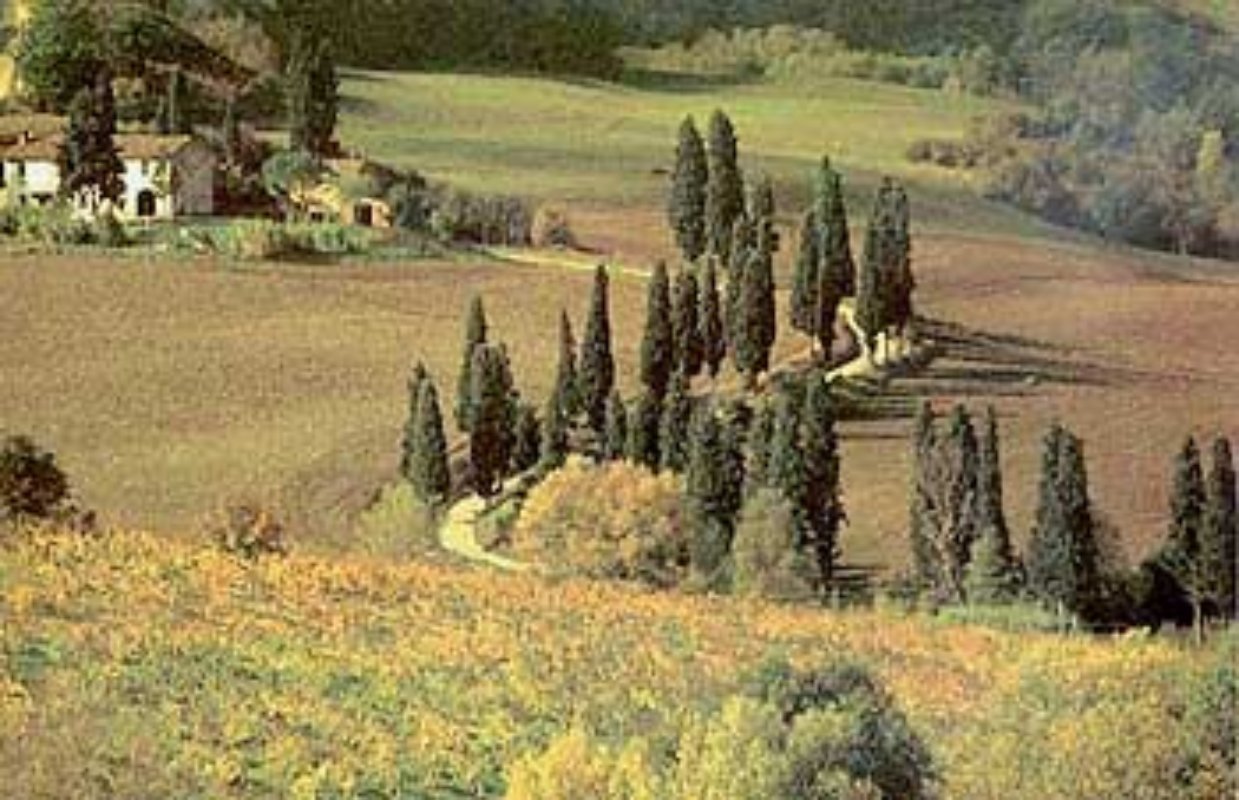 Monuments
The Fountain of Morgan Le Fay
A unique example of garden architecture
The Fountain of Morgan Le Fay, also known as the Cottage of the Fairies, was built by Bernardo Vecchietti in the mid-1550s in the garden of his family's summer residence, Villa Il Riposo. The work has been attributed to the Flemish artist Giambologna and represents a unique example of garden architecture.The building follows an "L" plan and was recently restored – its fake-brick plastering and white-stone bordered doors and windows distinguish it from the local farm houses.

On the far right you find a variety of tanks for watering animals and one with tilted borders similar to those found in public wash houses. Entering into the first room you find yourself in front of a niche fountain which used to frame a marble statue of Morgan Le Fay at its centre, probably by the artist Giambologna, but no longer extant. The mosaic floor spells out the fairy's name in Italian, "Fata Morgana." The upper flooris divided into two small rooms, one of which included a kitchen area. During the restoration the hydraulic system for purifying the water was also restored.

The magical aura of this place, along with its dedication to the famous Morgan Le Fay, led to a number of legends growing up around this site in the 1500s. There are stories of Bacchic parties during the summer and—more imaginatively—tales of beautiful women, fairies and nymphs, who mysteriously appeared and disappeared in the area around the fountain. The fountain itself was rumoured to have rejuvenating waters.

Information and reservations:
Culture Office
Ph: +39 0556390356/357

(Source: Comune di Bagno Ripoli)
Bagno a Ripoli
Hill town at the gates of Florence
From the Inn of the wayfarers, "Il Bigallo", to the poetic Ninfeo di Giambologna, better known as the Grotto of Morgan le Fey, passing through sweet urbanised landscapes, lies the beautiful territory of Bagno a Ripoli, to the south of Florence, where there is an unceasing continuity of cypresses and farmhouses, vineyards and olive groves that mount shrines and where a productive reality that ...
Morekeyboard_backspace
You might also be interested in