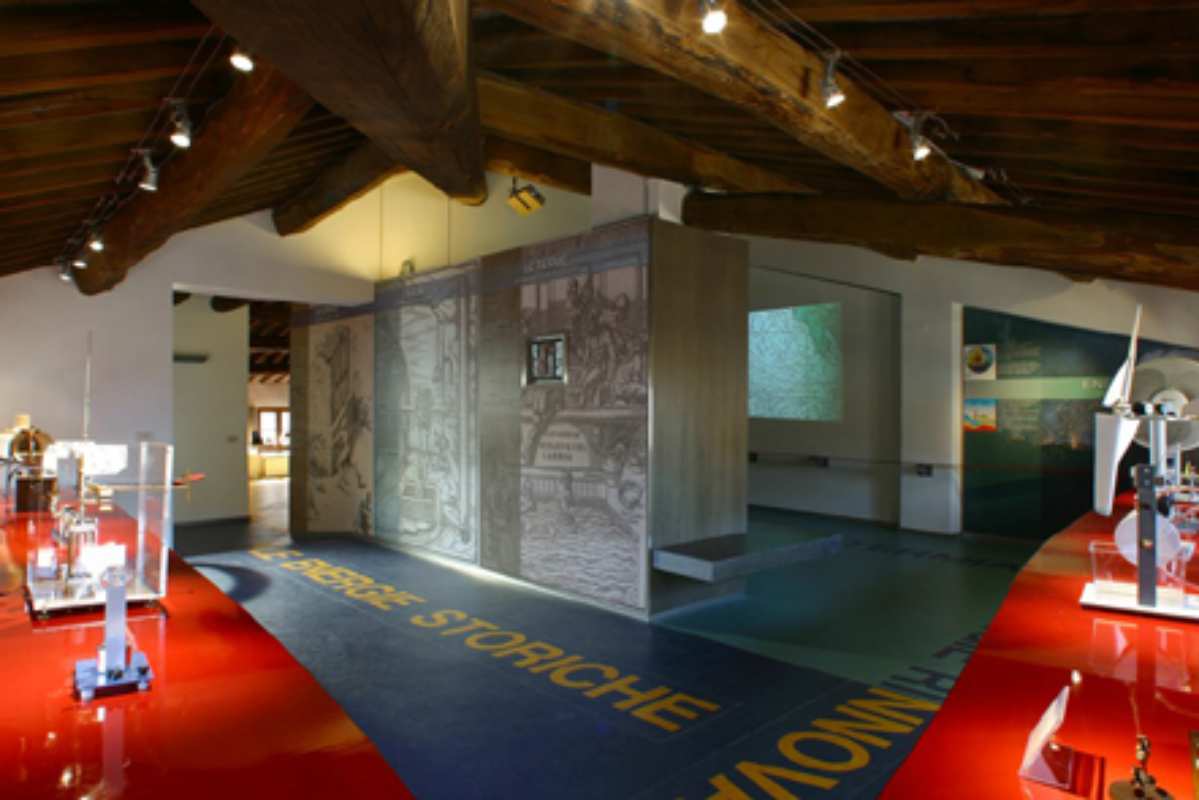 account_balanceMuseums
The Energies of the Territory Museum
In a laboratory-like setting discover how a natural phenomenon transforms into energy
The museum has set itself the goal of exploiting this territory that has such particular characteristics; for this reason the guided tours are not limited to the restricted museum area but go out in search of the environment and its energies. The tour begins with an examination of the typology and morphology of the area with a bird's eye view of the 'pievi', (little churches), castles, villas, mines, mills and furnaces, and proceeds with explanations of what energy is, how it is measured, how it transforms, how it is used by man, what the renewable energies are, the percentages of utilisation and their potential future.

A series of didactic panels together with some functioning models serve to demonstrate how it is possible to pass from a natural phenomenon to energy, whether mechanical or electrical, and how to measure it and where it can be applied. In fact it is actually a setting similar to a laboratory where interest in realising practical experiments is kindled: electricity produced by a turbine, moved in turn by water coming from a raised tank, a photovoltaic cell that receives energy from a luminous source that makes a propeller move, a wind generator set in motion by a ventilator, a burner and a pressure cooker which filled with water creates a geothermal reservoir, two fuel cells, one working with methyl alcohol and the other with hydrogen produced with the energy from a photovoltaic panel.

Particular attention is given to the theme of geothermy, illustrated by means of a short documentary film, didactic panels, equipment used for research and the utilisation of hot fluids present in the subsurface, the stratigraphy of which is reconstructed through a series of rocks that go down to over 4000 metres. In fact, the territory of Radicondoli is rich in geothermal energy which it exploits both as a thermal resource (The 'Galleraie' Thermal waters) and for direct use in greenhouses and nurseries, central heating for houses etc., and for production of electric energy, producing in the area sufficient quantities for consumption by approximately 50,000 families. For groups it is possible, after booking, to continue the visit outside the museum, to find out more about the cultural, naturalistic and scientific characteristics that this special area has to offer, a true gift from Mother Nature.
Radicondoli
A delightful medieval village nestled in the Sienese hills
The medieval town of Radicondoli sits on high ground and dominates the surrounding colline metallifere ('metal-bearing' hills) of the Sienese countryside. Walking through it, we can still detect traces of the Lombards. Founded at least a thousand years ago, Radicondoli was controlled by the bishops of Volterra, then by the Aldobrandeschi, before eventually submitting to Siena. ...
Morekeyboard_backspace