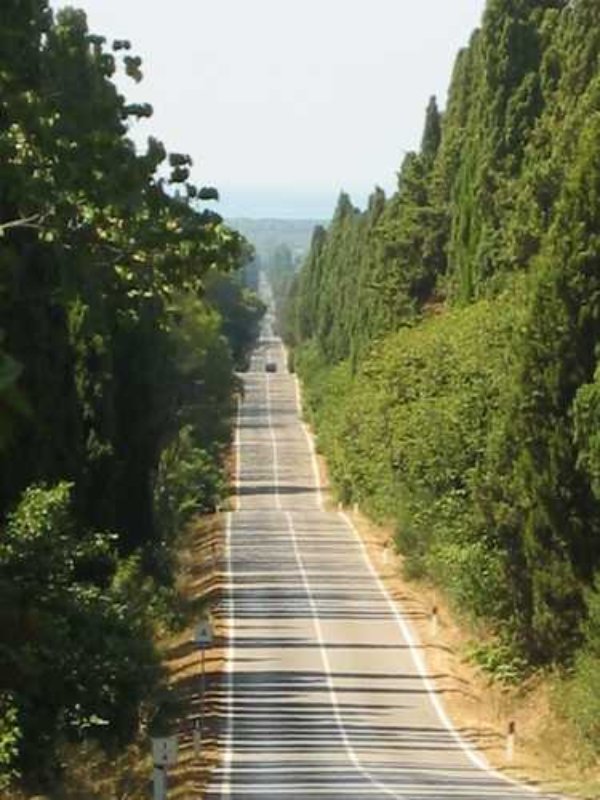 natureNaturalistic attractions
The cypress tree-lined avenue of Bolgheri
Immortalized in the poetic verses of Giosuè Carducci
Located in the municipality of Castagneto Carducci, this famous avenue of cypress trees is a 5-kilometre stretch of road that connects the oratory of San Guido to the historical village of Bolgheri. It is a long linear road flanked by two rows of 2,540 centuries-old cypress trees. It was built in the 18th century, when officials created perpendicular roads along the Via Regio to connect the smaller towns in the surrounding countryside to Bolgheri. One of these roads was that of San Guido. Upon the wishes of Count Guido Alberti, this road was embellished with cypresses.

The road owes its fame to the memorable verses of Giosuè Carducci in the poem, Davanti San Guido ("In front of San Guido"). The poet lived in the vicinity for many years. Here are a few lines from that famous poem: "In Bolgheri, tall and proud are they in San Guido in two rows".
At the beginning of the long road there is a small obelisk, placed there in 1908 by Giuseppe della Gherardesca to commemorate the famed poet.
Bolgheri
A town of timeless charm and a land of timeless wines
Immortalized by local writer Giosuè Carducci in his poem "Davanti a San Guido", with the words "I cipressi che a Bolgheri alti e schietti van da San Guido in duplice filar" ("The cypress trees stand straight and true from Bolgheri to San Guido in double rows"), this centuries-old town was developed around a medieval castle after travelling the long tree-lined avenue. ...
Morekeyboard_backspace
You might also be interested in