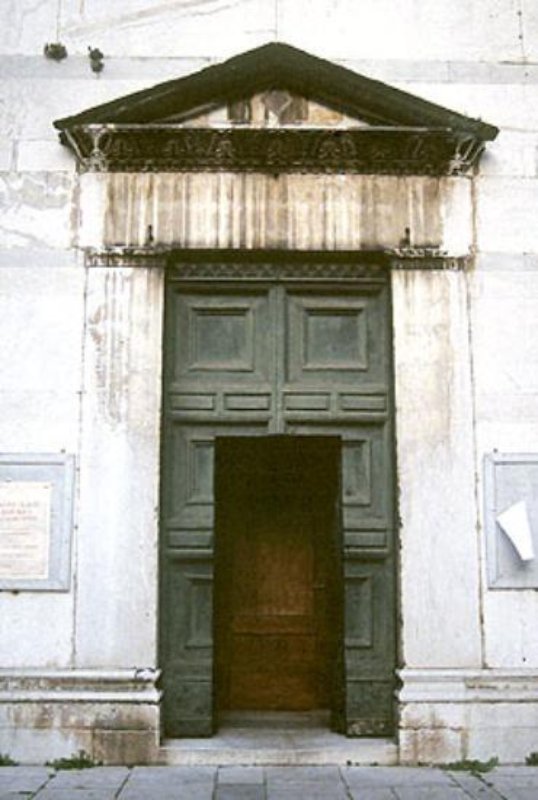 Places of worship
The church of Sant'Alessandro Maggiore
Perfect prototype of Romanesque architecture
The church of Sant' Alessandro is also called Sant' Alessandro Maggiore to distinguish it from the homonymous church which once existed near the Duomo. Located in the centre of Lucca, this church is mentioned for the first time in 893. S. Alessandro Maggiore was built on one of the insulae (islands) located along the ancient network of Roman roads, within short distance of piazza S. Michele in Foro. A perfect prototype of the most ancient form of Lucchese 'Romanesque' architecture, the church is a bench mark in the study of Medieval Tuscan architecture. The basilica is divided into three aisles and covered by cross vaults and it has a perfectly semicircular apse. Its extremely simple façade is distinguished by an elegant portal and its fine masonry boasts bands of a slightly darker shade.

The church is mentioned for the first time in 893. In 1071, Pope Alessandro II, once bishop of Lucca, had the body of Sant' Alessandro I transferred from Rome to the church's crypt which was built for this purpose. Today, it is filled up with earth. The transfer of the saint's body proves that the Pope had maintained very close relations with his home town. It is also probable that he deeply respected his ancient predecessor, from whom he took his name. Due to the building rather unique architectonic features of the building, it has received ample attention from experts who consider it one of the prototypes of XI century architecture.

In the XIII century, the church played an important role in the town's civic life, hosting the so-called 'Curia dei Foretani'. This court was appointed by the commune of Lucca to settle disputes between citizens and peasantry. The church's cross vaults were built in the XVI century, when the crypt was filled and the body of Sant' Alessandro was moved to the high altar. During the same period, larger windows were opened along the aisles. In 1840, Duke Carlo Lodovico had the church restored: the works were directed by Lorenzo Nottolini, while Michele Ridolfi painted the apse, using an encaustic technique.
Source: luccapro.sns.it
Lucca
A bastion-protected medieval city and a blast of comics, culture and colors
Many people born and bred in Tuscany consider Lucca an outlier—it's not uncommon to hear Florentines mutter "that's not Tuscan", probably when referring to the bread, which is salted in Lucca and strictly plain elsewhere in Tuscany; or to the Lucchese people's mode of speaking (unique, to say the least); or to the fact that Lucca is the region's only city-state to have preserved its ...
Morekeyboard_backspace
You might also be interested in