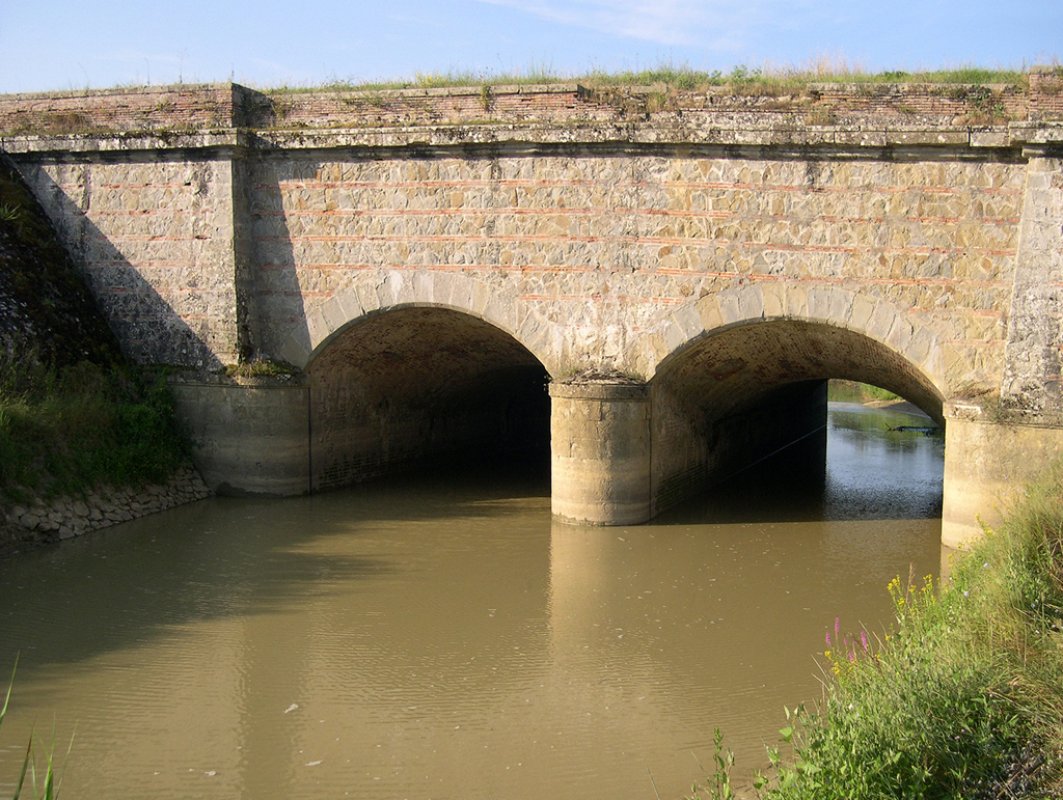 location_cityArchitecture
The Channel Bridge at the Strozzo
It is located along the Master Canal of the Chiana Area
The "bottle" (channel bridge) is a brick construction that allows a secondary canal to pass under a principal canal. The domination "allo Strozzo" applies because the work is located where the bottom of the Chiana valley forms a bottleneck. It was built in 1910 to pass the Allacciante of the Chianacce over the Chiana Master Canal.

No other solution was possible because the Allacciante had a steeper incline than the Chiana Master Canal and the waterflow was stronger (it was used to transport coarser, larger material). If the two waterflows met, the riverbed would have accumulated detrimental sediment and would have obstructed the hydraulic section. Removing this sediment would have been a waste of resources. Thanks to this channel bridge, the Allacciante of the Chianacce, located on the right side of the canal, runs into the Allacciante on the left, which flows into the Chiana Master Canal at Porto Cesa. After 25 km the canal flows at a steep enough incline to drain very large debris into the Arno River.

The bottle rests on piles due to the weak clay-like soil and was built with double ducts, each 38 meters long. They both arch rather low and function much like a siphon when waters are high. The entrance, wing walls and the embankment were designed to form a loading basin that could function by pressure, allowing the two arches to accumulate momentum as the volume of the water increases.
Montepulciano
The hamlet of Montepulciano, the birth-place of 'Noble wine'
Montepulciano is nestled between the Val D'Orcia and Val di Chiana. Built along the narrow top of a limestone hill, this beautiful medieval village seems to be the natural continuation of the landscape on which it was built. ...
Morekeyboard_backspace