crop_originalArtworks
The Annunciation by Simone Martini
Painted for Siena's Duomo, now in the Uffizi
The "Annunciazione tra i santi Ansano e Margherita" by Simone Martini (circa 1333) was made with the help of Lippo Memmi for the Sant'Ansano altar in the Duomo of Siena. In 1979, it was moved to the Uffizi in Florence. It is located in the International Gothic Room and is an important example of this period of art history.
It represents one of the most widely painted themes in Christian iconography. The scene is based on a book from the Gospel of Luke. The Archangel Gabriel goes to the Virgin Mary to announce that she has been chosen as the Mother of God. In that precise moment, the Virgin Mary is reading, and the angel had caught her by surprise. However, soon after, she accepts to give birth to Jesus Christ. There are several recurring iconographical elements: the presence of fleur-de-lis (symbol of the virginity of Mary), the white dove (symbol of the Holy Spirit) and the book (symbolizing the spiritual value of Mary).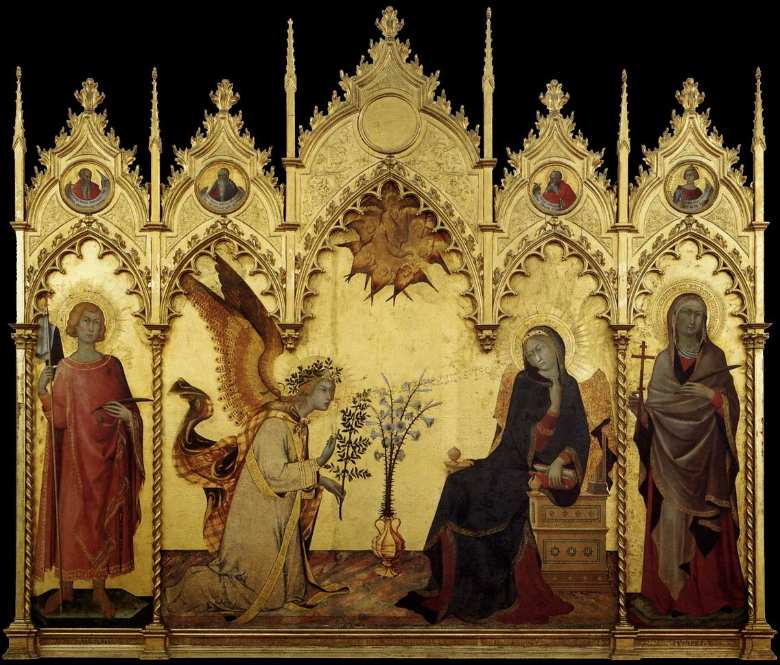 All of these elements are present in Martini's version of that event, but at the same time he does include novelties in the painting. He adds a reminiscent atmosphere of the royal court, giving an almost profane sense to the scene. Martini depicts the Virgin Mary in the exact moment that she is perplexed after the announcement made by Gabriel. Moreover, she is a very realistic, earthly and seductive woman, who looks more like a grand dame than the Virgin Mary. There is not much space in the scene either. The spatial limit posed by Martini gives the scene a more intimate feeling. The movements of the Virgin Mary give her an extraordinary, naturalistic look.
Florence
A stunning city where you will lose yourself in the art, history, fashion and traditions of Tuscany
No one plans a visit to Tuscany without planning a visit to Florence: the city of the lily is a treasure trove of artistic treasures and the centre of a fervent vitality. Aside from its exceptional heritage of art, bearing witness to its centuries of civilisation, Florence can be enjoyed in so many ways: promenading along the enchanting riverbanks at sunset, entering the bohemian alleys of ...
Morekeyboard_backspace