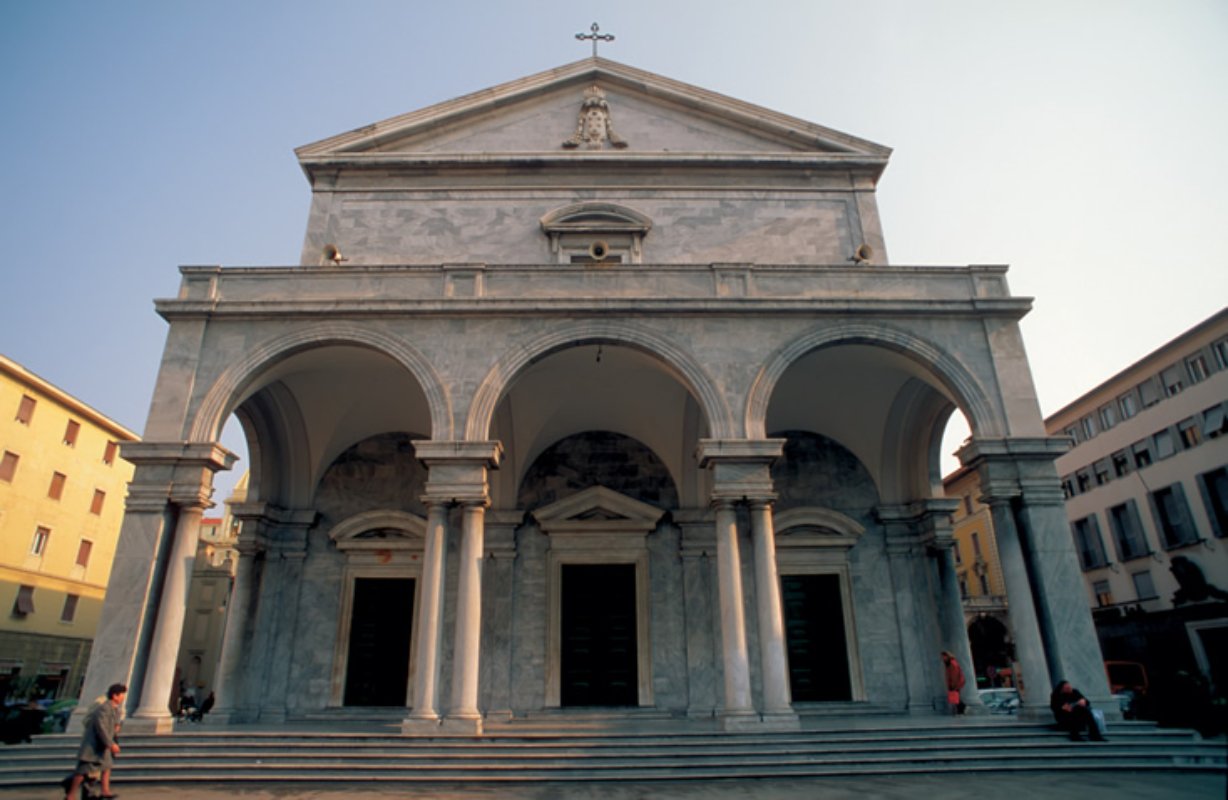 Places of worship
St. Francis Cathedral
Livorno's cathedral was almost completely rebuilt after World War II bombings
The facade of Livorno's cathedral, entirely rebuilt, features a portico with semicircular arches. Some sources attribute it to Inigo Jones, the father of English Renaissance architecture. In the years after the war, two smaller porticoes were added opposite the front of the transept, while the area around the apse, which had a fountain added to it at the beginning of the 20th century, was transformed with the addition of an exedra, flanking the reconstructed belltower.
The interior has a Latin cross plan and in the transept you'll find two side chapels: on the left is the chapel of the Holy Sacrament, and on the right is the chapel of the Conception of Mary. The frescoes in both chapels were lost during World War II. Originally, the nave was covered by a very fine, gilded wooden ceiling, completed between 1610 and 1614. Seven paintings, salvaged from the bombings and repositioned in a simplified structure, are now on the ceiling, which brings back a sense of what the original layout was like. Between 1619 and 1623, Jacopo Ligozzi, Domenico Cresti (known as Il Passignano) and Jacopo Chimenti (known as l'Empoli) created three large paintings depicting Saint Francis receiving the Christ child from the Virgin Mary; the Assumption of the Virgin and the Glorification of Saint Julia.
In 2006, as part of the Livornese diocese's 200th anniversary celebrations, Fra Angelico's Christ Crowned with Thorns was moved to the cathedral. Dating from the same year is the installation of a monumental door on the facade, completed by Antonio Vinciguerra. The door depicts some of the city's most historically significant episodes and events.
Livorno
Tastes of the seaside, hidden itineraries and plenty of surprises
One of the most iconic images of Livorno is the Terrazza Mascagni, a quasi-infinite structure with a stunning view over the sea. But Livorno is more than just a beach town—it's a busy port city and has been since the second half of the 16th century, when the powers-that-were decided to transform this fishermen's village, built around the Tower of Matilda of Tuscany, into one of Europe's main ...
Morekeyboard_backspace
You might also be interested in