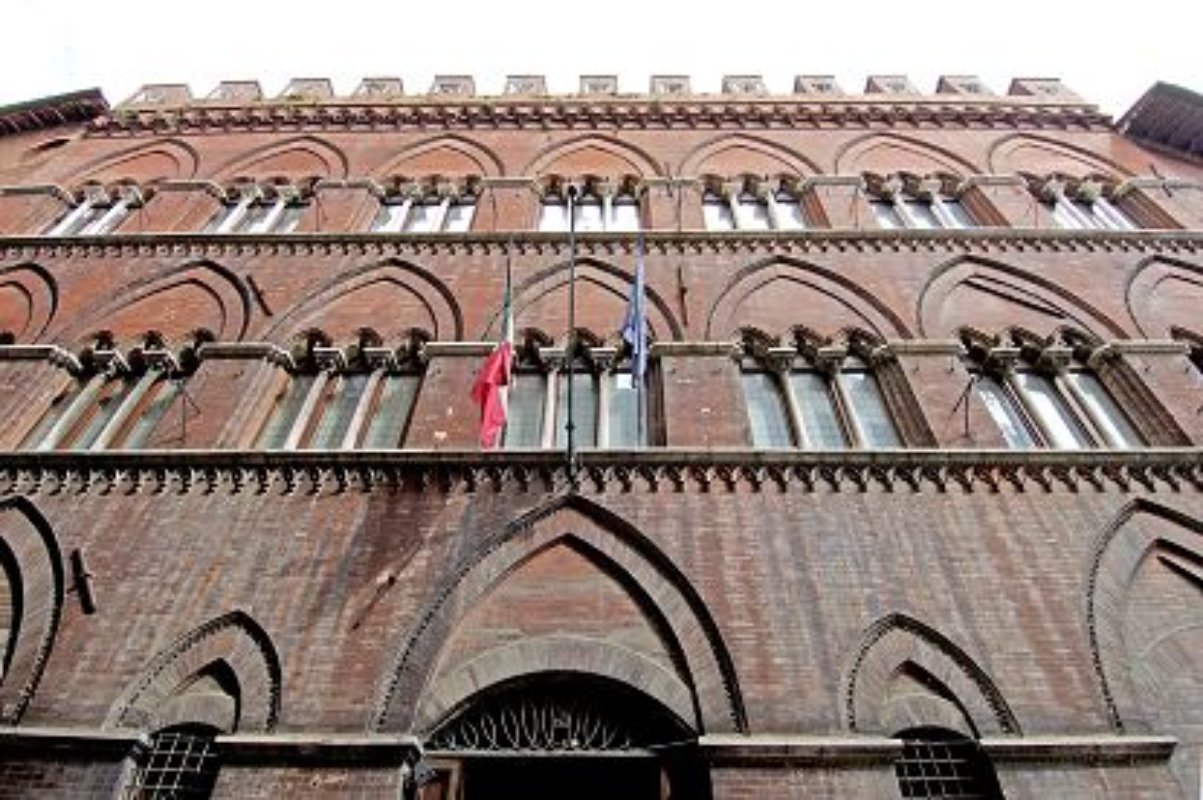 crop_originalArtworks
Siena, Michelino da Besozzo, Mystical Marriage of Saint Catherine
Saint Catherine of Siena called herself the wife of Jesus Christ
This painting of the Mystical Marriage of Saint Catherine of Siena by Michelino da Besozzo is located in the Pinacoteca Nazionale of Siena.

In this painting, Saint Catherine looks like a young princess, kneeling down and waiting to receive the ring that the Baby Jesus is putting on her finger. He is sitting in the lap of the Virgin Mary, according to the traditional representation of the 'Maestà on the throne'. On either side, there is John the Baptist and Saint Antonio Abate who are bearing witness to the event.
In this oil on wood, Besozzo's characteristic style comes through completely. It is worth noting the soft yet indisputable "pathetic" character of the figures. The entire scene is imbued with a kind of simple humility, as if the event involved very poor people.
Particularly, the looks that the Baby Jesus and St. Catherine are exchanging is so sweet, it is almost moving. The Meastà in this painting is not the majestic, imposing woman in the throne, but only a simple, delicate and affectionate person, perhaps even slightly melancholic.
Moreover, the scene is not three-dimensional. The Virgin Mary's throne is the same flat, gold color as the background. This gives an uncertain visual sense to the composition. The chiaroscuro has no volumetric results, but only serves to create a subtle luminous vibration on the surface; more for a decorative effect, than for a special effect.
Besozzo concentrated more on the linear rhythms, which were accomplished by the different curvatures and the different chromatic elements put side by side: red, blue, black and pink. Because of all this, the image becomes like a dream: it does not seem real, and transmits a kind of fable-like feeling.
Siena
Where not a single stone has changed down the centuries
Siena shines perfectly from a distance in its medieval magnificence. The three hills amid which the city rests rise up like an idyllic film set, the old boundaries soften like the past into a countryside that sometimes still seem like the scene painted by Ambrosia Lorenzetti in the Allegory of Good Government in the halls of Siena's city hall. ...
Morekeyboard_backspace
You might also be interested in