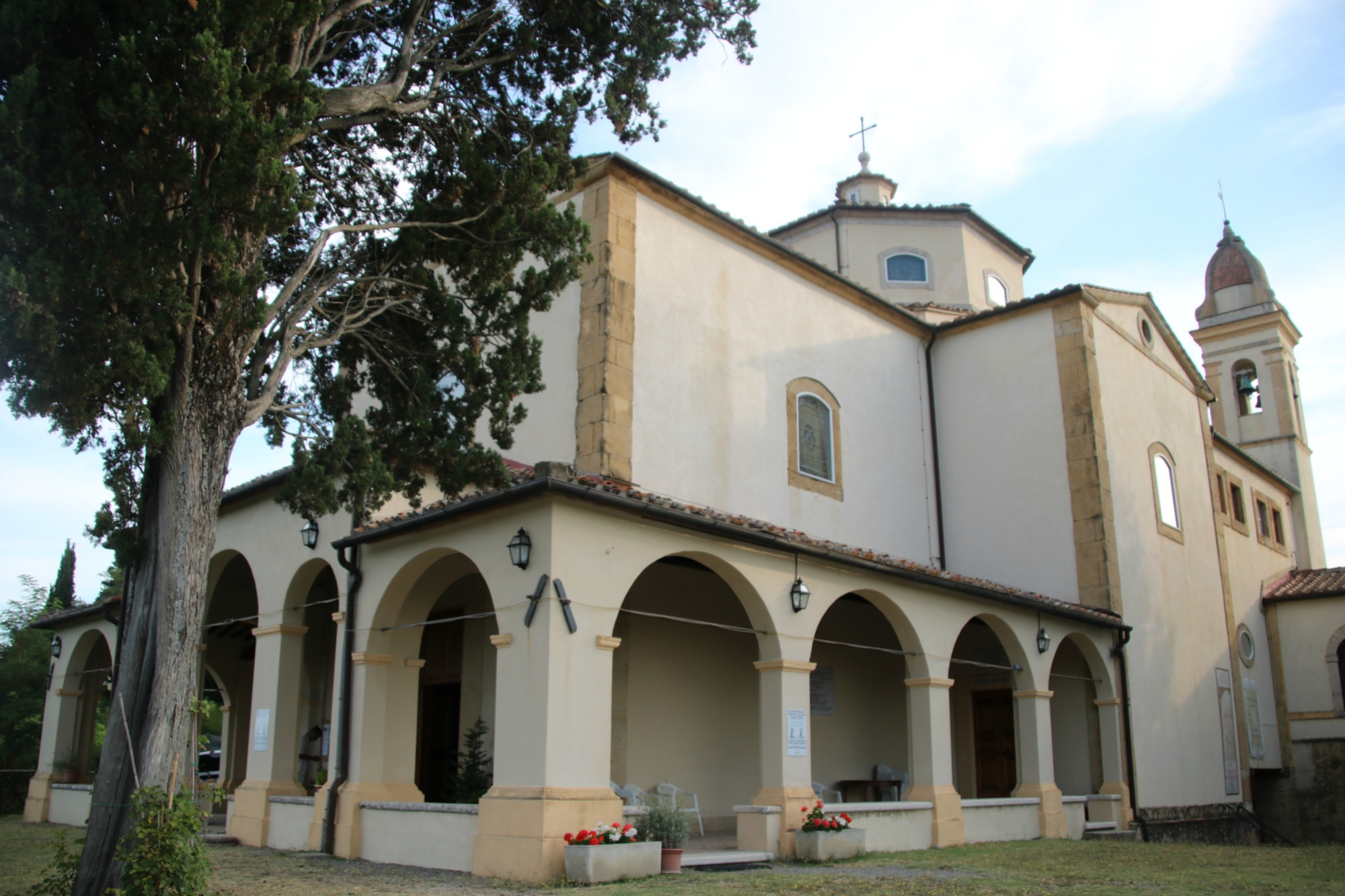 Places of worship
Sanctuary of Santa Maria in Pancole
Along the via Francigena, just five kilometres from San Gimignano, there's a miraculous image that was hidden behind brambles for centuries
The Sanctuary of Maria Santissima Madre della Divina Provvidenza is located in Pancole, five kilometres from San Gimignano. In the same place where the church stands today, there was little niche in which Piero Francesco Fiorentino painted a fresco of the Nursing Madonna at the end of the 1400s. The niche was neglected over the centuries and became overgrown with brambles.
Legend says that in early April 1668, Bartolomea Ghini, a mute shepherdess, was particularly sad about her poverty, and while she was bringing her flock out to pasture, she began to cry. A beautiful woman appeared before her who asked Ghini why she was so sad. When she answered, the woman told her that everything was going to be ok, and that at home, her pantry would be full of bread, her jugs filled with oil and barrels full of wine. Bartolomea realized that she had spoken and so she ran home screaming for her parents, who were shocked to hear their daughter speak and see the pantry so full. All the townsfolk went to the field where the girl said she saw the mysterious woman but they only found brambles. They removed the plants and discovered the niche and the image that, according to Bartolomea, depicted the woman she had met. The painting was scratched by a pruning knife when the brambles was being removed, and the mark can still be seen today.
This news reached the ears of many pilgrims, who brought offerings and materials to build the church that conserves the fresco. The building was constructed and consecrated in only two years (1670). On July 14, 1944, the Germans destroyed the building almost completely: only the wall with the altar containing the holy image was saved. The small temple was rebuilt similar to the old one, and the sanctuary was re-consecrated on October 19, 1949. In addition to Pier Francesco Fiorentino's Nursing Madonna, the sanctuary conserves two polychrome, wooden sculptures from the 17th century, both coming from the Church of San Quirico. The place of worship also contains hundreds of votive offerings.
Social & Web
Find out what they say about us, and tell us about your Tuscany!
San Gimignano
THE MANHATTAN OF THE MIDDLE AGES, FROM ART TO GOOD WINES
With its forest of towers spiking the horizon, San Gimignano is one of the most recognisable and iconic destinations in all of Tuscany. In every part of the world there is someone dreaming about this ancient hilltown in the Val d'Elsa, for to be there is to dive into an image of medieval times. ...
Morekeyboard_backspace