Places of worship
S. Giovanni Battista Decollato Church, Montemurlo
A testament to history in the village square
The parish church of San Giovanni Battista Decollato (St John the Baptist beheaded) in Montemurlo has a long and contested history. Here we find the footprints of Otto III, who marked his imperial coronation in 995 by coming down into Italy and marching on Rome, stopping in 998 to confirm the church among the possessions of Bishop Antonino di Pistoia. Its simple plan involves a single nave with a presbytery and choir, modified during the second half of the last century. Originally rather smaller, only in the sixteenth century did it see its first expansion under the humanist Bartolomeo Fonzio, the Montemurlo parson from 1494 to 1520 who oversaw the building of its adjacent parsonage and cloister, with round arches and the Corinthian columns which have now been bricked over.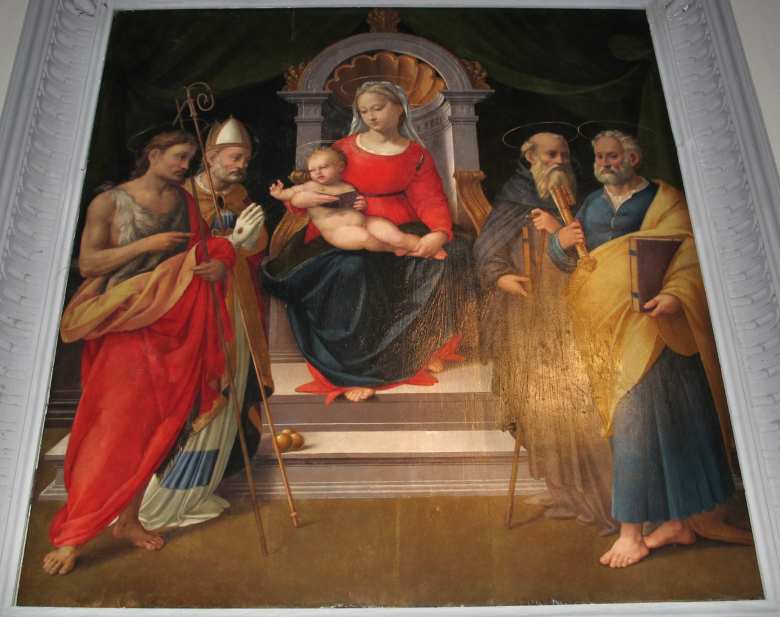 The parish church is 'protected' by an imposing bell-tower, originally a watchtower which, in a series of transformations made by its busy parson in the early 1500s, was civilised with the mullioned windows that we now see on each side, topped with brick arches. The large window is supported by octagonal columns, and the arches that apex the tower are decorated with a dentilled cornice that runs all the way around. Entering the church, we cross the loggia, added during the seventeenth century, with its brick columns and Ionic capitals.
The interior of the church, with its trussed roof, boasts four altars in ciboriums: three are from the eighteenth century and are modelled on the fourth, from the sixteenth. On the altars and walls of the presbytery, we find precious paintings by Francesco Granacci, Giovanni Stradano, Matteo Rosselli and Giacinto Fabroni.
Info: comune.montemurlo.po.it
Montemurlo
Noble villas and the most scenic hills in the Bisenzio Valley
Montemurlo is a town that lies halfway between Pistoia and Prato. In recent years, the town has experienced industrial and population growth. Not devoid in architectural and natural attractions scattered throughout the nearby countryside as well as in the town, Montemurlo is a town that takes visitors by surprise, unaware of all of its treasures. ...
Morekeyboard_backspace