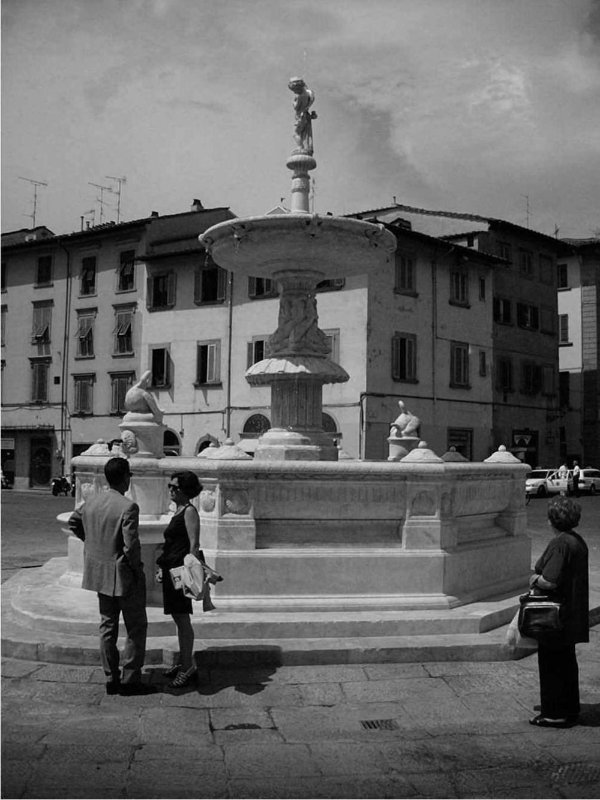 Hamlets, districts and squares
La meravigliosa Prato di Mario Cioni
Viaggio nella periferia della città laniera immortalata dal film di Giuseppe Bertolucci "Berlinguer ti voglio bene"
La periferia ovest di Prato non offre certo il classico paesaggio da cartolina. Queste lande desolate dove la campagna "non è più campagna e la città non è ancora città" danno una sensazione di incompiuto, di non finito, in un'area che è diventata terreno di conquista per i capannoni dell'industria tessile e del pronto moda cinese.

Eppure trenta anni fa Vergaio, Iolo, Galciana, e i paeselli che compongono la popolosa cintura occidentale del distretto laniero, furono il set di uno dei film più stravaganti della cinematografia italiana, divenuto negli anni una pellicola di culto, citata dalla critica e amatissima dal pubblico. Si tratta di Berlinguer ti voglio bene che lanciò un giovanissimo Roberto Benigni, icona del cinema nostrale e vincitore di un Oscar nel 1998 con La Vita è Bella. Il film, uscito nel 1977, fu diretto da Giuseppe Bertolucci, fratello del più famoso Bernardo e venne prodotto da Gianni Minervini, che riuscì a portare a termine l'operazione con un budget molto ridotto.

La pellicola metteva in scena le battute e i monologhi del giovane Mario Cioni, personaggio impersonato da Roberto Benigni, una sorta di disadattato sociale, diviso tra le speranze di una prossima rivoluzione comunista e una squallida quotidianità condivisa con l'amico Bozzone, Carlo Monni, e con la madre, una sorprendente Alida Valli, che in questa occasione veste i panni di una massaia di campagna.

Il film fu un fiasco commerciale clamoroso, ma servì a Benigni per proporsi come interprete della nuova generazione di attori che stava facendosi strada con apparizioni televisive, cabaret e film low cost destinati alle tv commerciali. Berlinguer ti voglio bene è anche l'unico film degli anni Settanta che dà spazio alla periferia pratese, riuscendo a tratteggiare ambienti e scorci paesaggistici di sicuro interesse antropologico, come le case del popolo, i dancing e le parrocchie, nonché le ex coloniche, gli orti e i vicinali che in questo periodo si affiancano alle palazzine in costruzione, alle fabbriche e alle autostrade.

Se l'implacabile obiettivo di Bertolucci aveva voluto cogliere i segni del cambiamento del territorio, non meno importante sembra parlare di ciò che queste periferie hanno ereditato dal loro antico passato: si tratta di alcuni gioielli architettonici di assoluto valore, incastonati tra le mura dei palazzi e delle fabbriche, una sorta di "presidi della memoria" che rompono la monotonia di un tessuto urbanistico fatto di quartieri dormitorio.

Chi volesse avventurarsi lungo la via Galcianese, dopo aver superato il monumentale cimitero della Misericordia, può fermarsi alla bella chiesa di Santa Maria a Capezzana. L'edificio è documentato fin dal 776 presso uno Spedale per viandanti. L'abside, in alberese, fu affrescato da un anonimo artista fiorentino nel Quattrocento: nel catino è rappresentato un bel Cristo benedicente, fiancheggiato da Angeli, mentre nelle nicchie ogivali sono rappresentati i dieci Santi, opera di un pittore attivo anche a Figline di Prato e a San Domenico.

A sud di Capezzana si trova l'antico borgo di Vergaio, con la piccola e spartana chiesa di San Martino, in località Sorniana, unico esempio di architettura tardo-settecentesca nel territorio pratese, ricordata per la tela con l'Assunta e San Martino col povero.

A Galciana sorge invece la Chiesa di San Pietro, una delle più grandi del circondario, che risale al XII secolo. La facciata impreziosita dal serpentino verde e dalla grande bifora che si apre sopra la lunetta d'ingresso, deriva probabilmente da un rifacimento ottocentesco. Altro elemento che spicca nell'architettura dell'edificio è il robusto campanile in alberese, che si caratterizza per l'eterogeneità dei materiali di costruzione. L'abside conserva alcuni affreschi tardo trecenteschi, opera di Antonio Vite, con un bellissimo Redentore benedicente, che ha il volto di un giovane Cristo, sorretto dagli angeli. Vale la pena visitare questa chiesa anche per il notevole ciborio quattrocentesco a tempietto, che si può ricondurre alla scuola di Michelozzo o di Maso di Bartolomeo.

Proseguendo lungo la via Visiana, dopo aver attraversato una zona ricca di palazzi e di ville signorili, si può concludere la gita in periferia nella frazione di Sant'Ippolito, dove si trova l'omonima pieve. Questa chiesa, malgrado gli interventi ottocenteschi che ne caratterizzano gli interni, ha mantenuto gran parte delle strutture originarie, che risalgono con tutta probabilità all'epoca longobarda.
Prato
In the heart of Tuscany, a city of art and prestige
If there is one city that can impress those looking for lesser-known destinations, it's Prato. Considering how the city is presented in the press, visitors will be surprised to discover an elegant and well-preserved historic city centre, as impressive as the most famous Medieval cities dotting Tuscany. ...
Morekeyboard_backspace
You might also be interested in