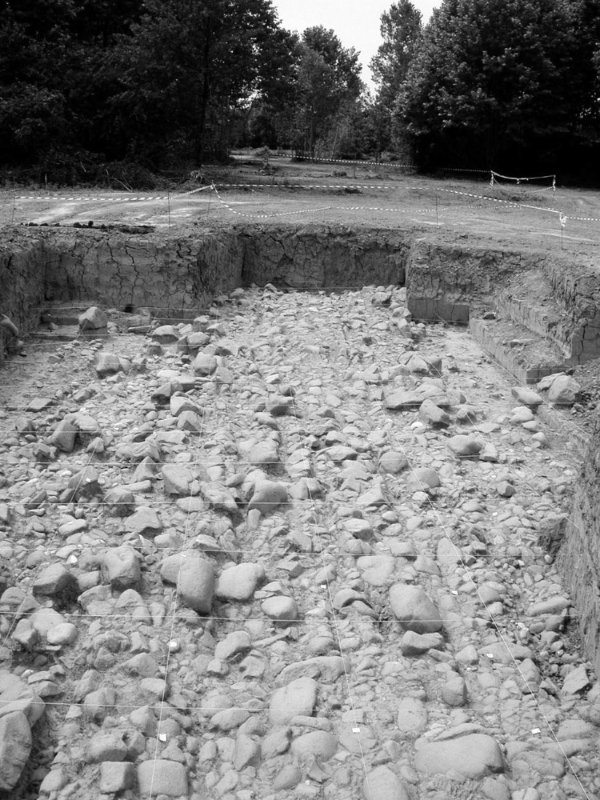 Archaeological sites
Pisa Spina: along the road of the Etruscans
The iron road that joined Northern Etruria with the Po Valley
As emerged during the tests carried out to verify the feasibility of public works in Casa del Lupo (Capannori) near Lucca in 1996, the singular system of reclaiming land in Roman, Mediaeval and Renaissance times was not the only surprise awaiting the archaeologists. In one corner, a collection of stones came to light that represented a construction from the Etruscan era. The work in question was a road axis realised with a covering of gravel, dating back to the VI-V century BC. Judging from the traces of wheels, the fragments of cart found and the visible wear of the roadbed, it appeared to be part of the remains of a busy Etruscan town road. In all likelihood, this road, most of which has yet to be identified, connected Pisa with the Adriatic port of Spina, passing through Prato, Marzabotto and Bologna.

A Greek geographer called Scilace from the IV century BC made reference to a road which joined Spina to Pisa with a three-day journey - and on this route iron from the Isle of Elba was transported to the town centres in the Po Valley. Parallel to the current Florence-Seaside highway, the seven metre-wide road was laid with cobblestones from the river-bed, cambered and fitted with drainage canals on either side, a demonstratin of the constructive genius of the Etruscan people and their peculiar skills in creating infrastructures that were destined to last through time. The road was presumably equipped with bridges, areas for storage and resting-places, but also places for burial and for worship which indicates the importance of the structure at that time.

Capannori
Medieval towers and castles alongside refined Renaissance villas
The vast Capannori area, which ranges from the Altopiano delle Pizzorne to the Monti Pisani and occupies most of the Lucca plain, formed by drying up of Lake Bientina, is dotted with medieval towers and castles alongside refined Renaissance villas. ...
Morekeyboard_backspace
You might also be interested in