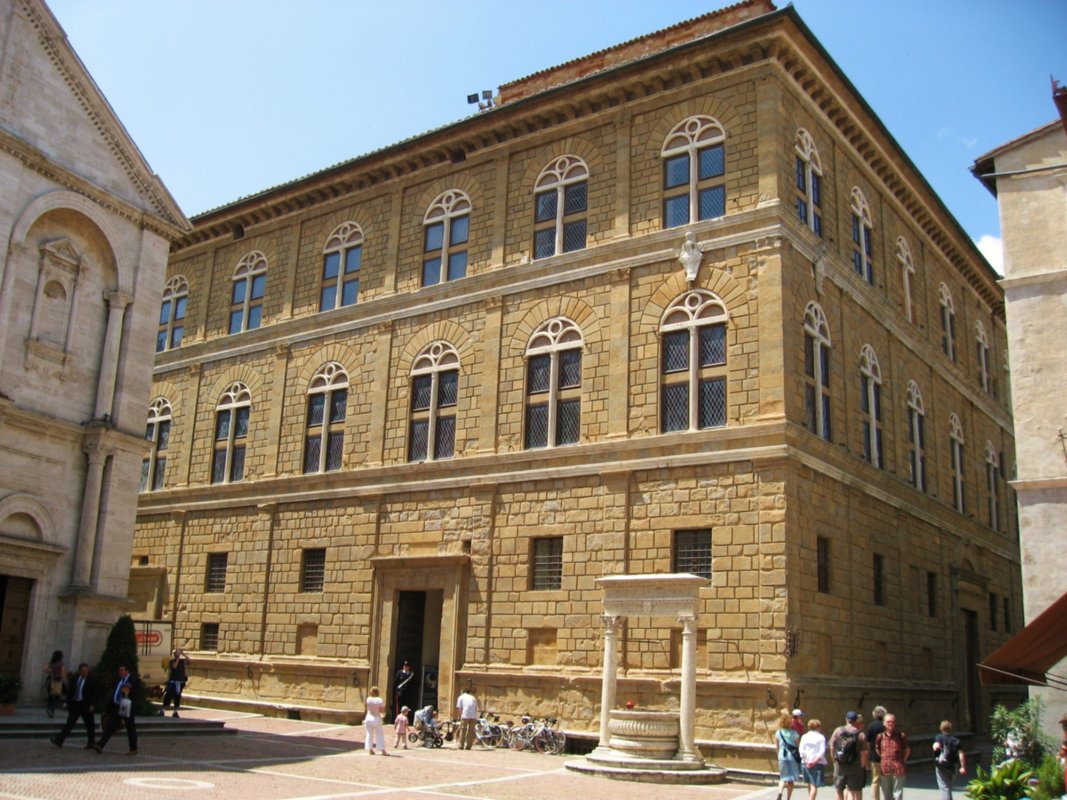 location_cityArchitecture
Piccolomini Palace
The palace is also known as Pontificio it was commissioned by Enea Piccolomini, or rather Pope Pio II, and built by Bernardo Rossellino during Pienza's restoration as an ideal city
It was designed by Bernardo Rossellino in the second half of the 15th century (after 1459), who was inspired by the Ruccellai Palace in Florence made by his master L. B. Alberti. The Palace is one of the first examples of Renaissance architecture.
The Palace has a square layout, developped on three levels, made with finely carved rusticated sandstone, going from the lower register to the higher one. Two orders of large windows at an equal distance from one another go from from the first to the second floor, with pilasters and profiles and projecting ashlars. Each window is divided in two parts by a slender column. Beneath the windows, a frame runs along the Palace length as to underline the internal floorboards. In the angles and amongst some of the windows are carved family coats of arms with apostolic emblems in gold and silver.
The Palace's large main doorway can be found on the northern facade.
The interior has a rectangular courtyard with an arcade of stone columns.
The small garden on the southern side of the buildingn represents an unabridged part of the whole project.
The small terrace dominates the whole of Val d'Orcia, maintaining the fundamental Renaissance garden characteristics. It is surrounded on three sides by high stone walls covered in ivy, whilst the side overlooking the Palace is marked by a loggia and three tiered arcade. An elaborate drainage system impedes the rainwater from penetrating into the interior underneath covered by the vault – the interior was once used as stables.
The rectangular flower-beds are surrounded by trimmed double box-wood hedges, marking the two crossing gravel-covered paths. At the crossing point is a fountain whilst in the four angles laurel trees have been planted in an umbrella shape.
Some of the rectangular flower-beds are decorated with a halfmoon, keys and a tiara forming the Piccolomini coat of arms, with a fountain full of friut garlands – both are late 14th century sculptural elements. The panorama of the Val d'Orcia seen through the three arcades opening on the base wall, assumes a primary role in this garden, making it a combined area of architectural and natural beauty.
people
What's the buzz about?
Pienza
An ideal city, founded on a uniform idea of beauty
Pienza is the most well-known center of the Val d'Orcia and is famous as being the home town of Pope Pius II, born Enea Silvio Piccolomini in 1405. Pius II, once elected Pope, transformed his home town, Corsignano, into an urban-architectural jewel, in this way contrasting it with the city that had marginalized his family: Siena. ...
Morekeyboard_backspace