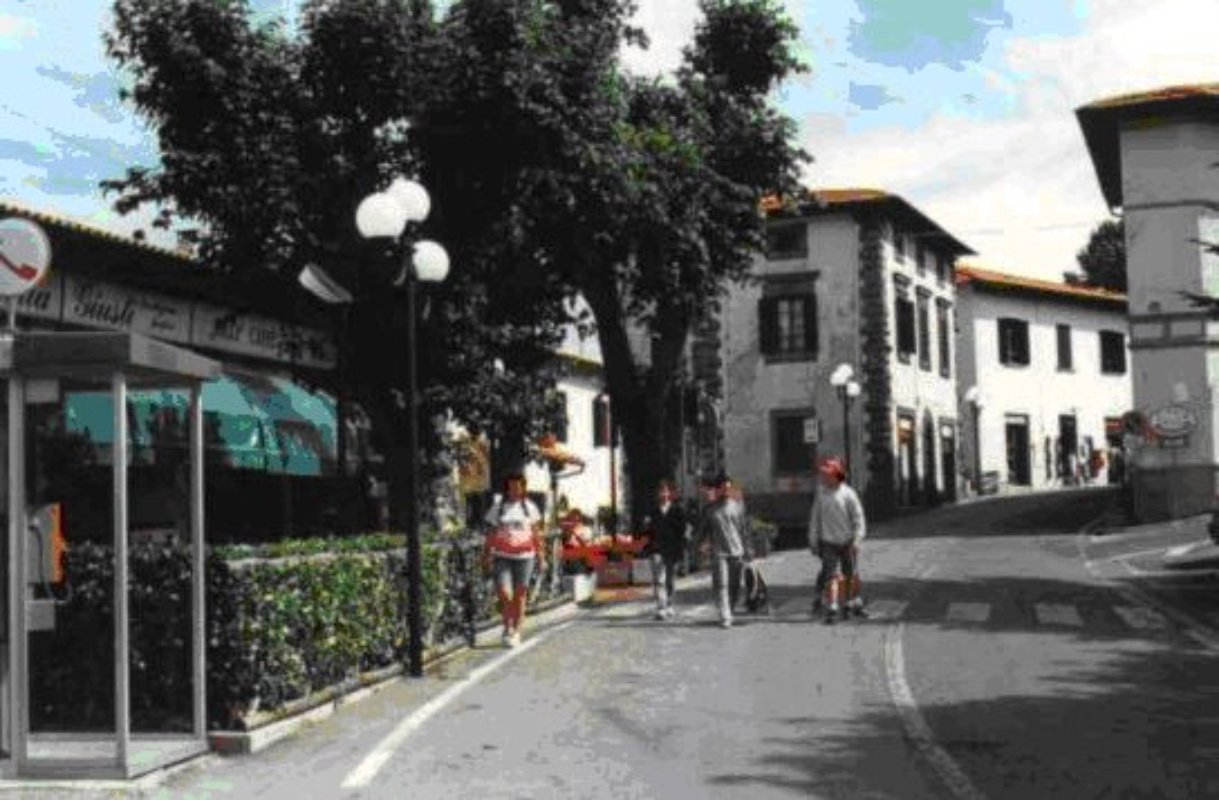 Hamlets, districts and squares
Piazzale Roma at Saltino
A charming small square surrounded by fir-woods
This small square has one of the main roads for the Vallombrosa health resort going through it. This much appreciated locality has that enchanting mountain atmosphere about it, being immersed in a state owned fir-wood forest. The forest contains oaks, durmast oaks, pines, turkey oaks, beeches, chestnuts firs and rolling fields, totalling 447 hectacres. The heighest part of the forest is on the Pratomagno range, reaching 1449m above sea level, where the spectacular scenary and wildlife can be appreciated to the full. This very square is flanked by the famous Grand Hotel Vallombrosa, built at the end of the 1800's with a particular Swiss-style roof. Thanks to the railway lines built in 1882, stopping in front of the hotel, both Saltino and Vallombrosa then became favourite tourists haunts for the Italian aristocracy of bygone days; D'Annunzio returned to Vallombrosa several times up until 1908.

Other hotels and holiday villas were constructed around the hotel during this period, giving birth to the town. In 1902 an arson attack by the hand of an ex-colleague, dismissed by the hotel managers, completely devasted the wooden structure. Fortunately there were no victims, yet nothing was saved of the hotel. Even the station was demolished and reconstructed further away in order to satisfy the growing transport needs. Even in the aftermath of the First World War, Saltino and the Grand Hotel thrived during the 1930's. During the Second World War however, it suffered a great deal of damage, being exposed to Anglo -American artillery, which from the Valdarno would pound the mountain occupied by the retreating Germans. The Grand Hotel was restored soon after the war and reopened in 1948, managed by the Wittum family who in the following years bought the property.

Behind or right next to one of the hotel's windows, any fortunate tourist can find him or her self in front of a living map going from Florence beyond the Aretino Valdarno. The Delacroix Fountain can be seen on the western side of the square, it was commissioned in 1922 by the Reggello Municipality to honour a wounded Florentine soldier. The decorations were made by the famous Pietrapiana stonemasons known as the Sottili.


Reggello
In the forests of Vallombrosa, among incredible abbeys and castles
Regello is one of the cool and shaded towns closest to Florence, a destination loved by Florentines who are looking for a little relief from the city during the summer months, and also a perfect day trip. ...
Morekeyboard_backspace
You might also be interested in