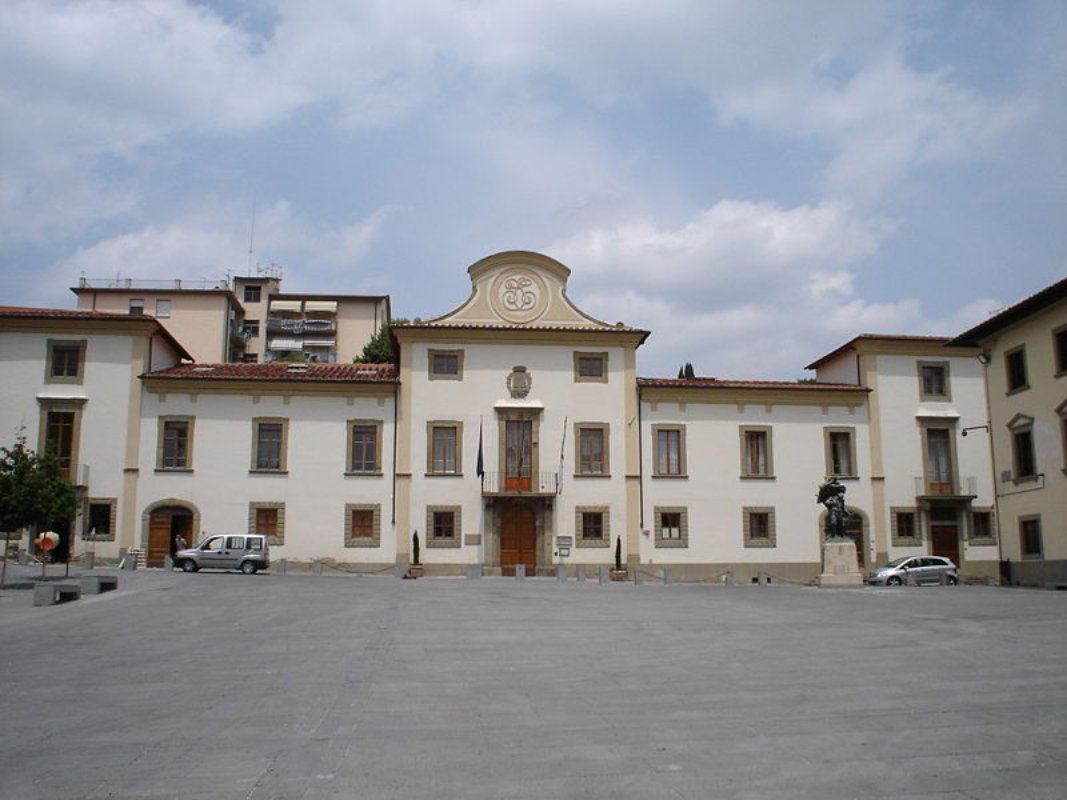 location_cityHistorical Buildings
Piazza Vittorio Emanuele II at Pontassieve
Palazzo Sansoni-Trombetta dating back to the mid 1700's is now the Town Hall
TOWN HALL (SANSONI-TROMBETTA)
The Sansoni-Trombetta Palace was constructed in the mid 1700's, it now is the Pontassieve Town Hall. Found on the northern side of the square, it is the town's economic, political, religious and social centre since the end of the 14th century. In that period Castel Sant'Angelo fortification construction works had been finished. The Granary Loggia was built between 17th and 18th centuries in front of the Palace, where the weekly grain market would be held. The Town Hall's reception area in the original ground floor hallway, hang many historical coasts of arms belonging to the most important families of the time. The Palace changed hands in the 1800's, passing to the Trombetta family, they were Bankers arriving from Corfù who married into the Sansoni family from Leghorn. The Palace's headpiece dominates the central view, the decorative freize contains the two interwoven surname initials S and T. The Grand Hall on the inside has a coffered ceiling going all the way to the top of the building. Natural light comes in via a double row of windows, two on top and three underneath, the central French-window leads onto a small balcony facing the square.

A cycle of eight frescoes, attributed to Ferdinando Folchi (1822 – 1893), decorate the Hall giving it an ancient aura. The artist was very influenced by the historical romantic tastes of the time, comparing past literary deeds to the national Risorgimento movement. The central frescoe is dominated by the Trombetta coat of arms; with a symbolic Italy proudly holding the national flag with the regained unity on one side, and a symbolic Greece, sadly holding a small statue of the war goddess Minerva, looking at Italy wistfully because still under the Turkish yoke and yearning for liberation. The background represents Corfù, the family's nation of origin, and Florence, their chosen homeland. The work was probably completed in 1865 – 1870, when Florence was the Italian capital city.

S.MICHELE ARCANGELO CHURCH
The first written documentation regarding this church dates back to the 13th century, wher it was known as "S.Angelo", only in the 1600's did it acquire its actual name of "S.Michele. It was damaged during the course of the Second World War and restored in the 1950's. A venerated image of the Lady of Sorrows can be found on the inside, plus a Madonna and Child by Fra Beato Angelico.


Pontassieve
Along the Renaissance loop, the town's attractions include iconic bridge and a nature reserve
The town of Pontassieve, located at the spot where the river Sieve flows into the river Arno (and which is named after the famous Medici bridge built in the same place in the 16th century, was founded thanks to Florence's decision to establish a castle there in the 14th century. ...
Morekeyboard_backspace
You might also be interested in