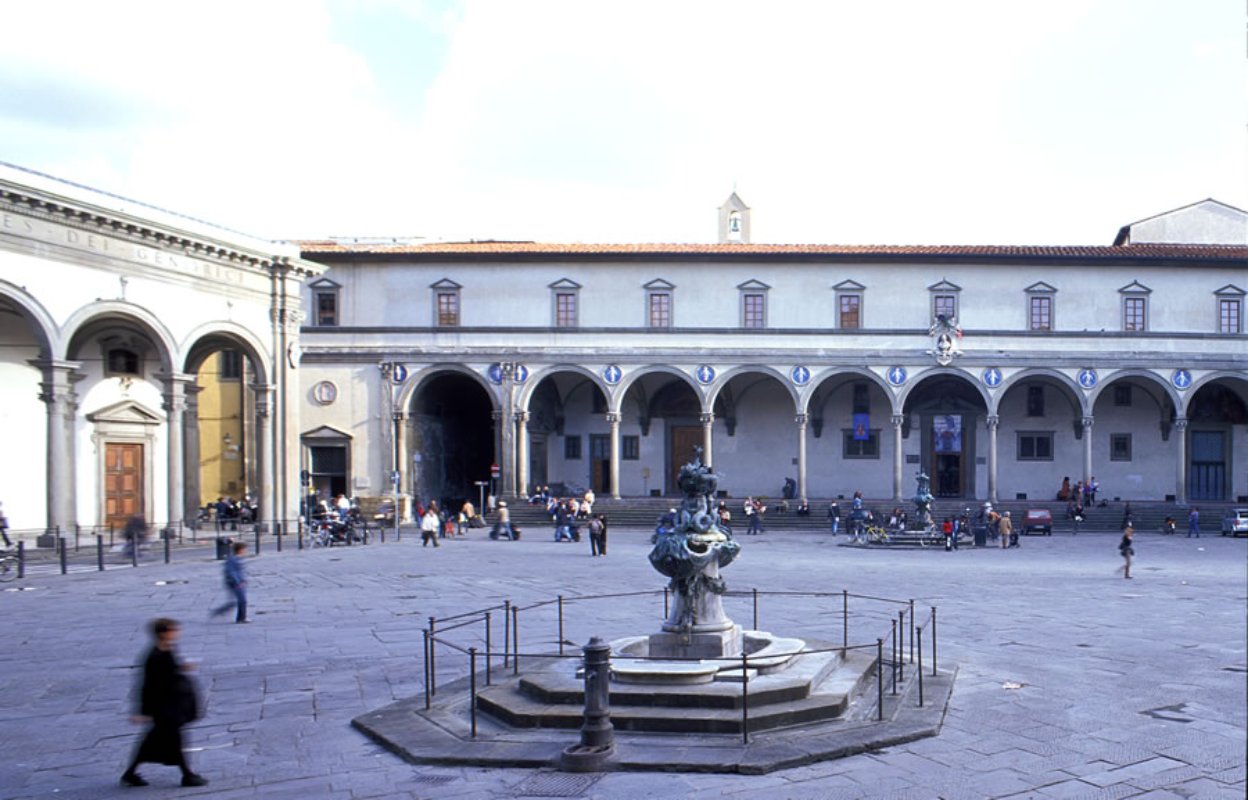 Hamlets, districts and squares
Piazza Santissima Annunziata
Abandoned children, betrayals and bees that it's impossible to count
If you look a little closer when strolling through Piazza Santissima Annunziate in Florence you'll notice not only the beauty of the square's artistic works, but also many small but fascinating and richly historical details. For example, under the portico of the 'Spedale degli Innocenti', there is a window that today appears to be covered with grating. This window used to be open and had a wooden wheel inside with a bell. This small window was where mothers who couldn't afford to bring up their children would come and leave their babies on the wooden wheel, ringing the bell to alert the nuns inside that a baby had been abandoned there. The mothers would often tie a coloured ribbon with a small medallion or button around the child's neck that the nuns would look after and which served years later for mothers to identify their children. Many of these items are on display in the museum of the "Spedale".

Above this window is a bust of Francesco di Lorena, the Grand Duke of Tuscany. A crescent shaped opening was made behind the bust to light the corridor that connected the "Spedale" and the wooden wheel. An equestrian monument stands in the centre of the square. This bronze statue depicts Francesco's brother, Ferdinando I de Medici. On the back of the pedestal, there is an interesting design which Ferdinando wanted there. It shows a queen bee (representing him and the Grand Duchy) surrounded by many worker bees all facing the queen bee (representing the hard-working population around him). The particular layout of the worker bees makes it almost impossible to count them all and that is how the myth was born that it is impossible to count bees. In fact, there are 91 bees on the pedestal.
Florence
An astonishing city of art, fashion and tradition
If you are visiting Tuscany you cannot miss Florence. The Renaissance city is a treasure trove of art with an astonishing contemporary vibe. Beyond the extraordinary artistic heritage, a testimony to its centuries of civilization, the best way to enjoy Florence is to stroll along the riverside avenues at sunset, or to get lost among the city's myriad alleyways of the bohemian Oltrarno or the ...
Morekeyboard_backspace
You might also be interested in