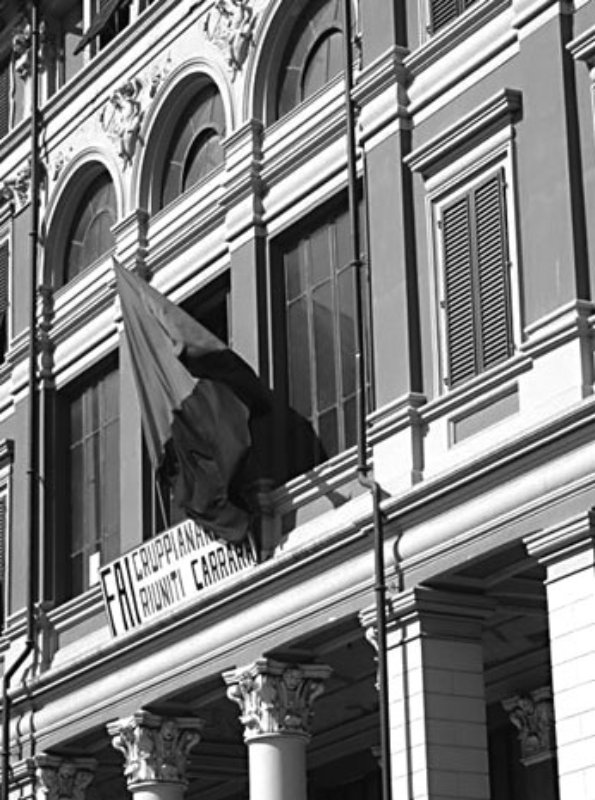 Hamlets, districts and squares
Piazza Matteotti, Carrara
Il fulcro della città del bianco marmo
La piazza, in precedenza dedicata a Farini ed occupata dal cimitero Napoleonico, dopo la seconda guerra mondiale è stata intitolata a Giacomo Matteotti.

Oggi vi si affaccia il Palazzo che é sede della Federazione Anarchica e diversi edifici in stile liberty come Palazzo Giampaoli e Palazzo Vacchelli. La piazza è dominata dal maestoso Teatro Politeama, realizzato grazie al progetto dell'ingegner Leandro Caselli per volere del Comune di Carrara a partire dal 1888. Fu inaugurato nel 1892. L'esterno si presenta come un blocco quadrangolare con la facciata caratterizzata da due ordini di arcate sovrapposte. L'interno, invece, è decorato con motivi notevolmente eleganti; di grande rilievo è l'affresco del soffitto che rappresenta un'allegoria della musica e dell'arte recitativa.

Nel giardino della piazza é possibile ammirare la copia della scultura del Cavallino realizzata nel 1951 da Arturo Dazzi, uno dei più noti ed apprezzati artisti del Novecento carrarese, che con questa opera fa mostra delle sue ricerche di sintesi formale sul tema degli animali, sul quale si pone con una specie di incantato stupore. L'originale si trova all'Accademia delle Belle Arti.

Inoltre ci si può imbattere nella copia del Cinghiale di Pietro Tacca, il cui originale si trova a Firenze. La scultura carrarese invece, é stata realizzata da Primo Battaglia, docente della Scuola del Marmo di Carrara. Oggi la piazza è il fulcro commerciale della città.
Carrara
Don't miss Malaspina Castle and the Apuan Alps Park
Carrara has always been considered the city of marble, and for good reason. The identity of this centuries-old city—with strong ties to both the mountains and the nearby Ligurian Sea—has always had marble at its heart: the pristine stone has been extracted from area quarries since Roman times. When you hear or utter "Carrara," marble and quarries are the immediate associations. ...
Morekeyboard_backspace
You might also be interested in