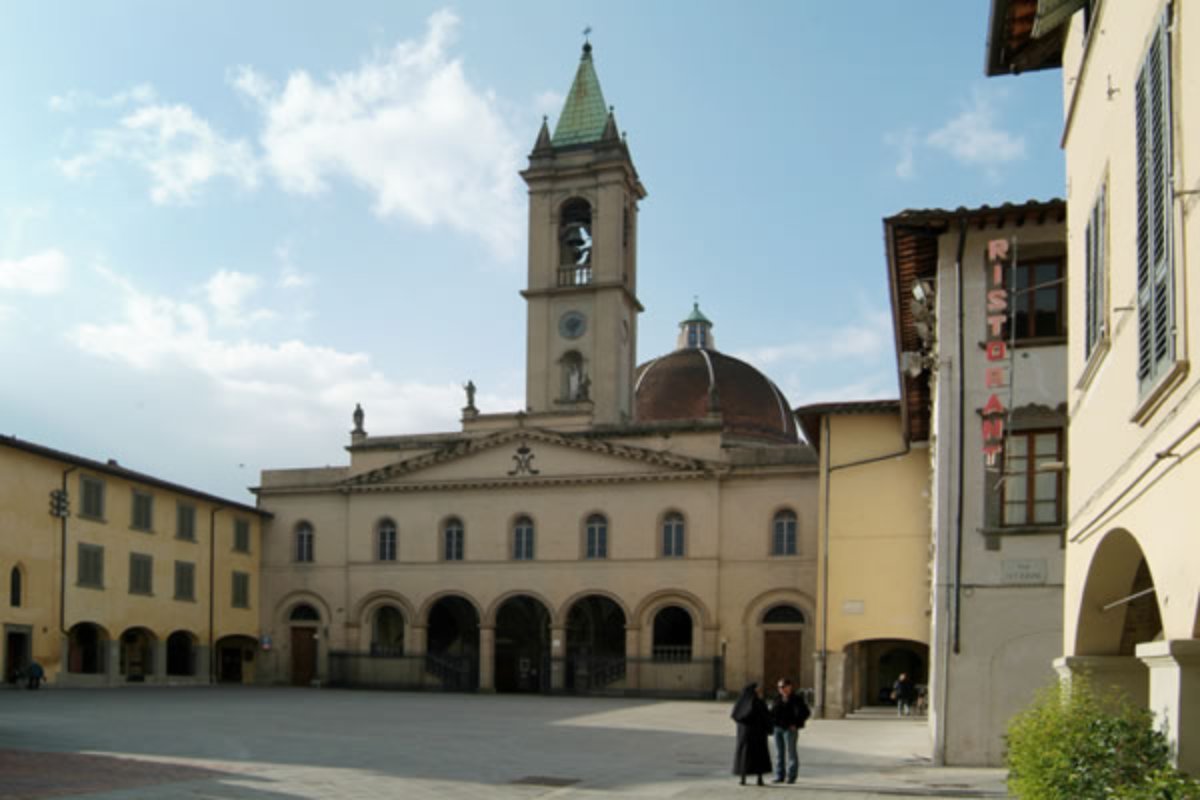 Hamlets, districts and squares
Piazza Masaccio in San Giovanni Valdarno
With the Basilica of Santa Maria delle Grazie and the Church of San Lorenzo
BASILICA OF SANTA MARIA DELLE GRAZIE
The Basilica takes up the whole west side of Piazza Masaccio. Built in the XIIIth century, then changed, above all after the bombing of the second world war, the features of this architectonic volume are accentuated by the tall portico and flights of steps, and the series of first-floor ogival windows culminating in the triangular toothing of the gable, the four statues (the Saints Agostino, Giovanni Battista, Lorenzo and Francesco) and in the spired bell tower. At the centre of the bottom wall of the entrance between the two steps there is a large glazed polychrome terracotta sculpture by Giovanni della Robbia from 1513 representing the 'Assumption'. Inside there are three large aisles marked regularly by three spans on monolithical columns with Corinthian capitals and segmental arches. The dome-shaped vaults were frescoed at the end of the seventeenth century by Giuseppe Nasini and Vincenzo Ferrati. The main altar (behind which there is a fourteenth-century Madonna and Child of the Florentine school) was rebuilt immediately after 1596 following a project of Bernardo Buontalenti. On the left of the altar there is a fresco of three moments of the 'Miracle of Monna Tancia', the author of which according to Vasari was a student of Perugino.

MUSEUM OF THE BASILICA
The inauguration dates back to 1864. in that year the most valuable paintings belonging to the churches in town were collected in the sacristy of the Basilica's oratory. The museum was completely reorganised in 1959 under the direction of Luciano Berti who published the first catalogue.

CHURCH OF SAN LORENZO
Built with Gothic forms at the beginning of the fourteenth century, it underwent some drastic changes between the seventeenth and nineteenth centuries. Above the main altar there is the "Crowning of the Virgin and saints", attributed to Giovanni del Biondo in about 1374. In 1903 some fifteenth-century wall painting depicting the 'Pietà', with the symbols of the Passion, San Pietro, and San Pietro freed from prison, attributed to Mariotto di Nardo, were brought to light. Other fragments of frescoes portraying the abbot Sant'Antonio, the Martyrdom of San Sebastiano, San Lorenzo, the Stigmata of San Francesco, Sant'Antonio da Padova and San Bernardino da Siena are attributed to Giovanni di Ser Giovanni, called 'lo Scheggia', brother of Masaccio (1456-1457 approx.). Furthermore, in 1780 a body was found walled up in a pillar. The body can still be seen, preserved in a closed niche.
San Giovanni Valdarno
A village in the Arezzo territory filled with artistic patrimony
San Giovanni Valdarnohas maintained its medieval appearance, with the typical urban shape of the so-called "new lands": at the centre is a large piazza, and all around are shaded porticoes delimiting the streets. San Giovanni offers are lovers more than a few attractions, including churches, museums and cultural centres. Of course, good cuisine is also in abundant supply. ...
Morekeyboard_backspace
You might also be interested in