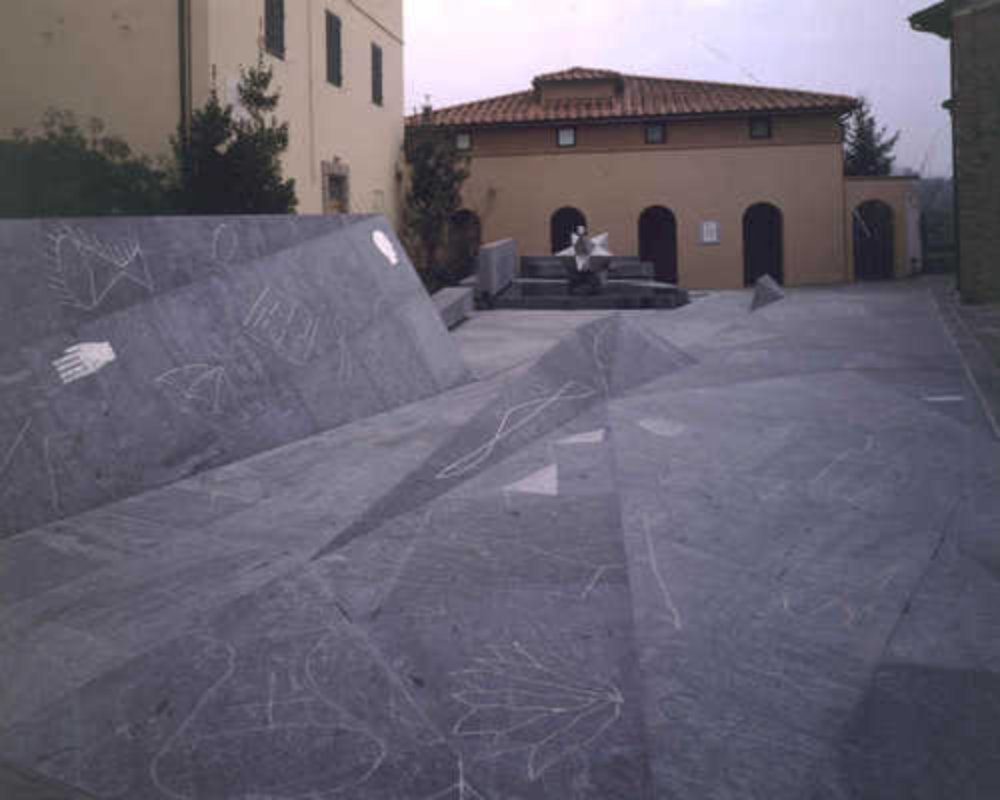 Hamlets, districts and squares
Piazza Leonardo, by Mimmo Paladino
This celebrated contemporary artist redesigned piazza Leonardo, creating a new entrance to the Leonardo Museum
The changes made in piazza dei Giudi are all part of the project to enlarge the Leonardo Museum. Recently, a new entrance to the museum was created and extra exhibition areas opened up in Palazzina Uzielli – just a few metres from Castello dei Conti Guidi, which has long housed the whole Leonardo Museum. The museum circuit includes Castello dei Conti Guidi, Palazzina Uzielli and piazza Guidi. In order to create a sense of harmony between these three sites and to make the museum area more easily recognisable, a new entrance to the museum was made and piazza Guidi was altered in order to give it the same importance and visibility that the Castello dei Conti Guidi has gained over time as home of the Leonardo Museum. The challenge to redesign the square was launched in 2003 by the Comune of Vinci and the Associazione Arte Continua of San Gimignano (as part of the 'Arte all'Arte Rinascimentale Nascimento' programme).

The project was funded in part by the European Community. The challenge was to redesign piazza Giudi as a modern, artistic space in harmony with the museum. Many internationally famous contemporary artists entered the competition which was eventually won by Mimmo Paladino. The piazza has now been redesigned according to Paladino's project which has rejuvenated the whole Leonardo Museum area. Paladino's designs were completely in line with the public identity of the square and the sense history and science that Leonardo himself is so famous for. Paladino carried out the work on the square with the architect Nicola Fiorillo. Together, they reshaped the piazza and added carvings with the artist's ironic signature designs. The redesigning of this square is a way for the town of Vinci and Tuscany to pay twenty first century homage to the great man.
Vinci
Discover the genius in a town nestled between the Valdelsa and Montalbano hills
The town of Vinci, between the Valdelsa and Montalbano hills, boasts a well-preserved medieval center that is a delight to visit, known worldwide for being the birthplace of the greatest genius of the Italian Renaissance: Leonardo da Vinci. The life of the town revolves around the eclectic Renaissance figure and Vinci itself has become a sort of diffused museum dedicated to the master. ...
Morekeyboard_backspace
You might also be interested in